How to Benefit from AM Workflow Management Software: Experts Give Their Advice!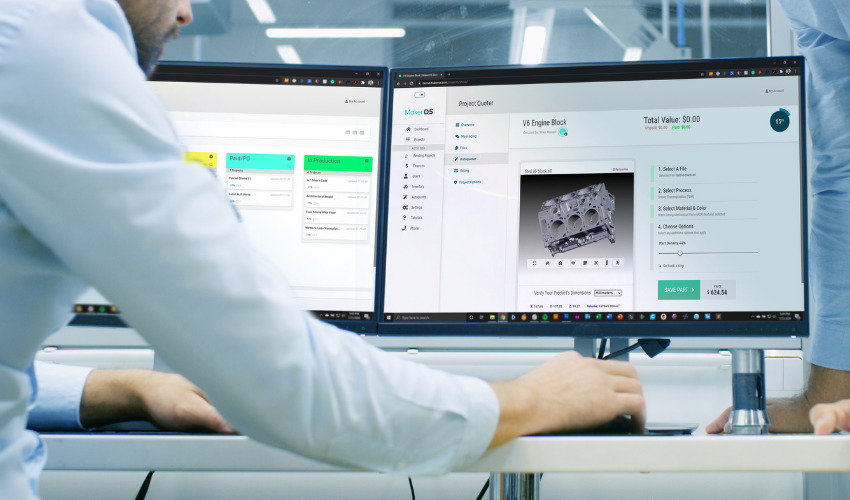 As 3D printing solutions are increasingly adopted in a variety of industries, there has been a clear need for streamlined solutions to ensure that every step of the process of creating parts is optimized. Enter additive manufacturing workflow management software solutions. Also known as MES software, or additive manufacturing execution systems, these softwares are similar to existing manufacturing execution systems, or computerized systems used to track and document every step of transforming a raw material into a final product. However, AM MES solutions have been designed to suit the particular needs of additive manufacturing. This means, they are a software thats work to ensure that any step from the modeling, slicing, printing, all the way through the post-processing processes are optimized and can be accessed and monitored through one simple place. Many also will allow for tracking from purchasing up to shipping the final part, making these softwares especially important for printing service bureaus as they create products for millions of customers a month. So why would it make sense for a company to adopt these softwares? What are the benefits? The limitations? Our experts gave us their opinions on how and why MES solutions are used in their companies.
Our first expert is Mike Moceri, the founder and CEO of MakerOS. He has extensive experience in manufacturing, design and software, starting from 2013 when he co-founded the world's first 3D printing retail service bureau in Chicago. MakerOS has developed one of the most well-known manufacturing execution systems (MES) in AM. Matthew Forrester, our next expert, looks after the technical side of AM deployment within the L'Oréal group: from prototyping, through industrial applications, to the development and optimization of packaging components for finished goods production. Finally, Gaël Spiral is the manager of Erpro's site at Toulouse. Erpro is a leading 3D printing service provider located in France. Both l'Oréal and Erpro have integrated an MES solution in order to help to streamline their processes.
Mike Moceri
Matthew Forrester
Gaël Spiral
Why should a company adopt additive manufacturing workflow softwares?
AM workflow is essentially every step that takes place between creating a model to having an actual finalized part in front of you. Just like in traditional manufacturing, AM MES softwares aim to help manufacturers to organize and track each stage of the manufacturing process, allowing them to monitor but also to have a clear-cut way to manage a part from its conception to its creation. This in turn allows not just faster, more efficient work, but also for less mistakes in the manufacturing process.
For these reasons, a growing number of companies working in 3D printing have chosen to start using additive manufacturing workflow management software. It is especially important when companies are producing a high volume of 3D printed parts. For example, this was the case for L'Oréal, who saw integrating an MES software as a logical step as they increased production of 3D printed parts. Forrester notes: "We are producing thousands of parts internally per year, and so moving to a digital solution allowed us to gain a more complete vision of the ecosystem and how it was running, allowing performance tweaks to be made to further increase agility that weren't necessarily obvious before." L'Oréal uses AMFG, a choice they made because they could perfectly shape the solution to meet their specific needs.
Erpro started using a workflow software for a similar reason. Spiral mentions that "We started managing a very high volume of 3D printed parts, about one million per month. We needed to find a solution that would allow us to track, control and better manage all the steps involved in producing these parts, from manufacturing to shipping. Traditional software was no longer sufficient for the volumes we were handling." He also noted that Erpro chose 3Yourmind as their preferred software as it allows for a certain amount of versatility, allowing them to not just better control each stage of the AM processes but also to manage pricing.
However, these solutions do not just need to be for large OEMs or service bureaus. Moceri notes that really these softwares could benefit anyone in the field of additive manufacturing: "We built MakerOS specifically for the modern product designer, engineer, and fabricator. Just in the US, there are over 150,000 engineering firms, contract manufacturers, job shops, prototypers, with 50 or fewer employees that do not have the time, money, patience, or sometimes the knowhow to string together an effective business operating system to make themselves competitive for the post-COVID era." For example, the case of Hydra Research in Portland, OR. The CEO and Founder, John Kray, noted that MakerOS was important for him as it was a better way for his customers to submit projects to his business. Notably, it helped to streamline project management for 3D services as well as allowing for a clean client project portal, making it also more attractive to prospective customers.
How does it help?
But how can these softwares actually help AM businesses? Moceri can think of three main categories to explain why people would benefit specifically from AM workflow tools, namely organization, collaboration and of course the financial benefits. But what does this entail? In the case of MakerOS, organization would allow users to have all the necessary data for a project in one, easy-to-use place "I have personally started and run two fabrication shops before using MakerOS and we typically used around six daily applications to manage billing, project management, client and team communication, file analysis, and the list goes on. What happened was we had data for a single project in several different places that had to be input manually and if we wanted it in one place, we would have to create or integrate an expensive and cumbersome solution. So we took that headache, broke it down into several modules within the MakerOS platform, and made everything work seamlessly in one organized portal."
This of course is a huge benefit in and of itself, but it also allowed for further advantages. By increasing the organization of files and anything else needed for a project, the central system also enables significantly greater collaboration. Every stakeholder in a project can access any file they might need, as they are placed in one portal rather than being spread over a variety of people in numerous places. Of course, the last benefit is that this optimization will allow companies to theoretically have a higher return on investment. The faster and more efficient that AM processes are, the more parts can be made. Additive manufacturing workflow solutions play a critical role in helping companies to optimize their processes.
L'Oréal agrees that this is a significant benefit, especially in the pandemic since it is uncertain when people will be able to see their coworkers: "Instead of sending emails, or bringing hefty files down to the lab with a usb stick (made even harder over the recent months), with just a couple of clicks a part is ordered by our engineers, and they know that within 24 hours a physical component will be ready for use. A single software solution means that when components are ordered, the internal billing, reporting, and stock management data is automatically filled. The web-based approach also meant we could also open up the application to all our development and purchasing teams to have easy access to a 3D file viewer." Remote controlling is particularly important with so many people working remotely. AM workflow management software helps to eliminate, or at the very least reduce, these issues.
An additional advantage is that this software is especially useful when it comes to combining different additive manufacturing technologies. At Erpro, as a service provider, they have machines from different companies, including HP, Carbon, EOS and Stratasys. Every manufacturer has their own monitoring software for 3D printing, but this creates issues if you want to combine different brands for production. Spiral notes that 3Yourmind helped them to solve this particular problem: "The software we use today allows us to encompass all the additive manufacturing technologies we have, to pool them. So the 3Yourmind software helps us to bring everything together, more importantly it also extends from the production management to post-processing and shipping. It's not just about controlling the print itself, but the entire value chain."
What are the remaining limitations?
Of course, that is not to say that these softwares cannot be improved. There are still certain limitations. One major point, raised by Spiral, is that "Although versatile, the software remains specialized in the field of additive manufacturing and has limitations in terms of quality management. Compatibility with ISO standards, for example, is not an easy task, and I think this is the main area for improvement." As more industries adopt 3D printing not just for prototyping but also for end-use parts, it makes sense that quality management and better standardization will start to be increasingly important.
Moceri also notes that scope can be a problem for many workflow management software solutions, he stresses that the most effective solutions have a more holistic approach, "Many workflow management software solutions are limited by their scope. Some have the ability to automate quoting but they stop there and don't have any solution after the quote. Others have a good project management system but no way for clients to collaborate on the project with you. Not many solutions offer the holistic approach to workflow management that MakerOS does."
For Forrester, workflow solutions could go even further to streamline and automate processes: "I am a keen advocate of the "Lean Life" – Whatever can be done to reduce duplication of tasks, eliminate low added-value, improve agility, and accelerate Time To Market. Ideally the part should start printing as soon as the CAD design is finished, and the replacement stock order is sent directly, and honestly, we are pretty close to this already. Moving forward, we see real benefits from analytical tools using AI to highlight areas for weight reduction, print time, or build optimization – so let's see some more of these on the market!" Overall however, the experts stress that the benefits outweigh the negatives and many improvements have already taken place in recent years. There are more solutions on the market than in previous years and more and more include approaches that enable total control of every step of production.
Last words of advice?
Generally, AM workflow management software seems to be most useful for 3D printing service bureaus and for large OEMs. Their worth can truly be seen when businesses are creating large numbers of 3D printed parts. That being said, their benefits can really apply to any number of business that use additive manufacturing. Having a way to organize each step of manufacturing from conception all the way to post-processing and shipping to clients, is invaluable in business especially as workers are increasingly being told to stay home. Additionally, these systems seem to be improving and are largely customizable, allowing for even greater benefits. Our experts certainly believe that additive manufacturing workflow solutions are useful.
"Additive manufacturing, especially batch and mass-production, is relatively new, and businesses are still finding their way around best practices and different ways of working. I don't believe there is a unique solution for everyone, but to draw a parallel with the beauty of additive, the ability to customize and create unique systems brings great value to the end user. You should certainly aim for modular systems that can grow with the maturity of the technology within your enterprise, and don't be afraid to create your own specs when you can't find what you want in the brochures." – Matthew Forrester

Mike Moceri adds"But I'll leave you with these words of advice: you should take advantage of the tools out there that allow you to make more, including MakerOS." – Mike Moceri

"You have to structure your specifications well. This will allow you to choose the right solution and not waste time. I would also say that you have to define your priorities well." – Gaël Spiral
Would you consider integrating an AM workflow management software? Let us know in a comment below or on our Linkedin, Facebook and Twitter pages! Sign up for our free weekly Newsletter here, the latest 3D printing news straight to your inbox! You can also find all our videos on our YouTube channel.
Thumbnail Photo Credits: MakerOS