AM Polymers on Developing Innovative Plastic Powders for Additive Manufacturing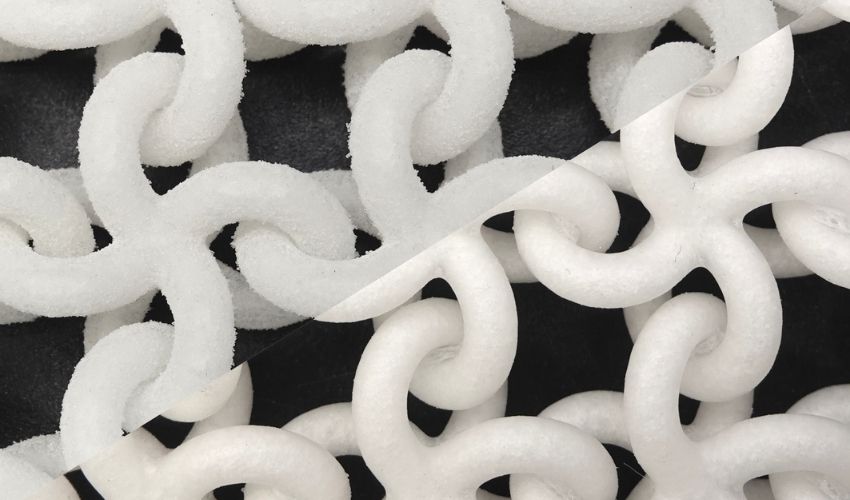 3D printing has evolved as a technology from a tool for prototyping to a popular manufacturing process. Increasingly, technical components are also being created using additive manufacturing (AM) for industrial purposes. As a result, a wide variety of industries, from automotive to aerospace, are now benefiting from the many applications of AM. However, in order for companies to really exploit the advantages of 3D printing over traditional processes, it is by no means only the choice of  process that is important. Only with a suitable selection of materials can new technologies truly become a part of industrial applications and mature.
AM Polymers, an expert in the production of qualified plastic powders for Selective Laser Sintering (SLS) and high speed sintering (HSS), is one of the pioneers on the market when it comes to the development of qualified powder materials with properties close to those of injection molding. We spoke with the two company founders, Andreas Wegner and Timur Ünlü, to find out more about the variety of materials on the market for additive manufacturing. In the interview, the two experts explain how they have succeeded in expanding this range.
3DN: Can you briefly introduce yourself and your connection to 3D printing?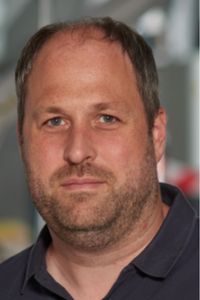 Andreas Wegner: The entire AMP team came into contact with the technology during their studies or through the use of their own 3D printers. I have been involved with 3D printing since 2007. During my doctorate at the University of Duisburg, I focused my attention in particular on SLS and plastics – with a focus on a deep understanding of the technology as well as of robust processes. In doing so, I recognized early on the need to expand the range of materials for laser sintering in order to make 3D printing usable for applications that had been closed to date. For this reason, I started developing new powder materials in 2012.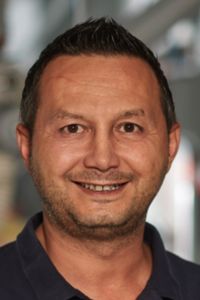 Timur Ünlü: As a physics engineer, I guess I am the exotic one at AMP. Nevertheless, lasers, light absorption, light-solid interaction, voxels, 3-dimensional techn. orientation, etc. have not been foreign concepts to me. My interest in 3D printing was sparked in 2012 by an article about the laser sintering process in the Neue Züricher Zeitung (a Swiss newspaper). At that time, I was already the technical managing director at a Swiss polymer powder manufacturer. My job was to open up new markets and thus I also became aware of powder based 3D printing processes. In 2013, I came across Andreas' publications through scouting. A professional exchange quickly developed and the starting signal for the development of industrially applicable plastic powders for 3D printing.
3DN: What mission was AM Polymers founded on?
AW: The developments started from my doctorate resulted in the founding of AM Polymers in 2014. After I was able to successfully qualify the first materials for laser sintering with Timur back in 2013, the question arose about the commercialization of the powder materials. Since then, our mission has been to offer qualified powder materials with properties close to injection molding and easy processing. The focus here is on thermoplastics traditionally used in injection molding, in order to expand the areas of application in 3D printing through the diversity of materials.
In general, we follow the plug-and-play idea for our materials. Easy processing and high quality of the material are always the focus of development. We consider short run-in times of a few days to be mandatory. Lengthy attempts to get materials running on machines frustrate users and bring alternative materials into disrepute compared to PA12 and PA11, making it more difficult to open up new markets and applications.
Based on more than 20 years of experience, we are able to offer easy-to-process material solutions for all common plant systems. We do not see ourselves purely as suppliers of powder materials, but as providers of material solutions, including the necessary processing know-how.
TÜ: Yes exactly, the unbelievable fact that for almost more than 25 years PA12 was the only material suitable for the laser-sintering process was the decisive factor for us to cover the demand for true injection molding polymers.
3DN: Can you tell us a little more about the range of your materials and their compatibility with 3D printing processes?
AW: AM Polymers now offers a very wide range of materials for selective laser sintering and high-speed sintering, which we are constantly expanding with the aim of making as many well-known materials as possible available for additive manufacturing. In addition to classic PA12 and PA11, we offer many classic standard thermoplastics and engineering plastics such as PE, PP, TPU, PBT, PA6 and PA66.
TÜ: With eight different polymers, we offer the broadest material portfolio for selective laser sintering on the market. The selection is supplemented by further variants with or without fillers to meet special requirements. Depending on customer requirements, we also offer customized materials. We see ourselves as AM system engineers with expert knowledge in the polymer, powder and process fields.
3DN: With the materials PA66 and PBT, you have expanded the once very limited range of materials for series production in laser-sintering. What are the benefits of this for the market?
AW: The materials market for additive manufacturing is still dominated by PA12 and PA11. For technical applications, the materials PA6 and PA66 dominate over PA12 and PA11 as well as PEK or PEKK. As a result, the step into additive manufacturing remains closed in many classic application areas due to a lack of suitable materials, although many innovative application areas would be available, for example, in the automotive, aerospace, electronics and electrical or mechanical engineering sectors. With PA6, PA66 and PBT we close this gap and can offer a wide range of materials with higher mechanical properties than PA12 at an efficient price.
With ROLASERIT® PA66-01, we have succeeded for the first time ever in offering a PA66 powder material for the laser-sintering process. Compared to other polymers, PA66 is characterized in particular by high heat distortion and aging resistance. At the same time, the material exhibits high hardness and stiffness as well as good abrasion resistance. The material was developed as a flame-retardant material in cooperation with Airbus and Siemens, where it was successfully tested for the production of demonstrators for the aerospace and electronics industries.
TÜ: As a further new development, various PBT grades for use in laser sintering were created in cooperation with MITSUBISHI CHEMICAL. PBT as a polymer is characterized in particular by good sliding and wear properties, good electrical insulation properties independent of moisture absorption, and high dimensional stability. Typical applications include plain bearings, valve moldings, rollers, pump housings and impellers, couplings and, in particular, applications in the electrical industry such as coilformers, terminal blocks and plug connectors.
3DN: Can give us some application examples in more detail for our readers?
TÜ: Current applications are generally difficult to show, as the focus here is on our customers' lead over their competitors. Nevertheless, we can already report that our PBT has also already found its place in applications for the automotive sector and will soon be used in series production.
AW: Our PP has already been used for automotive brake fluid tanks since 2017 and almost all OEMs worldwide benefit from the flexibility of 3D printing. Robot grippers for production lines made of our elastic TPU have already been established as an efficient application. The selective laser sintering process proved to be a more cost-effective as well as faster production of these robotic grippers. At the end of the article you will find a video showing the production of the grippers.
3DN: How do you plan to expand the AM Polymers product range in the future? Are there plans to collaborate with existing/new users?
AW: Further materials are in the development phase. These include not only reinforced and flame-retardant versions but also other polymer variants. Here we are focusing on the materials that are most in demand from customers. So you can expect new materials from our company.
TÜ: There are also a wide variety of cooperations with equipment manufacturers, processors and users. In addition to the establishment of new materials, it is often also a matter of developing customized material solutions for customer-specific applications. In many cases, the focus is on series applications with larger quantities in order to create the transfer to 3D printing with the materials previously used in injection molding.
3DN: AM Polymers will have a booth at Formnext, where can visitors find it and what can they expect there?
AW: You will find our booth in hall 12.1 G127. As a visitor, you can find the widest range of materials for selective laser sintering at our booth. We will show the great variety of possibilities our materials offer. We will be happy to advise you on which material is best suited for your needed applications and which approach, service or system technology will lead to the best solution for you.
TÜ: In addition, Andreas will give a presentation entitled "Availability of the traditional injection molding plastics PA66, PBT and PP for powder bed fusion as an enabler for new applications of additive manufacturing." We strongly recommend you to listen to his presentation, which will take place at the TCT Introducing Stage @ Formnext, Hall 12 Level 0, E41 on 16.Nov.`21 from 14:40-15:00.
3DN: Do you have any final words for our readers?
TÜ: The world does not revolve around just a few handfuls of materials in polymer powder-based 3D printing. We can look forward to seeing how rapidly the diversity of materials will increase in the coming years and thus how 3D printing will make its significant contribution to fulfilling the goal of decentralized plastic parts production and the associated sustainability.
AW: We are very happy to see the 3D printing industry live and in person again at Formnext 2021 after a 2 year break. We have missed the interesting conversations and discussions on site very much. Please feel free to visit us spontaneously at our booth or contact us via [email protected] to arrange an appointment. You can also find more information on our website HERE.
Will we see you at the AM Polymers booth at Formnext? Let us know in a comment below or on our Linkedin, Facebook, and Twitter pages! Don't forget to sign up for our free weekly Newsletter here, the latest 3D printing news straight to your inbox! You can also find all our videos on our YouTube channel.