AM Polymers Introduces High-Performance Composites and Flame-Retardant Materials for 3D Printing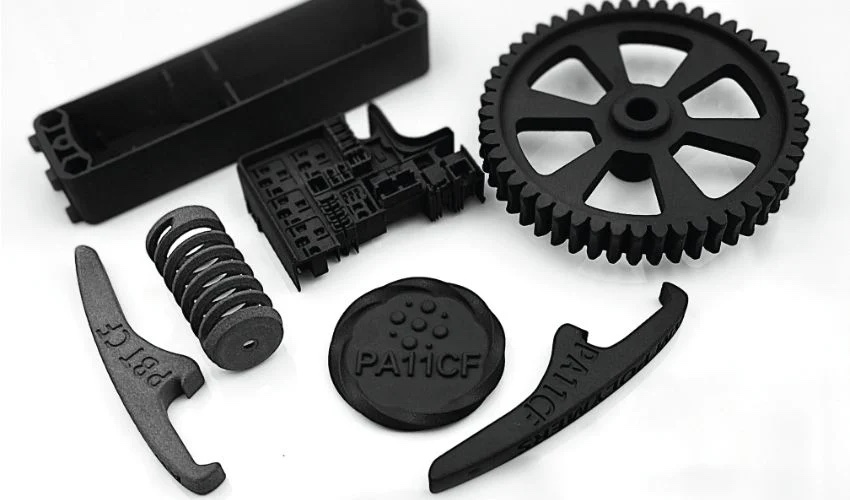 Nowadays, it is easy to encounter a wide range of different technologies within 3D printing, with its presence in many different industries and applications. Able to choose between stereolithography, material jetting, selective laser sintering and more, companies within the automotive, aerospace, but also medical and dental industries can benefit from 3D printed parts, although it is not always the technology itself that matters the most. In fact, in the majority of cases, the material used is more important, because a technology, no matter how sophisticated, cannot function without the appropriate material. Users can expand their entrepreneurial horizons above all by using powder-based materials, and powder-based polymers play a particularly important role here. As an expert in the production of such polymers, the company AM Polymers in particular has increasingly expanded its leading position in recent years, so that today they are regarded as an established partner and producer of, among other things, polyethylene, polypropylene, polyamide, polyurethane or even polybutylene terephthalate. But what about the application areas, the benefits and above all the innovative powder-based polymers?
In a study published this year by SmarTech Anaylsis on the use of polymers in the automotive industry, the results strongly highlighted once again the possibilities and advantages of AM material. Notably, in terms of production of internal combustion engines to be discontinued in the future, it is expected that major automotive manufacturers will increase the amount of parts produced with polymers from 1.5 million to around 6 million 3D printed parts by 2030. This means that targeted areas in the automotive industry such as end-use parts, supporting equipment for production such as jigs, specific tooling, or assembly aids, will be more widely manufactured with polymers. This will lead to material sales in the segment increasing from $80 million in 2022 to $600 million in 2030. However, the list of applications by using polymer powders is long, as AM Polymers shows. For example, you can also find them as tops of foam nozzles for firefighters, where a geometrically adapted structure has made it possible to increase performance – using polypropylene/polybutylene terephthalate. However, if we stay in the field of fire departments, electronic housings for fire engines have also been successfully produced thanks to polybutylene terephthalate. It should be noted here, however, that various functions had to be integrated, such as electronic resistance, but this was not a problem due to the material used.
What Are the Benefits of Polymer Powders From AM Polymers?
It is well known that additive manufacturing has a number of advantages when it comes to sustainability. However, the importance of the materials must not be underestimated. In recent months in particular, the team at AM Polymers has been able to achieve great successes in the recyclability of PA12. Thanks to a special refinement, it can be reused with a refresh rate of 50% without having to add new powder. When using this polyamide powder, which is available in black and white, the final 3D printed parts have an outstanding quality that gives no indication of reused material. However, the benefits of this approach do not end with the increased sustainability, because users can also benefit immensely in terms of the cost efficiency achieved as a result. If, for example, a 50% refresh rate of PA12 is compared directly with a 10% refresh rate of TPU, a cost efficiency of 43% compared with PA12 can be determined for a size of 20 liters and as much as 96% for a size of 72 liters.
Another advantage that users experience relates to Design for Additive Manufacturing (DfAM). Whether it's rapid prototyping, tooling, production aids or even series parts – if you specifically deal with the design for the subsequent additive process with powder-based powder, then you will notice that, in addition to cost advantages, the performance of the 3D-printed parts can also benefit. What many users might not directly judge as an advantage of powder-based polymers is behind the post-processing. De-powdering is an unavoidable process step, and after this step, the parts have a distinct quality due to the use of polymer powders. In recent years, AM Polymers, in close cooperation with AMT and LuxYours, which specializes in post-processing, has found that after after treatment by vapor smoothing, 3D printed parts are not only visually mistaken for injection-molded parts, but have unique properties such as transparency or gloss.
After we have been able to get a general overview of the increased entrepreneurial efficiency using powder polymers in 3D printing, it is also worth taking a specific look at innovative materials. In addition to well-known injection molding types, the importance of flame-retardant variants should not be overlooked. AM Polymers has therefore specifically looked at materials that have immense resistance to open flames. Notably, this concerns TPU powder, which bears the name ROLASERIT® TPU01FR, the sale of which will start at this year's Formnext. Anyone familiar with the handling of TPU powders will know that there can be disturbing smoke development, even decomposition of the material by the laser. But this is not the case with ROLASERIT® TPU01FR , a big plus especially for companies when machine park capacity is a concern. The fact that ROLASERIT® TPU01FR powder does not produce flames, as is otherwise the case with standardized materials, also speaks in favor of safer use. In addition, this thermoplastic polyurethane, which hardly shows any aging effects, has a much stronger flowability in contrast to other TPU powders, and also in terms of processing, this is much easier with AM Polymers ROLASERIT® products.
What Advantages Will Future Materials Bring?
In addition to TPU01FR, AM Polymers will launch three other flame retardant polymer powders (PP01FR, PBT01FR and PA11-01FR) in early 2023. All these powder materials are not only halogen-free, but also meet the UN-ECE R118.03, Annex 7 and 8 fire safety standards. In addition, further tests according to fire safety standard UL94 will follow as well as others in the coming year, so that they can be used in various fields. All these materials are intended for the aftermarket for series use.
Already in early 2021, AM Polymers enriched the market with its PBT and PA11 as a reinforced carbon fiber variant. Such composite polymers find their use in the conventional injection molding market where higher temperature as well as mechanical resistance of parts is required. Especially when it comes to the production of end-use applications through 3D printing, AM Polymers' PA6, PP and PA12 powders with carbon fibers have provided extremely high stiffness of up to 7300 MPa, which subsequently greatly limits the deformation of these materials. To learn more about AM Polymers' materials, visit the materials manufacturer at Formnext at booth 11.1-E36 or click HERE.
Will you be visiting AM Polymers at Formnext? Let us know in a comment below or on our LinkedIn, Facebook, and Twitter pages! Don't forget to sign up for our free weekly Newsletter here, the latest 3D printing news straight to your inbox! You can also find all our videos on our YouTube channel.
*All Photo Credits: AM Polymers (composite parts made of PBT and PA11 with carbon fibers)