Who are the AM Manufacturers in China?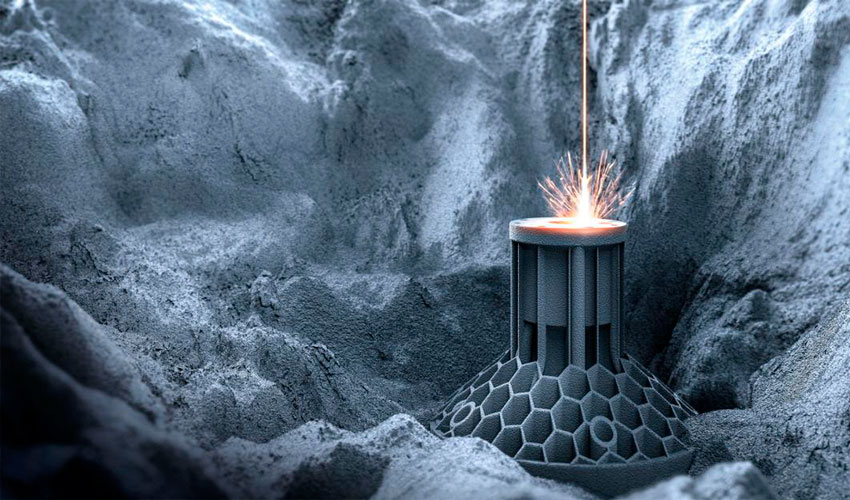 In recent years, we have seen a real growth in the number of Chinese additive manufacturing players, particularly with the arrival of manufacturers offering small, highly accessible FDM machines or, on the contrary, more industrial machines compatible with more demanding materials. China is a very promising market for 3D printing, which already accounts for 12.9% of global spending in the sector according to a study published by the IDC (International Data Corporation). In 2019, the country's spending has been estimated at $2.9 billion accounting for machinery, materials, software and services. The firm estimates that China will be the fastest growing country in the 3D printing market over the next 5 years, with an annual growth rate of 21.6%. Faced with such forecasts, it seems important to us to give a quick overview of China's main 3D printer manufacturers, all technologies combined. 
It's estimated that 48% of current 3D printing revenues in China come from 3D printers (compared to 37% for Europe or 33% for the United States), proof that Chinese manufacturers are an important component for the global market. We have identified the 24 main players, whether they are manufacturers of office solutions such as Anet3D with its small kit machines, or industrial players such as IEMAI 3D or INTAMSYS whose machines are compatible with high-performance thermoplastics. All manufacturers are located in eastern China, which is not very surprising given that the coast is home to the majority of the population. The provinces of Guangdong and Shanghai have 50% of the manufacturers that we have identified in the infographic below.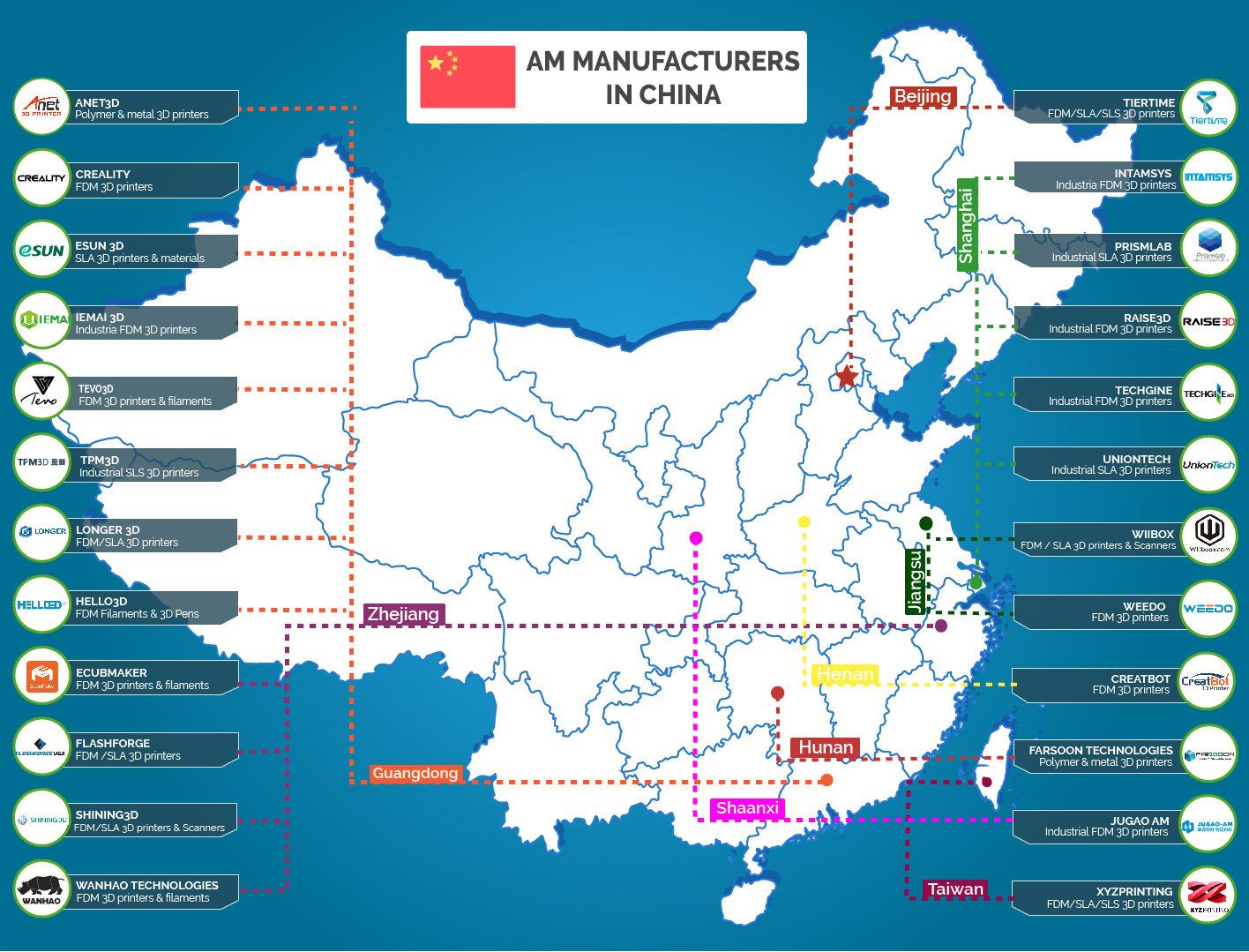 Overall, the majority of the companies identified are manufacturers of FDM and/or SLA 3D printing solutions, office or industrial. Historical players include companies such as Shining3D, Wanhao, Raise3D and Flashforge. It has to be said that there are a wide-range of very affordable Chinese solutions today, mainly kit machines costing less than $500. We can mention the dazzling success of Creality machines, for example, or Tevo 3D. China has long focused on the education sector, encouraging schools to integrate small office machines directly into their classrooms. 
There are few manufacturers of Selective Laser Sintering 3D printers, however we cannot ignore the pioneering company Farsoon Technologies, which has developed a whole industrial range of machines. A few companies are starting to launch into this market: we can mention XYZprinting, based in Taiwan, which announced new industrial solutions last July. 
We can still observe some manufacturers of metal 3D printers such as Farsoon Technologies or Weedo. In fact, the IDC report predicts that a growing number of metal 3D printing solutions are being developed in China, particularly powder bed fusion systems. Good news for the aerospace and defense sectors, the two largest users of 3D printing in China, they will be able to design their finished parts more easily and quickly. Charles Han, CEO and co-founder of INTAMSYS, adds: "China has the largest manufacturing volume in the world. Our active development in certain sectors, such as aerospace and automotive, as well as the increasingly personalized demands of consumers, will lead to a much greater demand for the Chinese additive manufacturing market."
We can therefore expect to add additional actors on our infographic next year! Anthony Huang, Director of XYZprinting China, concludes: "The Chinese market is in huge demand, which is not found in other countries. As a result, significant capital investments by government, companies, research institutes will accelerate the pace of the 3D printing industry in China. In addition, the country has a mature production and related supply chain, which will lead the development of 3D printing to a high level of intelligent manufacturing. It is more difficult to replicate in other countries". Moreover, the study recently published by EY confirms this trend – the adoption rate of additive manufacturing by Chinese companies is 78% in 2019, making it the second largest user of 3D technologies after South Korea (81%). 
What do you think of the hardware additive manufacturing market in China ? Let us know in a comment below or on our Facebook and Twitter pages! Don't forget to sign up for our free weekly Newsletter, with all the latest news in 3D printing delivered straight to your inbox!