Alveo3D, a filtering kit for safer 3D printing at home & office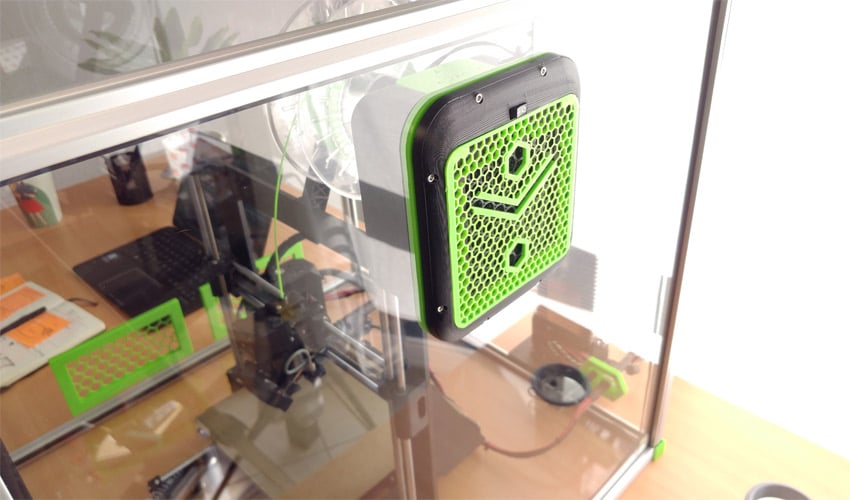 Alveo3D is a young French company,  which has developed a nanoparticle filtration system for 3D printers. Its objective is to reduce toxic emissions from machines by reducing the risk of air pollution when they operate in a very poorly ventilated environments. In the long run, these particles can be dangerous for the health of users. These small filters are mounted on small boxes, also designed by the startup. The entire system is made out of 3D printed plastic elements. They are now available in kit form or ready to use, with boxes that can be customized according to the size of the 3D printer. We met Lucas Martini, the CEO of Alveo3D, to learn more about these solutions.
3DN: Can you introduce yourself and your link to 3D printing?
My name is Lucas and I represent Flexee System, the company behind the Alveo3D project that addresses the toxic emissions issue of 3D printers. We are 3 partners behind this project initiated back in 2018. Victor is an industrial product designer and Laurent, is the team's developer. 3D printing has become an essential tool in our arsenal dedicated to the prototyping of our models and demonstrators.
3DN: Why did you create Alveo3D?
We quickly used 3D printers in small premises such as our workshop or directly at home. We have become aware of the potential danger associated with our machines due to throat and eye irritation, and the worrying smell of melted plastic. We know some makers who have mentioned the same kinds of symptoms especially when using thermoplastics such as ABS or HIPS. Some spoke of headaches and symptoms were more serious in smaller, less ventilated areas. The same descriptions were found on the forums and some participants offered home-made filter solutions.
During 3D printing, we can indeed be confronted with two types of harmful emissions: toxic emissions linked to Volatile Organic Compounds (VOCs) and nanoparticles. That's all it took to convince us to equip our 3D printer with a filtration system. To talk a little bit about toxic emissions, it is important to point out that it is a long-term risk with potential chronic effects. Pollutant emissions are released in low concentrations in the air and it is the regular presence of a 3D printer that can be harmful. As soon as 3D printers are used in poorly ventilated areas, the accumulation of nanoparticles and VOCs can present a risk of air pollution.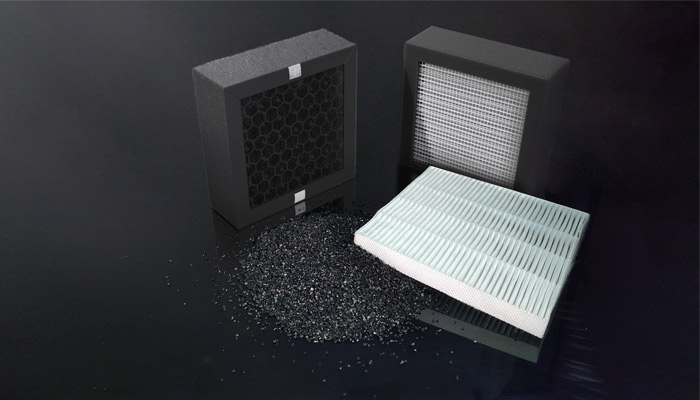 The risk associated with VOCs is well known to industry and air quality authorities. Some gases emitted by thermoplastics are known to be carcinogenic. Even in PLA, which has a natural base, the amount of additives added to it makes it toxic. Other filaments such as POM naturally release formaldehyde and there is a risk of breathing toxic air when opening the bag from the reel. For nanoparticles, the risk is less well defined but probably even more dangerous. They can be found in the body, organs and brain and are difficult to eliminate by the human body.
The CNRS recommends using a HEPA filter to treat nanoparticles and activated carbon to treat VOCs. We prospected for existing filtration solutions and were surprised to see that there were few solutions dedicated to 3D printing for less than 150 euros. Many makers make their own air filtration system that they place on the housing of their printer to draw in the air and filter it before it spreads into the room.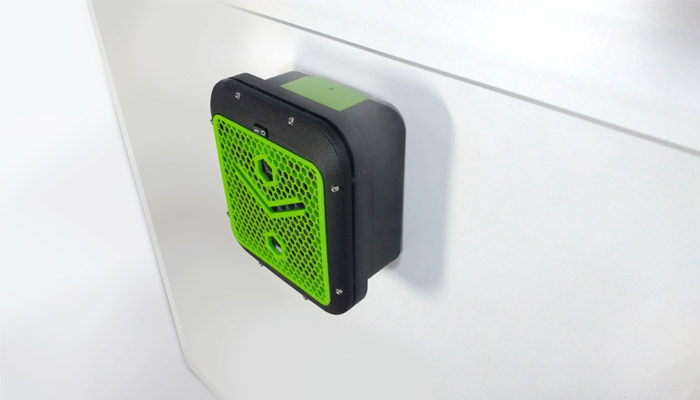 The first version of our filtration system was made by hand. A HEPA filter, activated carbon grain and a 3D model to position everything on our printer box. The results were encouraging, but we wanted to be sure that we were dealing effectively with all toxic emissions. What was supposed to be a simple accessory for our 3D printer turned out to be a real work subject. We then mapped the risks associated with most of the gases that we could find during our printing. We have synthesized the results of studies on nanoparticle releases and realized that treating these elements in the order of a few dozen nanometers would require further development.
For 3 to 4 months we tested dozens of filter configurations on our development box. We have worked with European and Chinese manufacturers to find the right combination in the treatment of VOCs and nanoparticles. We wanted our work to remain accessible to all users because the danger is no different with an entry-level machine or a professional model.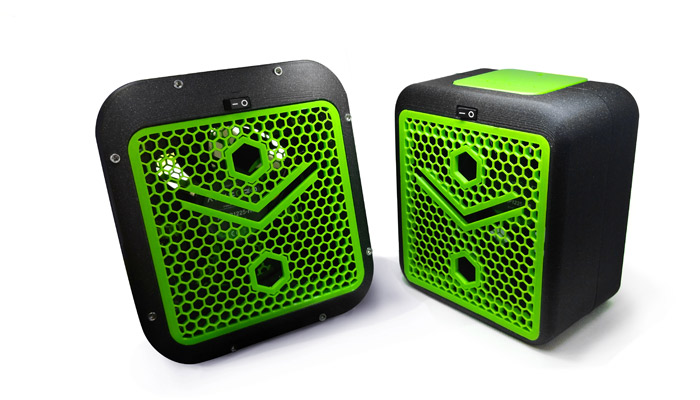 3DN: How do Alveo3D air filters work?
Alveo3D filter boxes have been designed to be 3D printed, with ease of use and easy replacement of filter cartridges. They combine a powerful high-pressure fan with a filter cartridge specially designed to combat the harmful emissions of FDM 3D printing. This filtration system includes an activated carbon side that allows a wide spectrum of VOCs to be treated.
We are often asked about the life cycle of our filters, but the answer depends on many factors, the main one being printing time, filament type and extrusion temperature. As a precautionary measure, we recommend 600 hours of use. It is mainly related to activated carbon. When it is saturated it allows all the VOCs to pass through and it is therefore important to change the filter regularly before reaching saturation. The 600h of filtration represents approximately one change every 6 months for printers that operate occasionally and every 3 months for printers that operate regularly.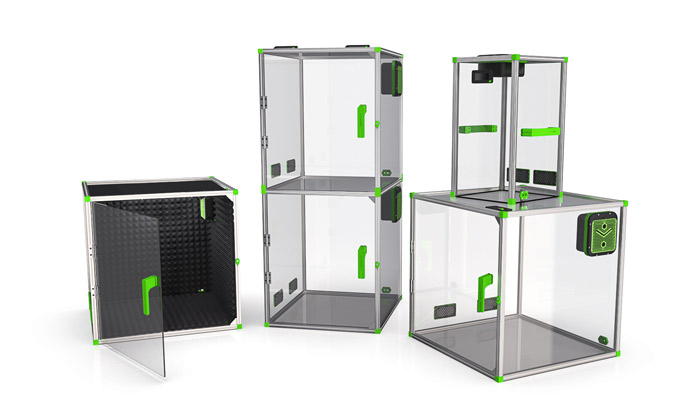 Our filtration systems are mounted on a 3D printer box. It is an essential tool to protect your equipment and print successfully, especially with some plastics that are more difficult to print, such as ABS. It also reduces machine noise. Above all, it makes it possible to capture all fumes, even after the plastic has cooled. We actually have 3 objectives: to maintain a stable ambient temperature, to limit the negative effects of warping and to treat the air as a whole. We manufacture custom-made boxes to suit the dimensions of each printer. There is a common structure with an aluminium frame and Plexiglas or polycarbonate facades. The boxes are equipped with our filtration system and we can add options according to the specific needs of our customers.
Finally, as I said, all the plastic parts of our boxes are 3D printed, which allows us to make continuous technical improvements but also to customize the final solution. They are available in kit form or ready for use.
Two models have now been developed. The alveoONE filtration model is used with a box equipped with an air inlet that does not need to be sealed. It draws air into the housing by generating a slight vacuum and discharges clean air. This is suitable for printing common thermoplastics, PLA, ABS, PETG, … The alveoONE-R filtration model is used with a waterproof housing and works in internal recycling. If you need an environment above 40°C, this type of internal recycling allows a higher temperature rise.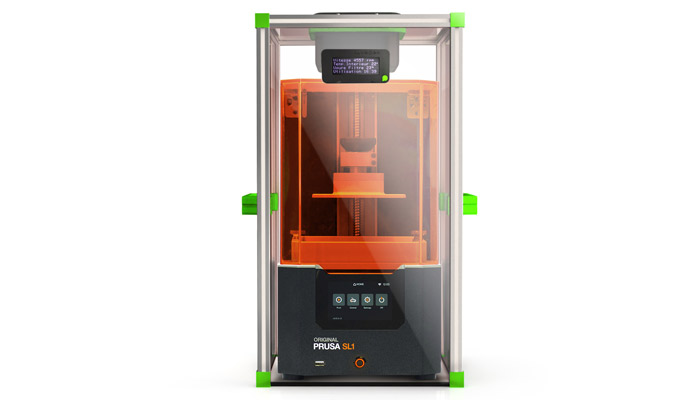 3DN : Do you think users are aware of the dangers of 3D printing?
We have conducted a small study on this subject and according to our results, half of the users are not aware of the risks. For both professionals and beginners, awareness comes after a few uses when bad smells and irritations appear. The adoption of security measures is not yet automatic. However, some of them believe that the use of PLA is sufficient to protect them from toxic emissions. Although PLA is less harmful than other thermoplastics, it is nevertheless loaded with additives to enhance certain features and technical properties. It can therefore be toxic. One of Alveo3D's missions is to provide information on security risks and best practices.
3DN: What are the future projects of Alveo3D?
We have several areas of development for the coming months. By the end of July we should be able to deliver our first V2 electronic cards. They are used to control the filter housings and monitor filter wear. We are also preparing a model specifically designed for companies, the alveoONE PRO. It will be a filtration system capable of treating the air of 2 printers simultaneously or a high-volume printer with individually tested and certified filters.
3DN: Any last words for our readers?
Basically we still have several projects aligned for the future. But we must also control the current demand and developments for 2019. You can find our different solutions on our website HERE.
What do you think of Alveo 3D? Leave a comment below or on our Facebook and Twitter pages! And remember to sign up for our free weekly Newsletter, to get all the latest news in 3D printing send straight to your inbox!