All You Need to Know About Lychee Slicer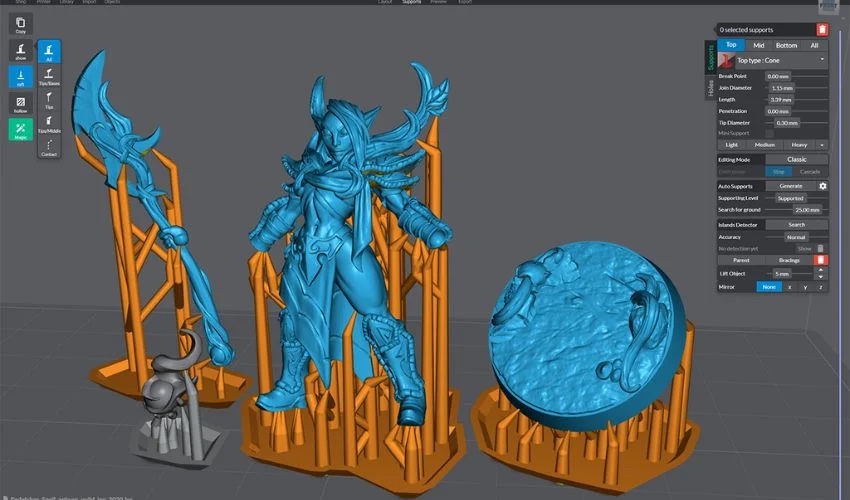 Contrary to its name, Lychee Slicer is not a tool for a tropical fruit, but rather a slicer that is an essential companion for SLA and resin 3D printers. Specifically, this is the slicer software from the manufacturer Mango 3D, which is also known for its Mango slicer as well as the Mango OS software. Lychee Slicer, which is now in its 3rd generation, can be differentiated into different versions for its users: from the free version to Pro for €5.99 to the Premium for €9.99 per month. For this, a large list of compatible printers can be found, which include, for example, the Anycubic M3, Creality Halot One or even SparkMaker. But what makes Lychee Slicer different from slicers?
In 3D printing, it is inevitable that you will at some point need to use some kind of slicing software, because it is decisively responsible for the fact that the 3D-designed part can be printed afterwards. As a result, that there are many different slicers on the market, for example the PrusaSlicer or the Cura Slicer. With the Lychee Slicer, however, in addition to classic features such as preparing the model to be 3D printed for printing with simplicity and high precision and then slicing it accurately, there are also other exciting features such as real-time cavity formation, island detector and much more.
An Overview of Lychee Slicer
If you are worried that this article will not be relevant for you because your 3D printer will not be in the list, we can reassure you, because according to Mango 3D, new printers are added regularly. In addition, it is possible to add a "custom" 3D printer that corresponds to your volume, so that you can prepare the files as usual using Lychee Slicer and export them as an STL file. What you can additionally expect from Lychee Slicer is its Magic Menu, which allows users to automate the preparation process. Above all, this saves a considerable amount of time, since the alignment, the addition of required supports or even the optimization and addition of a raft no longer have to be done manually.
Slicer's user-friendly interface is available in many languages – including French, German and English – and allows users to operate it in minutes. Also, the use of tools and settings allow for the smooth creation of supports for 3D models, no matter how demanding, and Mango 3D is well aware of the complexity of these 3D printing supports. For this reason, Lychee Slicer offers a powerful and intelligent support algorithm. This therefore also allows for a wide range of application areas using resin 3D printing. With industry-specific functions, the slicer can thus also be used without problems the jewelry design, dentistry and orthodontics as well as in product design.
What are the Features in the Newest Update?
As mentioned earlier, Mango 3D claims to always be adding new 3D printers for compatibility, which is one of the many additions in the wake of the Lychee Slicer 3 update. Users can also enjoy the slicer's new features via the cutout bar, which now allows users to view the model's cutout at any height, making it a lot easier to insert hard-to-see and internal supports. On the one hand, this means that it is easier to view a hollow 3D model, but on the other hand, it also makes it easier to view those models that have been dynamically hollowed out in Lychee Slicer.
In order to provide users with a powerful 3D preparation tool, special focus has been placed on the pixel pipeline. Here, the Lychee Slicer works pixel-based and not vector-based, with the reason being that the 3D printer communicates in the form of light pixels sent through the LCD panel. This guarantees that each resin layer is cured during 3D printing. According to this reason, the slicer is able to make more accurate cuts that are limited to even the smallest and finest details. If you opt for the Pro version of Lychee Slicer, then you also have the option of Pixel Perfect. With this feature, they can see elements displayed on the screen at a ratio of 1:1 pixel by pixel. Mango 3D states that this is an optimal addition for creating supports.
The Increased Speed of Lychee Slicer
In order to make the entire use of Slicer even more pleasant and efficient for the user, the company has made several improvements in terms of speed. Specifically, this involves fast loading times of meshes as well as the creation of supports. Especially when producing large and complex parts and high-resolution models, the speed can be increased 10 to 15 times. While we are aware that the aspect of speed is very important, it is not much more essential than the functionality of the slicer itself. For an efficient workflow, speed is nevertheless part of the equation, and for this reason Mango 3D is continuously working on the back-end of Lychee Slicer. If you want to learn more about Lychee Slicer, click HERE.
Have you already used Lychee Slicer? What did you think? Let us know in a comment below or on our LinkedIn, Facebook, and Twitter pages! Don't forget to sign up for our free weekly Newsletter here, the latest 3D printing news straight to your inbox! You can also find all our videos on our YouTube channel.