All You Need to Know About CloudPrint From MakerBot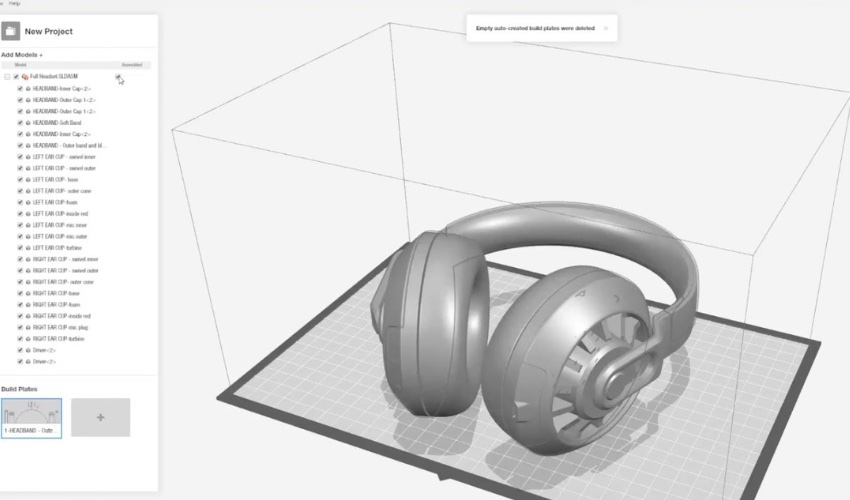 Founde in 2009 and acquired by Stratasys in 2013, MakerBot is a leader in FDM printing solutions. In addition to its printer, it also has its own software platform called MakerBot CloudPrint, with the newest version only launched recently. Previously known as MakerBot Print, CloudPrint has a number of benefits for users, focusing especially on its integration with the cloud. The free software – unlike the Print version, which are suitable for desktop applications – is considered a better and more efficient online experience with the company's own MakerBot 3D printers. The reason for the modified version is primarily to make it easier to work with and use 3D printing – from anywhere. The company emphasizes that 3D printing jobs can be managed from almost anywhere in the world and controlled accordingly. We took a closer look at the details and especially the differences between the CloudPrinter version and the print version.
An improved and more efficient workflow: that's probably the dream of anyone who deals with additive manufacturing in a professional environment. Now, thanks to new cloud-based software from the US-based for 3D printers and scanners, that dream could more easily come true. So if you have a MakerBot METHOD series 3D printer, Replicator 3D printer series, or the MakerBot SKETCH Classroom package, then you can enjoy the benefits of CloudPrint software. This includes improvements for its user in terms of speed, printing performance, as well as support for multiple models, among other things.
How Does it Work?
Although both versions are free of charge and also have functions such as print preparation, remote start of printing and remote monitoring, the new software version offers a number of new options that differ from the previous print version. This includes the possibility of preparing the print job in advance. After preparing the job, it is queued up in the printer and as soon as it is ready for the next print, all that you need to do is press "Start Next Print". Continuous updates and live monitoring is also made possible with the software: the updates always offer new features to help troubleshoot and are always updated. Live CloudPrint monitoring, on the other hand, allows users to monitor their printing from anywhere! All you have to do is log in to MakerBot CloudPrint from any browser and you can immediately view and analyze all the statistics and even images from the built-in camera.
Furthermore, in addition to saving user-defined print modes, this software version also offers the chance to finally use native CAD files that no longer need to be converted to STL formats beforehand. Overall, the following file formats are supported by CloudPrint: catpart, .dae, .glb, .iges, .igs, .ipt, .obj, .par, .sab, .sat, .sldprt, .wrl, .x_t, .3mf, .stl, .makerbot. Another exciting feature of the MakerBot software is the print preview, which is displayed up to 70% faster. It is also possible for power users to view the toolpath in a 2D print preview. This feature also allows the direct comparison of two prints with each other as well as the display of print statistics at different points during the toolpath.
Tips and Tricks for CloudPrint
MakerBot has put together some tips and tricks for users of its CloudPrint to help continue to optimize the 3D printing workflow. For starters, the company recommends allowing for CloudPrint's automatic orientation on the build plate as well as using the drag-and-drop capability so that the entire workflow can be optimized. This allows users to quickly rearrange prints or even move them between printers. Furthermore, MakerBot's tips and tricks for streamlined workflow go into duplicating print tasks that involve the same settings, and even sending a link to a third party so they can have print jobs sent directly to their workspace goes a long way towards improving workflow and making it more efficient.
MakerBot's CEO, Nadav Goshen, concludes, "The secret to successful 3D printing goes beyond just the hardware and includes the full ecosystem of materials, accessories, and software. The improvements we have made to MakerBot CloudPrint are designed to provide a more streamlined approach so that users can focus on other important tasks. CloudPrint takes the guesswork out of print preparation and workspace management. With an easy-to-use and secure workflow, CloudPrint gives users better control and management of their prints from start to finish." You can learn more about CloudPrint HERE.
What do you think about MakerBot's CloudPrint? Let us know in a comment below or on our LinkedIn, Facebook, and Twitter pages! Don't forget to sign up for our free weekly Newsletter here, the latest 3D printing news straight to your inbox! You can also find all our videos on our YouTube channel.
*Photo Credits: MakerBot