The AIRLAB pavilion made from 3D printed steel nodes explores design freedom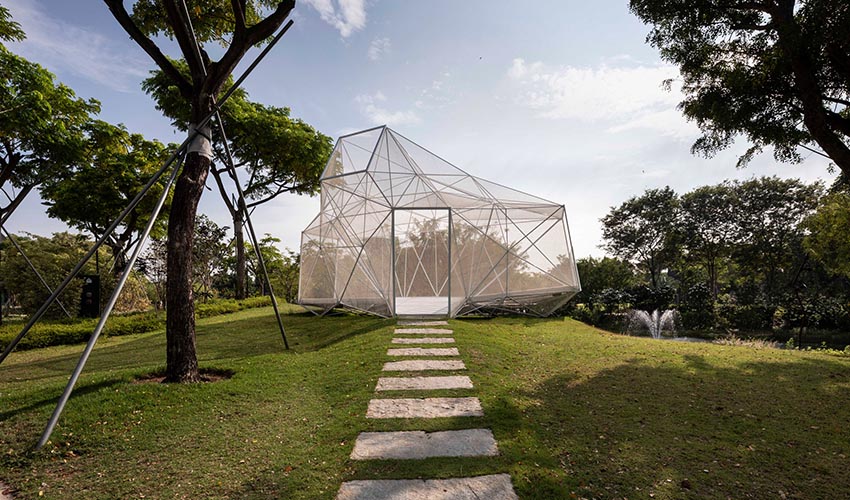 A number of designers and architects have been exploring 3D printing technologies in order to experiment with materials and structures. Yet another example is AIRLAB's mesh-covered pavilion made from 3D printed steel nodes at Singapore's Garden by the Bay. The lab is based at the Singapore University of Technology and Design and was founded by architects Carlos Banon and Felix Raspall – both have developed an interest in studying parametric design and 3D printing technologies applied to actual building components.
The pavilion is called AIRMESH and is the product of five years of research and development. According to the lab, this structure is a first of its kind, made from 3D printed components in stainless steel and assembled within two days using hex keys only. The form of AIRMESH is conceived as a polyhedron defined by four rectangular view frames. The system was imagined to enable a perfect fit of components, taking construction in stainless steel to a next level of rapidity and performance.
3D printing enables greater geometric freedom
In terms of design, AIRLAB explains that the structure was developed to be efficient. The designers used a custom parametric tool that optimizes the topology of the frame, the section of the bars and the geometry of the node. As a result, the structure presents the optimal configuration and distribution of material where mechanically needed. The pavilion consists of 216 bars of different lengths and sections, and 54 unique nodal joints 3D printed in a steel and bronze alloy.
The structure has a weight of 700 kg, and despite its delicate and fine appearance, it is able to withstand loads 16 times its weight, meaning more than 11 tones! The lead architects on the project, Carlos Banon and Felix Raspall explain that usually current space frames such as this one consist of a repetition of a regular pattern. One of the key benefits of 3D printing is that producing standard parts is not more affordable than customized parts, therefore the economic benefit of using a repetitive pattern is reduced. Essentially, it enabled to create a space frame with greater design freedom without the usual cost constraint of traditional manufacturing methods.
You can read on AIRLAB's website: "Digital design opens creativity to nearly endless geometric freedom, mass-customization, and optimized, ornamental, multifunctional architectural structures. In tandem, 3D printing served as a promise to materialize wild design visions into built reality." You can find more information HERE.
What do you think of AIRLAB's pavilion? Let us know in a comment below or on our Facebook and Twitter pages! Sign up for our free weekly Newsletter, all the latest news in 3D printing straight to your inbox!