Aetrex partners with EOS to 3D print its thinnest orthotic insole
Published on September 10, 2020 by
Aysha M.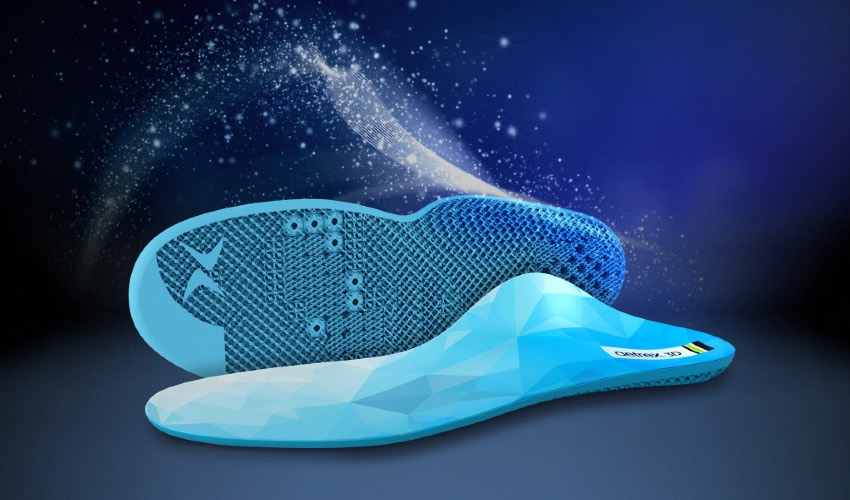 Medical footwear market is estimated to grow significantly in the near future, with more people becoming aware of the importance of therapeutic footwear and more companies offering a wider range of solutions. One of the biggest manufacturers on this arena is Aetrex Worldwide Inc. For years, the company has been integrating advanced technologies to fabricate shoe insoles, particularly focusing on wellness footwear products. Recently, Aetrex has partnered with EOS, a leading German 3D printer manufacturer, to create its thinnest orthotic insole. How did the use of additive  manufacturing benefit Aertrex in the production of its newest orthotic insole?
Orthotic insole is a removable shoe insert, also known as a foot orthosis, which – apart from providing an increased level of comfort to the wearer – is used for therapeutic purposes. Whether it is for arch support, joint pain relief, or other orthopedic reasons, the demand for orthotic insoles keeps growing. To be ahead of the competition Aetrex designed highly customizable, 3.5mm thin orthotic insole using EOS' 3D printing technology. One of the main advantages of AM for the American manufacturer is high flexibility of material strength and structure, as it means that Aertrex's products can be perfectly fitted to the wearer's anatomy.
Aetrex used customer data collected through Albert 3D scanner – the company's own development, which they presented a few years ago and which is now considered to be one of the best foot scanning systems in the world. The captured data is sent to the EOS 3D machine, which prints the 3.5mm thin insole by taking into account the measurements of the individual's pressure point distribution. EOS used its Digital Foam platform to develop the lattice structure; the material of choice was TPU. At the end, each 3D printed insole is perfectly tailored to the customer's foot.
But the most exciting parts is that the high customization is not the only benefit brought by AM technologies! Apart from improved ergonomics, the new product is more sustainable due to lower material consumption – any leftover material can be reused. Plus, there is an advantage of rapid availability – the custom 3D printed insoles are ready in less than 2 weeks!
What do you think about the 3D printed insoles by Aetrex? Let us know in a comment below or on our Facebook and Twitter pages your comments. Don't forget to sign up for our free weekly Newsletter, with all the latest news in 3D printing delivered straight to your inbox!