#3Dstartup: Aeditive and its activities in the construction sector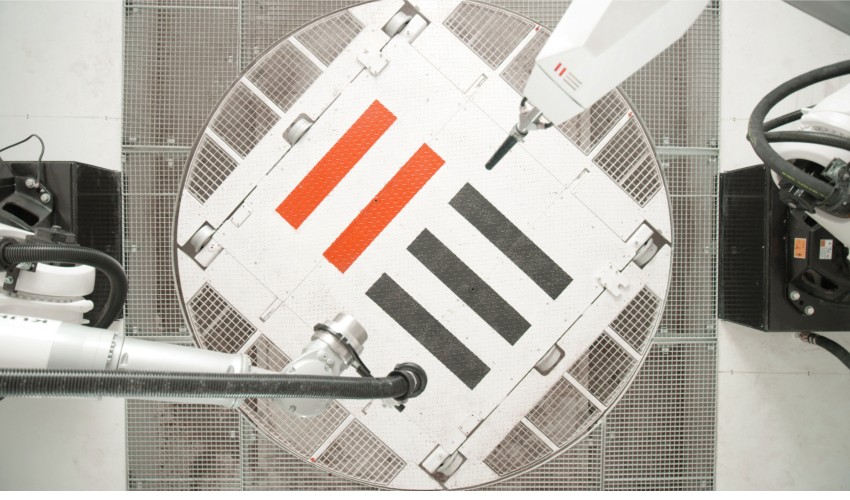 Additive manufacturing technologies combine the advantages of reduced manufacturing costs, faster production times and resource efficiency. In the construction sector, by using concrete as the additive material, the industry is also able to leverage the benefits of additive manufacturing. It offers great freedom of design, from 3D printed houses to hospital capacities. As a result, the global concrete 3D printing market was valued at $310 million in 2019, and is expected to reach $40,000 million by 2027, registering a CAGR of 106.5% from 2020 to 2027, according to Research & Markets. No wonder, then, that more and more players are entering this market, and one of them is the startup from Germany called Aeditive!
Aeditive, is a made-up word derived from "additive manufacturing" and "Aedificium", Latin for building. Thus, the very name of the company indicates its goal of digitising the construction industry with robotic printing solutions. Recently they introduced their 3D printer Aeditive Concrete. It is able to produce concrete parts with maximum dimensions of 11 x 4 x 4 metres on a steel pallet. We wanted to learn more about this technology and so we met Alexander Türk, one of the founders of Aeditive, for an interview!
3DN: Can you introduce yourself and your connection to additive manufacturing?
Aeditive is a high technology start-up founded in 2019 and based in Norderstedt near Hamburg. We digitise the construction industry with our robotic 3D printing solutions. We create higher productivity and sustainability in construction so that people can live, the environment is protected and the working environment in concrete construction becomes safer and cleaner.
3DN: How did the idea of founding Aeditive come about?
Three of our founders met during a research project at a technical university. There, they jointly researched digital production processes for concrete construction. When the technology was ready for the market after four years of research, the idea of founding Aeditive was born.
3DN: How does your 3D printer, Concrete Aeditor, work?
The Concrete Aeditor creates concrete components using the shotcrete process. This is a special feature of the process, which allows us to integrate steel reinforcement, for example. We work with two robots. One robot applies the concrete in layers, while the second robot reworks surfaces, for example. This enables us to offer our customers a high degree of automation in the production of concrete components and at the same time more sustainable products through material savings.
3DN: What are the opportunities of 3D printing in the construction industry?
3D printing is just beginning in the construction industry. After the first showcases and prototypes in recent years, we are now seeing the market move to 3D printing as a regular production method. These processes have to face two particular challenges. On the one hand, building always means multi-materiality. A building consists not only of concrete, but also of steel reinforcement, pipes, windows and much more. That's why we have to think far beyond pure 3D printing in our production processes. On the other hand, the construction industry has perfected its current manufacturing processes over decades. So 3D printing is competing against a strong craft both technically and economically.
3DN: Can you tell us more about your projects in the future? Who are your clients?
Together with our pilot customers, we are currently creating more and more component prototypes and thus expanding the application spectrum of our Concrete Aeditor. In 2021 we will install the first Concrete Aeditor at our customers' site in the precast plant. Our customers include innovative precast manufacturers such as Glatthaar Technology from the Black Forest as well as a whole range of other companies of different sizes and from the diverse construction sectors.
3DN: Where do you see Aeditive in 5 years?
I see a technology company with many satisfied customers and an excellent product that is easy to use and operate. I see us improving the quality of our users' workplaces and making concrete construction jobs safer. With our technology we are able to reduce bottlenecks in construction so that infrastructure projects do not come to a standstill and urgently needed living space can be created in a timely manner. Finally, our technology makes it possible to reduce the use of cement and thus make a contribution to sustainability.
3DN: Do you have any last words for our readers?
There is a sense of optimism in the construction industry worldwide. Technology will be introduced along the entire value chain and change the industry in ways never before imagined. The spectrum is broad, ranging from software to robotics and 3D printing. Ideas are still missing for many exciting challenges and doers are still being sought!
You can find more information about Aeditive HERE. What do you think of the startup's projects? Let us know what you think in a comment down below or on our Facebook and Twitter pages! Don't forget to sign up for our free weekly Newsletter.