A Closer Look at the Advanced End-to-End Manufacturing Solution from Velo3D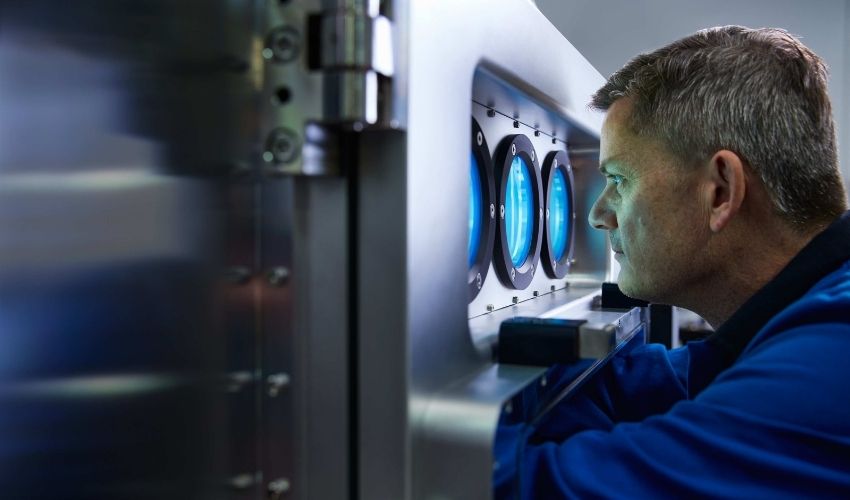 It has been apparent for a while now that additive manufacturing (AM) is becoming more industrialized. For example, we have been seeing the use of more mature technologies and materials suited to the creation of end-use products. However, one of the clearest signs is the increased focus on end-to-end solutions which are designed to not only optimize AM production, but also to overcome specific challenges users face with the technology. Notably, we can point to Velo3D which has created an advanced end-to-end metal AM solution for its Sapphire® family of 3D metal printers.
Velo3D is a leading provider of metal 3D printing solutions known especially for their applications in the aerospace, oil & gas/energy and transportation sectors. Founded by Benny Buller, the company was built around the motto "Print the part you want and need – without compromise." Having a complete end-to-end workflow solution is an important component of this vision. A mixture of software and hardware, the solution is also noteworthy for virtually eliminating the need for Design for Additive Manufacturing (DfAM) compromises, among other benefits. Let's take a closer look at the solution and its unique benefits.
How Does the End-to-End Solution Work?
End-to-end solutions, as the name suggests, automatize and control the process of making a part from design all the way through post-processing. Already popular in traditional manufacturing, they are becoming an integral part of AM as it industrializes. They are especially important in sectors where AM is used for end-use parts which need to be certified, such as aerospace, oil & gas, and defense.
Velo3D's metal AM solution starts with the Flow™ print preparation software. Flow™ imports native CAD design files and is responsible for prescribing the manufacturing process for the Sapphire® family of printers. The software's in-depth process library eliminates the need to develop new parameter sets. According to Velo3D, it has over two dozen standardized recipes which can be used by engineers to analyze the part while Flow™ automatically applies the right recipe to each feature. This can save months of development and reduce the need for specialized technicians.
Once the file has been created, the next step is, of course, printing using the Sapphire® family of printers. One convenient aspect of Velo3D's range is that they all run the same process. This allows users to expect repeatable consistency, even if they have a number of different machines from the company. The machines also include Velo3D's SupportFree™ printing process with their proprietary non-contact recoater which reduces the risk of part collisions and significantly eases the post-processing of a part.
As part of the end-to-end process, the Assure™ software for quality validation is also present. This software consists of in-situ monitoring systems and reports including through real-time sensors, physics-based excursion detection algorithms and optical measurements. It guarantees that the printer will always be operating at optimal performance. Additionally, it significantly reduces the possibility of part defects, a critical component for engineers in industries with strict certification requirements.
This fusion of software and hardware has been designed for maximum ease for the user. Velo3D's website describes the process as such: "As an end-to-end system, Velo3D integrates in-situ reporting through every step of the build process, layer by layer. Our Assure™ software closely monitors every phase of the build and automatically creates extensive build reports which can be crucial in the validation and qualification process. Enabling all the above is Velo3D's Intelligent Fusion®, which is the underlying manufacturing process that binds Flow™, Sapphire®, and Assure™ into a complete end-to-end manufacturing solution by managing the information flow, sensor data, and the advanced printing technology for precision control of the entire 3D metal printing process."
Overcoming Obstacles to AM with the Solution from Velo3D
Many of the benefits of using a full end-to-end workflow are pretty evident. For example, when looking at industrial-scale production with a number of machines, users need to be able to allow software to control many of the aspects of 3D printing to ensure there will be no mistakes. In a similar vein, when we are speaking of industries that need certified parts, these need to be repeatable and sure. This is especially important when it comes to metal 3D printing as mistakes are both costly and critical.
One of Velo3D's most interesting aspects in their workflow relates to Design for Additive Manufacturing (DfAM). DfAM is often thought of as critical in AM as it enables users to design parts that are adapted to the unique characteristics of the technology. This includes slicing CAD files turning them into STL files which can then be interpreted by the printer.
However, from the beginning, it has been the mission of Velo3D to eliminate the need to learn DfAM as it can be a significant barrier to adoption of the technology. For example, the compromises that DfAM introduce include adding supports, changing geometries, and making other modifications so that the part can be produced. These compromises don't just impact the manufacturing of the part, they alter performance, impact reliability, and require excessive post-processing. Most importantly, DfAM as we know it compromises the design intent of the engineers building the parts.
In Velo3D's advanced metal AM solution, users can upload native CAD files to the Flow™ preprint software without slicing into many STL files. It upends the conventional DfAM process allowing for significantly more complex prints while preserving the original intent of the design. Benny Buller, CEO and founder, expanded on this, stating, "For AM to reach maturity and increase its addressable use-cases, we need to unlock design freedom rather than restrict it through DfAM." You can find out more about Velo3D's AM solution HERE.
What do you think of Velo3D's end-to-end manufacturing solution? Let us know in a comment below or on our LinkedIn, Facebook, and Twitter pages! Don't forget to sign up for our free weekly Newsletter here, the latest 3D printing news straight to your inbox! You can also find all our videos on our YouTube channel.