Adidas and Carbon announce their partnership to create new 3D printed shoes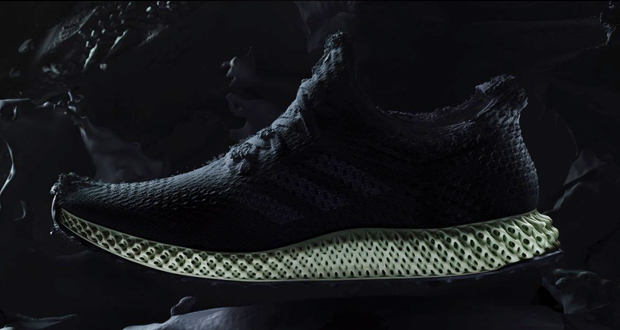 Sports brand giant Adidas has announced their partnership with California based startup "Carbon" to create a brand new 3D printed shoe: the Futurecraft 4D. Using Digital Light Synthesis (a process created by Carbon) to create the soles of the shoes, the companies are looking to create 100,000 pairs before 2019.
Adidas is no stranger to 3D printing, having already used it to create products before; such as their shoes made from plastic waste. Adidas, however, is not the first company to move towards innovations like this, with similar initiatives previously being released by Nike and Under Armor. Although this initiative may not be new, Adidas is looking to push their products even further through this collaboration with Carbon, a company who is best known for their 3D printing technology CLIP (Continuous Liquid Interface Production).
"With Digital Light Synthesis, we venture beyond limitations of the past, unlocking a new era in design and manufacturing", explains Eric Liedtke, the Adidas group Executive Board Member for Global Brands. "One driven by athlete data and agile manufacturing processes". Digital Light Synthesis (DLS) closely resembles the 3D Digital Light Processing process, in which light is projected to set the different layers of resin. With DLS, it is simply adding oxygen together with the projected light.
The Digital Light Synthesis Technology is a technology that is similar to that of CLIP, but is still a technology that we, as of yet, do not have much information on. The company explains that the method they are using will surpass the defects of traditional additive manufacturing such as the relatively low production speed, the scale, coating quality, color, and material restrictions. All while reducing the cost of materials used and saving time overall in the post-processing process.
"Despite the influence of technology to improve almost every other aspect of our lives, for eons the manufacturing process has followed the same four steps that make up the product development cycle – design, prototype, tool, produce", explains Dr. Joseph DeSimone, the Co-Founder and CEO of Carbon. "Carbon has changed that; we've broken the cycle and are making it possible to go directly from design to production. We're enabling engineers and designers to create previously impossible designs, and businesses to evolve their offerings, and Futurecraft 4D is evidence of that".
300 pairs of Futurecraft 4D shoes will be unveiled this month, followed by an additional 5,000 pairs by the end of 2017. Adidas hopes that they will be able to create the soles for specific sports, or even for specific markets. This will offer even more possibilities for customers who may have the opportunity to enter a store and leave with their own custom made insoles.
What do you think of the Futurecraft 4D? Would you like to own your own pair? Let us know in a comment below and don't forget to follow us on Facebook and Twitter!