#3Dstartup: AdditiveLab and its simulation software for metal additive manufacturing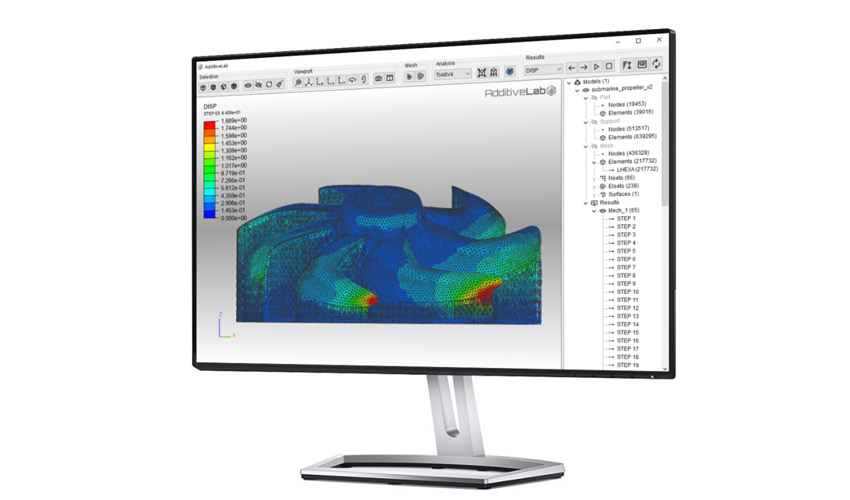 To start the year off right, we take you to Belgium to meet AdditiveLab, our first #3Dstartup this year. Winner of the Start-Up Challenge 2019 organized by Formnext, the company has developed software solutions to simulate the entire additive manufacturing process, and more specifically metal 3D printing. Its software allows any engineer to perform simulations and even if they have no experience in the AM field, they are able to examine any failures that may arise during production. AdditiveLab therefore saves valuable time for production by simplifying the additive manufacturing process. We met with one of its co-founders, Mariam Mir, to learn more about how the software works and its benefits.
3DN: Can you present yourself and tell us more about your link with 3D technologies?
AdditiveLab is a young startup based in Belgium, offering simulation for metal Additive Manufacturing (AM) also known as 3D printing. With AdditiveLab we provide a unique, efficient and scalable AM process simulation solution in the market that addresses the needs of a broad range of users enabling them to solve AM production challenges with different levels of complexity.
3DN: How did the idea of AdditiveLab start?
Our founders have been working in the AM field for over a decade, sharing passion for this manufacturing technology and working closely with people facing issues daily in predicting build behaviours.
The idea behind starting AdditiveLab was to truly empower users with simulation and to let them succeed in their production goals irrespective of their background. You will see this vision throughout our product lines, product positioning and pricing. We believe in opening up our technology to production users, where they can predict production behaviour without having any simulation background. On the other hand with AdditiveLab, the simulation experts are liberated to create their own simulation models and share them with other teams. Our vision is to make simulation accessible to all and make it part of a standard workflow for the industry.
3DN: Can you tell us the main features of your AM software?
At AdditiveLab we offer novel Additive Manufacturing simulation software. AdditiveLab software is currently the only platform that enables the creation of customized models for AM process simulation. Our company offers two versions of AdditiveLab; AdditiveLab RESEARCH, a product for advanced simulation engineers with access to in-depth simulation functionality, and AdditiveLab LITE, a cost-effective and easy-to-use product specifically tailored to the production needs of CAD and CAM engineers with no simulation background.
With AdditiveLab RESEARCH users can simulate the AM process on scales ranging from micro-scale scanning path simulations up to simulating entire build configurations to understand, predict, and optimize manufacturing outcomes. In addition to that, researchers can create their own simulation applications and automated workflows via Python scripts for use by other design teams, manufacturing departments, test labs, and customers.
AdditiveLab LITE offers a minimalistic interface with highly automated model generation, enabling AM engineers with no simulation background to have an easy way of predicting the manufacturing outcomes.
3DN: Why is it so important to have a simulation software in metal AM (and especially in metal)?
Simulating the AM process for any material adds great insight and value for the production. However, for the metal AM processes this is more considerable due to the more expensive nature of material costs, machine costs and time taken to build parts. In addition to that, major failures in production can even cause damage on the machine itself. Simulation can help prevent such failures and it is a matter of cost saving and high production success in such cases.
Metal AM is also a preferred technology in high end applications, such as aerospace, automotive, medical domains, where precision and manufacturing reliability is integral to validate produced parts. Manufacturing process simulation is an obligatory technique in these industries for traditional production methods such as welding or forging and it is increasingly becoming a "must have" to increase the reliability of AM production.
3DN: Who are your targets today?
AdditiveLab with its LITE version is an ideal solution for AM machine data preparers and CAD engineers who design AM parts. AdditiveLab RESEARCH version is targeted at researchers who perform analysis on material properties of the AM parts, optimize machine parameters and want high control and customizability on their simulation models.
3DN: What are your future projects?
Additive Manufacturing remains a fast-paced and constantly evolving field with innovations on a daily basis. We as software providers aim to continue to provide software solutions that will greatly aid in further advancing AM technologies and its applications. One of our major focus areas is the development of DED simulation solutions where we recently launched our first version that is available to early adapters.
3DN: How do you see the future of metal AM?
Metal AM usage has been growing exponentially over the past years. At AdditiveLab, we believe this trend will continue with metal AM machines becoming more affordable and highly streamlined workflows to use them. Over the next decade, small size metal AM machines will become a natural addition to traditional metal workshops where engineers can create spare parts on demand, repair parts using AM technology and create unique solutions. Similarly, in highly advanced industries, metal AM will employ serial productions and support customized part production.
This growth and adaptation of metal AM in the industry will be supported not only by big leaps on the hardware side but also on the software side where we at AdditiveLab want to play an important role.
3DN: Any last words for our readers?
In the AM world, it is still a common perception that simulation is something done by simulation experts. AM engineers are often hesitant to utilize simulation themselves. High software acquisition costs and complicated software usage often keep engineers from further exploring the advantages of predictive AM simulations. We would like the readers to know that with our AdditiveLab software products we specifically tailored solutions to address exactly those concerns. Besides our advanced simulation solutions, we are also providing cost-effective solutions with intuitive workflows for engineers that want to benefit from the predictive power of simulation.
What do you think of AdditiveLab? Let us know in a comment below or on our Facebook and Twitter pages! Sign up for our free weekly Newsletter, all the latest news in 3D printing straight to your inbox!