AMUG Has Announced All the Winners From Its Annual Awards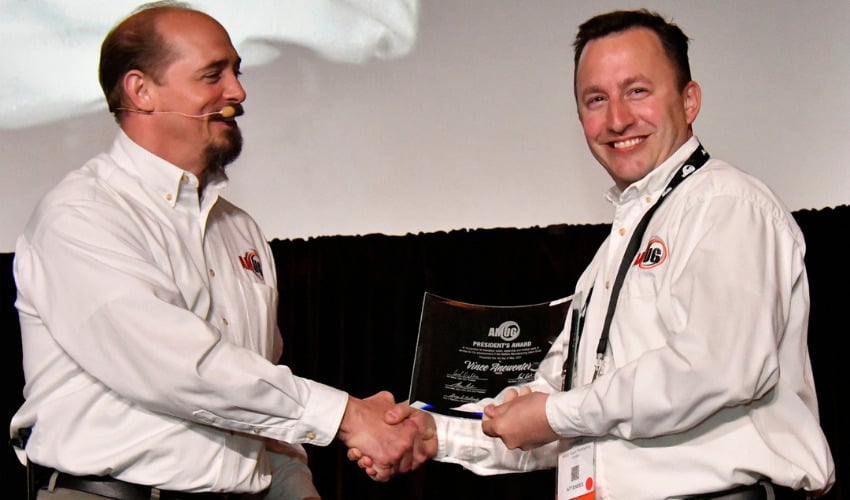 AMUG 2021 might have ended a few weeks ago, but news from the event keeps coming. Namely, the Additive Manufacturing User Group has officially announced its winners for its prestigious DINO, President's and technical awards. Though the DINO and Technical Awards are announced annually at the conference, the President's Award has only been award to 10 individuals through the organization's 33-year history. This year's award recipients were recognized for a variety of accomplishments, including their service to the AM industry, tenure, technical prowess and more.
DINO Awards
The first award recipients to be named were the four winners of this years DINO awards. The DINO (Distinguished INnovator Operator) Award is awarded yearly to four members of the organization for their additive manufacturing expertise and service. The recipients are recognized for their tenure in the AM industry, years of service, contribution to the industry and active support of the users group. This year the DINOs are Shane Collins from ASTM International, Giles Gaskell from Hexagon, Ana Neves from RAMCO and Robin Van Bragt from Eagle Design and Technology Inc. Commenting on the choice of the winners, Carl Dekker the AMUG president said, "There were many candidates that had the tenure required for this coveted award. However, that is just one criterion. To be a DINO, one must also give back to the industry and support AMUG. These four individuals rose above all others because of their actions and achievements."
Technical Awards
AMUG's Technical Competition recognizes excellence in AM applications and finishing. The two winners this year are Bill Braune of Dinsmore, Inc and Vito Gervasi of Cadens LLC. Braune was the winner in the Advanced Finishing category for his highly detailed and intricate scene, "Death: A Horseman's Journey." After using Carbon Digital Light Synthesis to print the fine details and subtle features in his creation (a noted benefit of the technology), he then applied painting and finishing techniques to add texture and capture the essence for a more dark, foreboding scene. He noted that his palette included 30 colors which were applied with dry brushing, airbrushing and washes to create gradients, shades and highlights. 3D printing polymer powders were also added to the surface to add a gritty texture.
Gervasi meanwhile was the winner in the Advanced Concept category. His "BAAM Dam" is a one-tenth scale replica of a 3D turbine system that has apparently been in operational testing since July 2020. He chose the subject as Gervasi believes that AM is the key to enable radical cost reduction as well as creating more opportunities for these types of power generation systems. He commented, "What we propose to do in the next five years will reduce the US carbon footprint, create jobs, and help small towns to power their municipal facilities, small business or add power to the grid. AM has the potential to empower tens of thousands of communities with limited budgets to reduce utility power costs by activating dormant hydropower facilities." Though the larger model was made using BAAM (Big Area Additive manufacturing) and consists of 2,000 pounds of large conveyance components and composite layup tools, the small higher resolution components were made with FDM.
President's Award
Out of all of AMUG's awards, the President's Award is the most rare. This year, it was given to two individuals, Terry Hoppe and Vince Anewenter. Both men received the award because of their contributions to AMUG over many years of service. Terry Hoppe, formerly Stratasys' director of North American applications team, received the award posthumously. He was recognized for not just his yearsvof service in the AM industry but because of his role in transitioning AMUG from a supplier-specific users group to one that embraces all AM users. Thanks to his support for event, the AMUG Conference was able to move forward as a forum for information exchange and Stratasys became one of the conference's foundational sponsors.
The second winner, Vince Anewenter of Milwaukee School of Engineering, has served as AMUG treasure for nine years. And it is due to this role that he was honored with this award. According to AMUG's press release, AMUG was able to grow ten-fold in conference attendance while still maintaining its financial health thanks to the work of Anewenter. He was also recognized particularly for his role in helping to drive the conference throughout COVID-19 and numerous set-backs, including the postponing of the 2020 AMUG and moving the 2021 conference to a new location. Gary Rabinovitz, AMUG chairperson, noted "It was Vince's work before and during the pandemic that made that possible. Losing one conference and operating another at half capacity was a major challenge, financially. But with Vince's diligence, we weathered the storm and emerged financially secure." You can find out more about the AMUG conference and this years winners HERE.
What do you think of the recipients of the awards from AMUG this year? Let us know in a comment below or on our Facebook, Twitter and LinkedIn pages! Sign up for our free weekly Newsletter here, the latest 3D printing news straight to your inbox!
*Cover Photo:  Vince Anewenter (right) receives the President's Award from Carl Dekker. )Photo Credits: AMUG)