ADDITIV launches new virtual event focusing on aerospace sector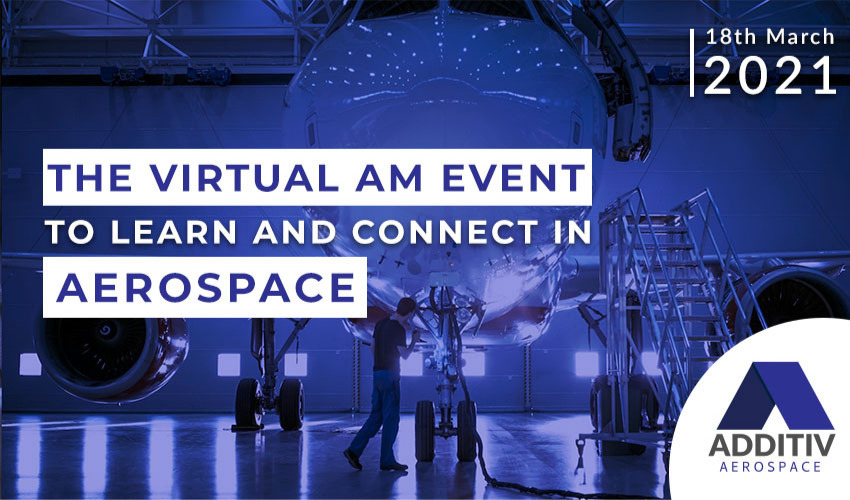 After the success of previous ADDITIV events, including ADDITIV medical France and ADDITIV digital World, the 3Dnatives team is organizing a new 100% virtual event, this time dedicated to additive manufacturing in Aerospace. Over the course of one day, participants will be able to attend panel discussions, workshops and multiple networking sessions with inspiring professionals from both the AM and Aerospace communities. It will be an ideal opportunity to learn about how AM is used in different fields in Aerospace, such as aviation, space exploration and defense applications. You can register for free HERE.
Additive manufacturing has been used in the Aerospace sector for some time now. It has applications in everything from the creation of aircraft or helicopter parts, making lighter and more efficient engines, 3D printed turbines and more. The use of 3D technologies generally helps manufacturers to save on time and money while creating stronger, more efficient finished products. Furthermore, due to increasing advancements in areas like material research (such as Metal additive manufacturing, thermoplastics, ceramics and various composites) AM in Aerospace has greatly grown over the past few years. Additionally, AM is useful for Aerospace because it allows for geometries that are not possible in traditional manufacturing, for example in the case of microturbines, where cost restrictions have always prohibited manufacturing complex features that would improve performance, among other benefits.
Because of the importance of the increasing importance of AM in Aerospace, it seemed inevitable that the next ADDITIV event should cover this dynamic topic. Filippos Voulpiotis, the Chief Business Officer for 3Dnatives, talking about the event explained, "Additive Manufacturing is impacting some of the most influential industries in the world. In this next edition of our ADDITIV events, we decided to focus on the role AM plays in the Aerospace world. Aviation, Aeronautics, Space and Defence are known to be constantly innovating and re-shaping the products of tomorrow. With an expected CAGR of 26.8% for the 5 coming years, Aerospace was definitely an industry our audience (and ourselves to be honest) wanted to cover in-depth! We are very excited to welcome you all on March 18th to talk Aerospace and more!"
What can you expect at ADDITIV Aerospace?
This international event will take place on March 18, from 8AM to 6PM EDT (1PM to 11PM CET). As it is entirely 100% virtual, participants will be able to meet the users and makers of technology related to aerospace as well as hear from the most innovative experts in the sector, all from the comfort of their own homes! Panel discussions will last 45 minutes and take place after each networking session. Topics will range from AM in aviation, material development, safety and certification and space exploration with speakers from NASA, Rolls Royce, the European Space Agency, the U.S. Air Force, ArianeGroup and many more! Additionally, there will be three workshops of 15 minutes taking place consecutively in the middle of the program. These will consist of presentations by leading AM companies in the Aerospace sector, such as Materialise.

The digital platform we use, Remo, provides an interactive virtual space to welcome the AM and Aerospace communities. A back and forth between networking sessions and conferences aims to provide the right mix of knowledge exchange and business discussions. Over 40 virtual stands will be displayed on multiple floors, giving attendees the opportunity to connect with some of the world's leading AM companies in Aerospace. Thanks to its simple and intuitive user interface, registrants will be able to move from floor to floor to meet the exhibitors at their virtual stands. as well as sponsors' lounges. Private tables will also be available for 1-on-1 meetings!  Finally, to conclude a full day, ADDITIV Aerospace will host a bit of fun: the event will end with an afterwork party, ADDITIV Afterwork. Here attendees can network, chat and catch up in a more casual and relaxed setting. For more information as well as the agenda of the event, you can check out the ADDITIV Aerospace website HERE. 
What do you think of ADDITIV Aerospace? Let us know in a comment below or on our Linkedin, Facebook and Twitter pages! Sign up for our free weekly Newsletter here, the latest 3D printing news straight to your inbox!