Aconity3D Announces its New 3D Printer, AconityTWO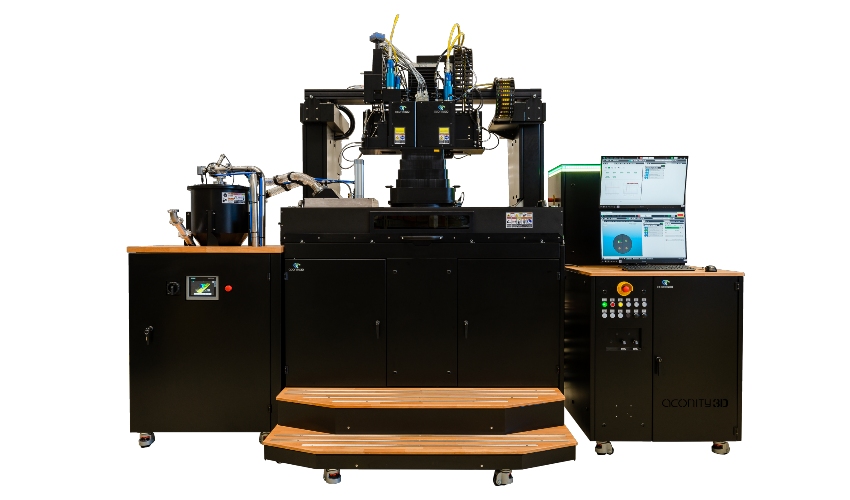 Founded in 2014, Aconity3D GmbH is one of the most innovative German companies in additive manufacturing with five different 3D printers. Aconity3D specializes in laser powder bed fusion (LPBF), in which metal particles are fused layer by layer by a laser. The manufacturer's product portfolio therefore exclusively includes LPBF machines: the AconityMICRO, the AconityMINI, the AconityMIDI, the AconityMIDI+ and the AconityONE. The AconityONE, which has a large-format building platform of Ø 400 mm, is the largest model. Now the German manufacturer is expanding its range and announcing an upgrade to the existing AconityONE: the AconityTWO. A new product launch, which certainly raises the following questions, and not just for us: What makes the new machine stand out? What advantages can buyers expect? How does the AconityTWO differ from other 3D printing solutions? We will introduce you to the new machine along with its most important product features!
First of all, it is important to mention that all Aconity3D solutions have the AconitySTUDIO web-based control software. This software allows remote machine access, which brings flexibility and security. There is also the AconityPLATFORM, which allows machines to be configured for specific applications. This not only expands the range of applications, but also enables use on an industrial scale. Thanks to the simplicity of the modifications and the free design of the process parameters, users can benefit from customized additive manufacturing solutions and cover a wide range of possible applications. Thus, the AconityTWO with a large installation space is suitable for production with standard materials, such as aluminum, steel, nickel or titanium, as well as for the production of customized material compositions. The range of applications therefore extends from classic mechanical engineering to the automotive industry, aerospace and medical technology.
In addition to the advantages of having increased flexibility, the AconityTWO also scores with a drastically increased rigidity, which significantly increases the accuracy of the components and thus also the quality. The machine can be equipped with up to four lasers with variable focus sizes from 80 to 500 µm and on-axis process monitoring, satisfying industrial demands in terms of process speed but also quality assurance. The lasers can also be addressed by a master-slave configuration. This makes it possible to implement advanced scanning strategies for targeted thermal influence on the component, thus increasing flexibility and improving material properties. In concrete terms, a master-slave configuration means that different lasers "communicate" with each other and can be offset in terms of time and location.
Aconity3D was also able to make improvements in terms of user-friendliness. This is also confirmed by Dr. Yves Hagedorn, CEO of Aconity3D: "In addition, the AconityTWO is equipped with the Easy-Access cover system. This allows easy and complete access into the process chamber, with interfering fixtures, such as axes and the shielding gas exhaust, located outside the machine operator's interaction zone." This not only makes cleaning more convenient, but also saves time. Productivity is additionally increased by a powder supply, which allows bidirectional powder application. Automatic refilling of the process chamber with powder eliminates interruptions in the printing process, which in turn saves time. In fact, this feature can cut non-productive time in half. The AconityTWO will be available in August 2021 and can be ordered directly online from Aconity3D. Learn more about Aconity3D's machines here.
What do you think of the new AconityTWO? Let us know in a comment below or on our Facebook and Twitter pages. Don't forget to sign up for our free weekly newsletter, with all the latest news in 3D printing delivered straight to your inbox!
*All Image Credits: Aconity3D