How is ACCIONA using AM to support sustainability?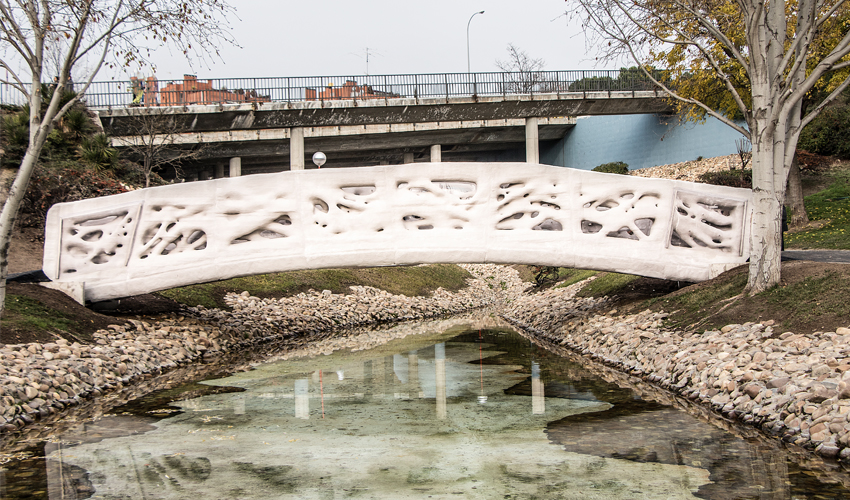 ACCIONA, founded back in 1931, is a Spanish conglomerate group dedicated to the development and management of infrastructure and renewable energy. The sectors with which ACCIONA works include energy and infrastructure, which is why, not long ago, they began to integrate additive manufacturing in their activities. 3D printing technologies are often considered a greener alternative to traditional manufacturing methods. But is it truly the case? To learn more about how ACCIONA is using additive manufacturing for sustainable applications, we interviewed Luis Clemente from the ACCIONA group.
3DN: Could you introduce present yourself and tell us about your relationship with 3D printing?
I am Luis Clemente, a Civil Engineer with 20 years of experience. I worked for more than 10 years in the innovation area at ACCIONA where I had my first contact with 3D printing technologies. Specifically, 7 years ago, in the Corporate Innovation Department, we identified additive manufacturing, at that time still emerging, as a disruptive technology. We acquired an FDM printer and began to inform ourselves, study and analyze the potential of the technology in order to identify its possible applications at ACCIONA and foresee possible effects on our activity.
3DN: Why did ACCIONA decide to invest in additive manufacturing?
The first step was taken when we defined the line of work we would follow, which was to adopt large-scale 3D printing technology with concrete in order to make structural elements. At that time there were very few initiatives at a global level, but we were able to identify the two main technologies available: extrusion (contour crafting) and powder bed (D-Shape), opting for the latter because of the advantages we saw in terms of freedom of form.
So, we started working in three areas: printing, material and design. The first printer we acquired was based on the D-Shape system with a printing capacity of 2 x 2 x 2 meters. For the material we had the support of local producers and institutions such as the UPC. Regarding the design, we have internal experience and the collaboration of third parties such as IAAC. By gathering all the elements we launched the project to build the Alcobendas bridge (the one shown in the cover photo) that would become the first bridge in the world made with 3D printing on concrete. The demonstrator that allowed us to launch the new line of construction solutions in Dubai.
3DN: You recently inaugurated a 3D printed bus stop. Could you tell us about the manufacturing process?
The bus stop was made with powder bed technology at our facilities in Dubai, based on a preliminary design and calculation of the structures carried out in collaboration with the Skill Centers of ACCIONA's Digital Innovation Hub. It consists of three printed elements that are later assembled and is complemented by a composite roof and supporting metal pillars.
The printed elements are a bench with a series of customizable details, a bench section that serves as a support for the most characteristic element of the set, which is the vertical element with a striking design that can only be made thanks to the powder bed 3D printing technique. These pieces were printed at the same time thanks to the large printing volume of 6x3x2 m that the system allows. The finish is the own of the process and it resembles the natural stone, we have only polished the surface of the bench to give the necessary comfort to the users.
3DN: How do you see the future of 3D printing in the construction sector?
The future is promising because we will see the convergence of all the advances that have been made and continue to be made in so many initiatives and demonstrations worldwide, with a sector that will better understand the possibilities and advantages of 3D printing with concrete, and will be more open to including this technology in projects. 3D printing with concrete will become a tool for the construction sector that will occupy a privileged place thanks to its advantages of freedom of forms, personalisation, process automation, sustainability, productivity, etc.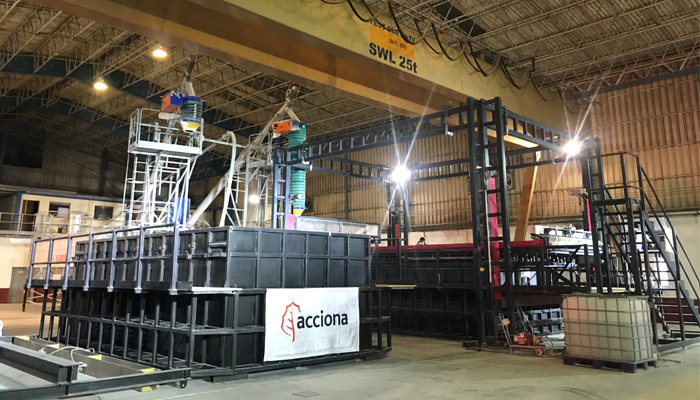 3DN: What future projects can we expect from ACCIONA?
While we are consolidating our position in powder bed technology, both from the business application and from the Skill Centers of 3D Printing and Robotics & IA of innovation, we are also working on extrusion technology to become a supplier of multi-technology solutions for the architecture and construction sector. There are specific projects of building, furniture, sculptures that are in the process of development or awarding.
3DN: Do you have any last words for our readers?
This technology, like many others, has got where it is thanks to innovation and the desire to go beyond borders, so we simply encourage them to continue innovating in order to move forward and together design a better planet. You can find more information about ACCIONA HERE.
What do you think of ACCIONA? Let us know in a comment below or on our Facebook and Twitter pages! Sign up for our free weekly Newsletter to receive all the latest 3D printing news straight to your inbox!