'Tactile Tours': How Can 3D Printing Facilitate Access to Art and Culture For the Visually Impaired?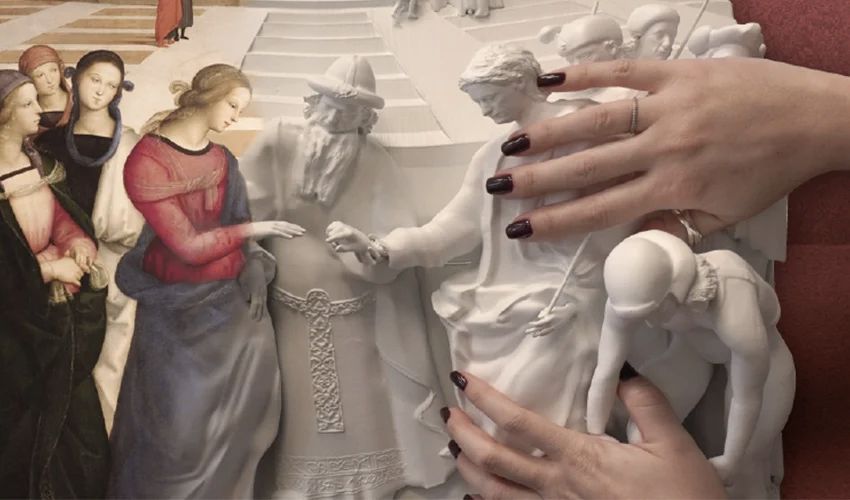 Valentin Haüy is a voluntary association dedicated to the support of visually impaired people in France. Created in 1889, it deploys a large number of actions throughout the country to allow the visually impaired easier access to education, to the world of work, but also to culture. In 2022, the association organized the Tactile Tour, a new and interactive temporary exhibition. The latter consists in presenting 12 relief reproductions of world-famous works such as Leonardo da Vinci's Self-portrait and Vitruvian Man or Raphael's The Marriage of the Virgin. The objective is simple: to discover art through touch. Blind and visually impaired people have the opportunity to feel the work by coming into contact with it. The exhibition is of course accessible to everyone, and sighted people can extend the experience by participating in the visit blindfolded. Headsets are available to provide a detailed description of the works that the visitor touches.
Thus, thanks to technological innovation, the Tactile Tour brings the works of art to life and allows the visually impaired to enjoy all that art has to offer. The term "technological innovation" is legitimate, as 3D printing has played a role in the design of these art reproductions. This isn't the first time additive manufacturing has been used to make museums more accessible to the blind and visually impaired. In fact, two students from the city of Lancaster, England, 3D printed relief versions of paintings from the city's museum art collection.
3D Printing for the Blind and Visually Impaired
For the creation of these tactile devices, Rémy Closset, a former architect and administrator of the Valentin Haüy association, was in charge of the 3D reproduction of the 12 works of art. He modeled them digitally, and then printed part of the works in 3D. The other part was made by milling a polyurethane plate. For the moment, no information has been given on the technology used. For the Valentin Haüy association, "these 3D devices allow visually impaired people to feel a work and to share the happiness that comes from observing a painting, a drawing, a photograph, a sculpture or an architectural monument".
The 2023 edition of the Tactile Tour started in Lyon in early January 2023. The exhibition will then tour France, passing through Belgium, to present its works. It is currently accessible for free in the city of Orleans. From March 6 to 11, 2023, the 12 relief reproductions are presented to the public.
What do you think of the use of 3D printing to improve the accessibility of art to the visually impaired? Let us know in a comment below or on our LinkedIn, Facebook, and Twitter pages! Don't forget to sign up for our free weekly Newsletter here, the latest 3D printing news straight to your inbox! You can also find all our videos on our YouTube channel.
*Cover photo credits :  Valentin Haüy Association