All You Need to Know About ABS for 3D Printing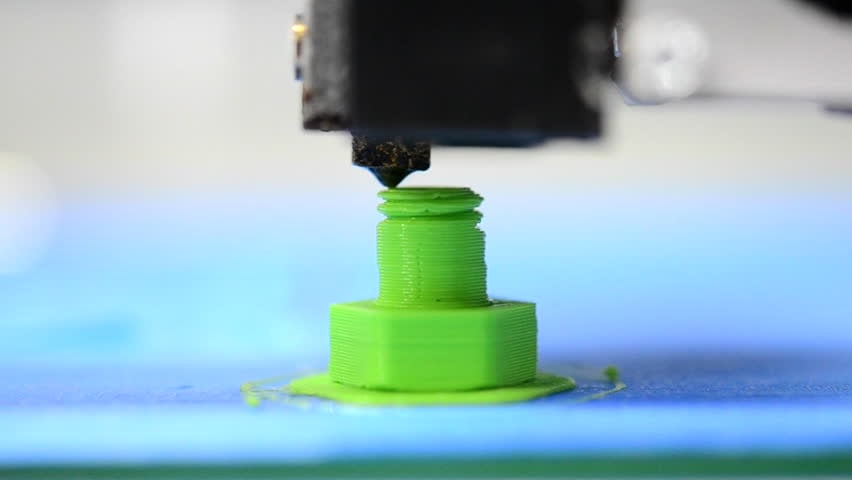 ABS or Acrylonitrile Butadiene Styrene is a thermoplastic polymer that is quite common for industrial applications. It is known especially for its high impact resistance at low temperatures and for creating lightweight parts. Adding to that, ABS plastic is also very popular in the 3D printing market – as it is one of the most widely used materials in this sector along with PLA. It is most often found in FFF 3D printing, though it is also available in resin form allowing for its use in vat polymerization methods. In the following guide we will take a closer look at ABS including its production and properties, 3D printing process, applications, main manufacturers and price. We will be focusing particularly on ABS filaments.
The Production and Characteristics of ABS
ABS was one of the first plastics to be used with industrial 3D printers and was developed around 1990. This thermoplastic polymer is what is called a 'terpolymer', defined as a polymer that has been synthesized from three different monomers. In this case, it is obtained most often by polymerization of acrylonitrile and styrene in the presence of polybutadiene – generally 20% acrylonitrile, 25% butadiene and 55% styrene, giving it the name ABS. Furthermore, manipulating these proportions can therefore modify the properties of ABS; styrene, for example, is the element that gives ABS its rigidity and brilliance, while butadiene gives it its impact resistance and low temperature properties.
Something important to keep in mind is that ABS is made out of petroleum in contrast to PLA which is made out of more environmentally friendly materials like corn starch. This has often made it the subject of questions of sustainability in the industry; however it is actually recyclable, if not widely accepted by recycling centers. This could be seen as a benefit in terms of environmental concerns as though PLA is technically biodegradable, this is only actually the case when it's subject to the correct conditions, giving rise to the question of whether it truly is eco-friendly.
In terms of properties, the material has good rigidity, high impact resistance all while remaining quiet light as well as affordable in terms of price. Indeed, thanks to these, it has been a popular material in the FDM 3D printing market for some years now, and actually was one of the first filaments to be used in the sector along with PLA. Moreover, it is not only impact resistant but chemical and heat resistant, all of which make it extremely popular for more industrial applications as will be covered further in the article.
3D Printing with ABS
But how exactly can you print with ABS? Well though it's available in both filament and resin form, as ABS is used most commonly in the FFF 3D printing market, that is what we will be focusing on here. It is available in the form of filaments with a diameter of 1.75 mm or 2.85 mm and in several colors. Although it is more difficult to print than PLA, ABS remains a very popular material for 3D printing professionals due to its resistance to impact and high temperature (between -20°C and 80°C). It is opaque, offers smooth and matte surfaces and can be treated with acetone to make it shiny.
ABS has a melting temperature of around 200°C, as such it is recommended that the extrusion temperature be between 230 and 260°C. Furthermore, the use of a heated print bed (between 80 and 130°C) is mandatory. This is because it is a plastic that shrinks on contact with air, thus if it is not on a heated print bed, it will be prone to shrinking (or warping) and detaching itself from the plate. For large parts, it is even advisable to use a special adhesive such as Kapton or an adhesive lacquer. Finally, a 3D printer with a closed enclosure is recommended for two reasons: For user safety as ABS plastic emits particles that can be dangerous for the user, but also because temperature control is critical when working with ABS. In order to print successfully and avoid issues with warping, cracking and delamination (the separation of layers) especially, having that heated chamber will help keep the temperature constant.
Additionally, though it is more difficult to print with than materials like PLA (and PETG, another popular filament), ABS is still easier to print with than other technical and inexpensive thermoplastics. However, as previously mentioned, temperature control in the chamber, on the bed and even in the overall room are critical to avoiding print failures. Do also keep in mind that ABS is a material that must be kept dry because it absorbs moisture from the air, which will make it much more difficult to print.
In terms of printing supports, ABS is easily printed with HIPS, a material that has the same tray and extrusion temperatures. This material dissolves quickly in D-Limonene, a solvent made out of a compound that is found in lemons. However, if it is printed with a non-soluble support material, it will be necessary to remove and can be done so with methods like cutting, similar to other filaments.
Actually, overall little post-processing is required when printing with this thermoplastic polymer, a key advantage that will save time in the production of complex parts. However, there are a variety of post-processing options available for us with ABS for those who are interested in them. Beyond support removal which was already mentioned, it can be painted thanks to its more matte finish. It is also quite easy to process when compared to other materials, for example it can be sanded thanks to its durability and machining can also be used. Finally, one common post-processing method for ABS is to be smoothed with acetone vapor for a glossy finish.
3D Printing Applications With ABS
As we have mentioned, one of the main draws of ABS is that it is a more technical material. As such, its applications also tend to be more industrial. For example, it is popular in polymer injection molding. Additionally, when we speak of general usages it can be found in the household appliance sector, but also boat hulls, decoration pieces, toys, and famously, lego bricks.
In terms of additive manufacturing, some other common uses are in prototyping, gears and even tooling as it is more resistant to physical stresses than some other common 3D printing polymer filaments. Moreover, beyond its chemical and heat resistance, its electrical insulation properties also makes it attractive for those looking to make casings for electrical components as well as for automobile parts like dashboards or bumpers. It is also great for outdoor applications as it will not deform in the sunlight or over time.
The Main Manufacturers and Price
As one of the most popular 3D printing filaments, it is safe to say that many major 3D printing material manufacturers currently offer ABS filaments; among the main ones are the well-known supplier Stratasys, the Chinese Esun but also UltiMaker, FormFutura, Innofil3D, etc. Furthermore, ABS is available in a wide selection of colors, with prices ranging from $15 to 50+ depending on the brand as well as the characteristics of the filament itself.
Be aware that there are loaded filaments where additives are added to ABS: for example, ABS based on carbon fibers or aramid fibers, better known as Kevlar. These fibers, for example, reduce the warping phenomenon of ABS and therefore provide greater precision. Carbon, on the other hand, reinforces the initial mechanical properties of the material. These more technical materials are generally more expensive and have different printing parameters.
What do you think of the use of ABS in 3D printing? Have you printed with it before? Let us know in a comment below or on our LinkedIn, Facebook, and Twitter pages! Don't forget to sign up for our free weekly Newsletter here, the latest 3D printing news straight to your inbox! You can also find all our videos on our YouTube channel.