A lounge chair using 3D concrete printing
Published on April 11, 2018 by
Niru K.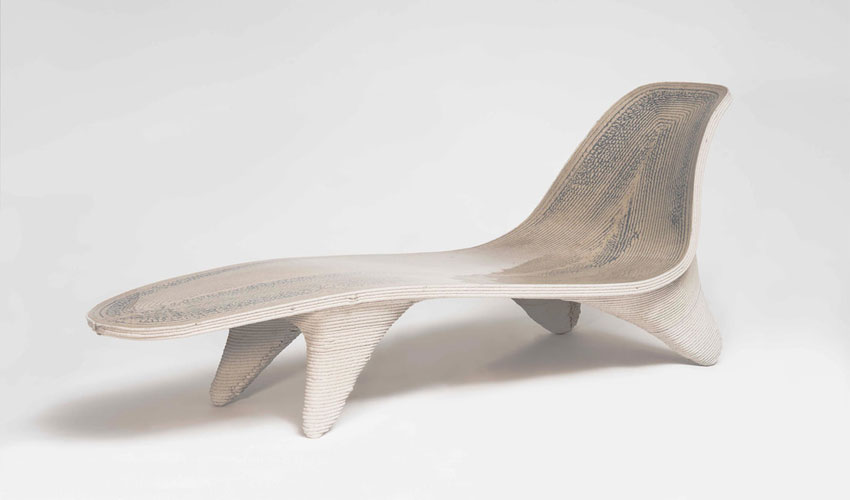 While 3D concrete printing is gaining momentum in the construction industry, it seems that technology is also widely used in the arts industry to create complex and unique structures, including furniture. This is the case of this project presented by the designer Philipp Aduatz who worked with the Austrian company Incremental3d to make a chair printed in 3D from concrete.
The International Furniture Fair in Milan is an opportunity to present the latest innovative projects in the sector and some do not hesitate to turn to 3D printing: we were already talking about 3D printed chairs with Nagami but this time, the designer have resorted to 3D concrete printing to design a lounge chair. Aduatz reportedly worked with the company Incremental3d, which developed a 3D concrete printing method, offering more freedom in terms of geometric complexity.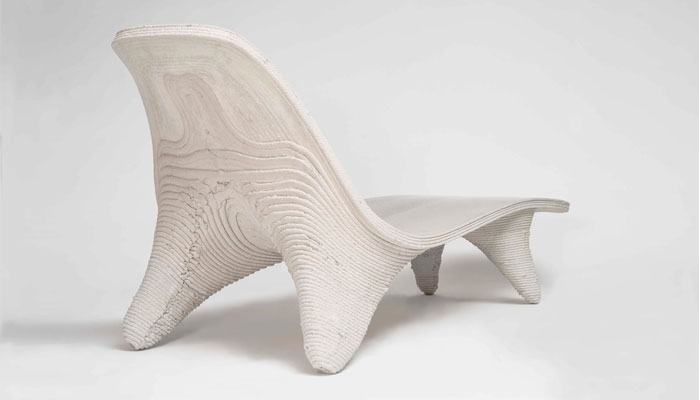 Digital Chaiselongue combines craftsmanship and 3D concrete printing
Together, they have created the " Digital Chaiselongue ", a concrete chair printed in 3D. They explain that the making of this piece was done in several stages. First, a negative mould was printed in 3D from concrete. This resulted in a number of specific details in the structure, which was then obtained by extruding the concrete mix onto the mould. Once finished, the printing time would have taken less than an hour. Carbon fibres have also been used to reinforce the concrete in some areas, ensuring the stability and tensile strength of the structure in its most sensitive areas. Carbon fibre is indeed a very light material but it is as strong as steel.
After printing the chair, a UV-resistant polyurethane coating have been applied by hand. This last step illustrates how additive manufacturing can be combined with other more traditional ways of working and how the creative process can be automated. Aduatz's exhibition would focus on this mix of crafts and new technologies; he also created other chairs that would mix different materials and manufacturing techniques.
Find more information about this project on the official website of Incremental3d .
What do you think of this chair printed in 3D from concrete? Let us know in a comment below or on our Facebook and Twitter pages! Don't forget to sign up for our free weekly Newsletter, with all the latest news in 3D printing delivered straight to your inbox!