A Futuristic Supercar Model Born From Generative Design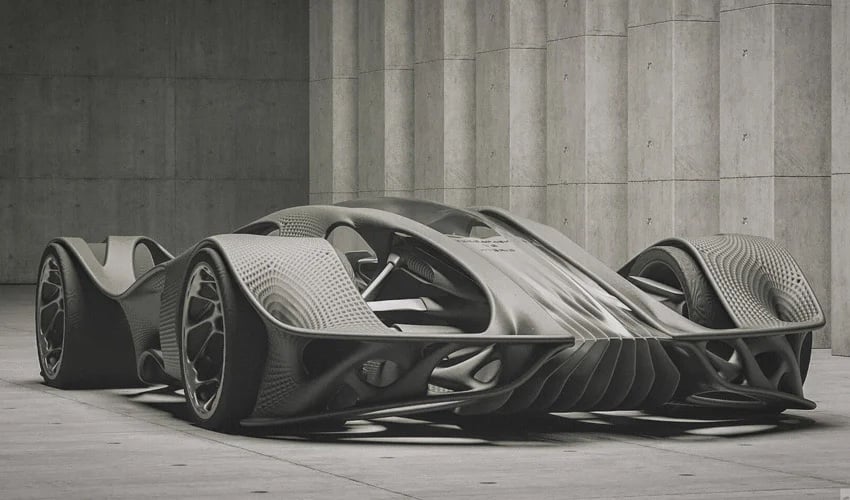 It is not an actual 3D printed car that we are showing you today but rather a concept born from algorithms and generative design. The HV-001 is a hybrid supercar whose design has been designed  to be 3D printed. Architect and 3D designer Ayoub Ahmad who is behind this project which uses very organic forms, meshes and complex geometries. The result? A futuristic car that would attract the eyes of more than one curious observer!
Generative design allows the generation of multiple designs that meet predefined constraints. It allows to explore very quickly several design options. It is a technique that is very popular in the field of manufacturing in the broadest sense because it is capable of influencing the performance of the part, its lightness, its strength, etc. It gives the designer avenues that would not have been thought of in advance. It can even inspire designers to push even to design which might not have seemed possible at first. In additive manufacturing, generative design pushes the idea of design freedom even further, since 3D printing is capable of reproducing previously impossible shapes. With this in mind, Ayoub Ahmad imagined the HV-001, using generative design to propose a futuristic concept that could be 3D printed.
The architect explains, "The idea was to imagine what a futuristic sports car might look like in the near future, with a bio-inspired design, that could be manufactured with revolutionary new 3D printing processes, and powered by electric motors. The workflow was a mix of polygonal mesh modeling and procedural modeling, which allows for the creation of certain geometries that are difficult to achieve manually, such as the body and wheels, for example." As you can see from the photos, there is a lot of detail and the curves blend together to form complex geometries. The wheels, for example, are reminiscent of a swirl, a web, a mesh: there is a lot of imagination behind it.
Ayoub Ahmad is very inspired by nature, its fluid forms and bio-structures. This idea can be found on this concept car, we have the impression that it is "alive". As for the performance of the future car, the designer says that it is equipped with a V8 twin-turbo engine combined with two electric motors on the front axle, supported by supercapacitors to improve efficiency and maintain high performance.
It remains to be seen whether this supercar model will one day be manufactured and, even better, 3D printed! While we wait, you can find more designs from Ayoub Ahmad HERE. Let us know in a comment below or on our Linkedin, Facebook, and Twitter pages! Don't forget to sign up for our free weekly Newsletter here, the latest 3D printing news straight to your inbox! You can also find all our videos on our YouTube channel.