What Are the Highlights So Far From RAPID + TCT 2022?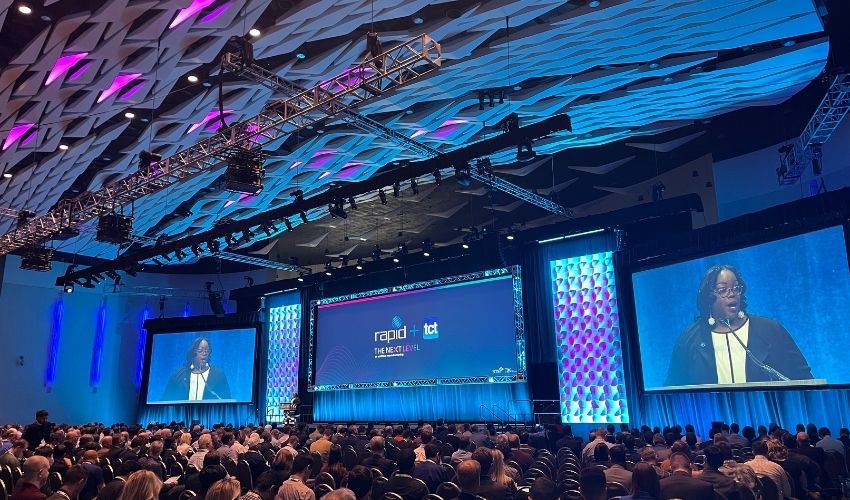 RAPID + TCT 2022 has officially started. Already before the event, a number of exciting launches and announcements generated buzz and it is safe to safe that the atmosphere here in Detroit is reflecting that. Over the course of the full three days, attendees will be able to meet with exhibitors, check out a variety of conferences on subjects ranging from verticals like automotive and aerospace to the latest technologies and benefit from networking events including the AM Industry Celebration on the first night. However, for anyone who is not able to attend, we want to give you a brief snapshot of what actually is happening here at RAPID + TCT 2022, our first impressions of the show and some of the winners of SME's annual awards.
Already the second year since the return after the COVID-19 pandemic as well as the 30 year anniversary of the show, RAPID + TCT 2022 garnered excitement even before it started. In a press release published before the show, SME Executive Director and CEO Robert "Bob" Willig noted, "As the preeminent AM event in North America, RAPID + TCT is the place to be to show off and experience the technologies that continue to shape modern manufacturing. Each year, exhibiting companies push the limits of what's possible through interactive demonstrations, large-scale models and an immersive experience you cannot find anywhere else. With over 400 exhibiting companies and 30 OEMs scheduled for this year, attendees will be blown away by the level of innovation at the event."
North America's Largest AM Event
To start of the show, attendees were treated to a number of presentations, including one particularly anticipated announcement. SME and Women in 3D Printing have officially entered into a partnership. The two will be collaborating on four separate initiatives including TIPE 2023, a Women in 3D Printing showcase at RAPID + TCT 2023 which will be held in Chicago, a next generation mentorship pilot program and they will both work on Women in 3D Printing's Diversity in Additive Manufacturing Report especially as it comes to data collection.
Chairwoman and Founder of Women in 3D Printing, Nora Touré, noted that for TIPE 2023, the format of the show will not change and it will continue to be an all-female speaker event but will be produced and powered by SME and WI3DP. Touré concluded, "Through this partnership, SME is enabling a volunteer based organization to move faster and truly move to create an industry that reflects the world that we are operating in. SME has an incredible 90 history of advancing manufacturing and we have been lucky to have them beside us since the beginning. Indedd, SME was one of the earliest companies to support Women in 3D Printing."
Beyond that, attendees were able to hear more about what they will expect at the show including information on the various conferences. One key point during the opening remarks was about the many press conferences and launches expected to happen this year. On the first day, Dyndrite, Ulendo (a startup from the University of Michigan) and HP all held press conferences while Digital Metal and Jabil launched new solutions which they invited attendees to come see. In fact, the ability to meet in person and actually see these machines in person and understand what they are truly capable of seems to be a highlight for many on the first day of RAPID + TCT 2022. Especially as more and more companies are industrializing their additive manufacturing solutions, opening them to even more applications and sectors. And launching new products is a key part of this.
AON3D was one company that launched a product just before RAPID + TCT 2022 with the hope of introducing it to customers in person. Ilhan Esmail, Applications and Materials Specialist at AON3D, explained, "One of the benefits of launching before RAPID is that we are now able to show to users in person that high temperature with duplication mode is possible and to ensure they understand what it is. We're hoping to show the full capabilities of it as well as make sure that this feature works and how people would be interested in using it." Eric Beardslee, AON3D's Product Marketing & Content Manager, expanded on AON3D's expectations at the event, "This year we want to focus on making our machines the best they can be to support our customers. We are dedicated to not just delivering the incredible but to also to show customers directly here."
This was reflected across the exhibitor floor as the attendees went from booth to booth, learning about the new advancements in additive manufacturing that have taken place in the past few months. Tuan Tranpham, CRO at Azul3D, commented especially on the significance now that people are able to come back after COVID, noting, "It's good to be back in person. We are having great conversations and this year it is especially exciting because we are able to once again see more international people from the AM community as restrictions have dropped. I'm really happy as well to see that the AM community is growing to include post-processing and it's clear that we are moving in the right direction."
SME Held their Annual Awards at RAPID + TCT 2022
To round off the day before the launch party at 5pm, SME held its "SME Additive Manufacturing Awards Ceremony" in the SME ZONE Theater. Here they honored a number of projects and people through the Digital Manufacturing Challenge Award,  Aubin Additive Manufacturing Case Study Award and of course the AM Industry Achievement Award among others. The first was awarded to a team from Virginia Tech including Daniel Chirvasuta, Nathanel High, Matthew Martin, T. Benjamin Nguyen, Omkar Shinde and Nicolas Tomanelli under the adviroy of Dr. Chris William, Sean Prat and Dan Braley for the project "Hybrid Wire-Arc Additive Manufacturing of Topology Optimized Aviation Components." And the Aubin Additive Manufacturing Case Study Award was 'Laying the Groundwork for Industrial 3D-Printed Parts in Oil & Gas Applications" from Velo3D and IMI Critical Engineering with the runner-up slot also going to a Velo3D project.
Possibly the most significant award was the final one, the AM Industry Achievement Award which this year went to Dr. Slade Gardner, the President and Founder of Big Metal Additive who has been a mainstay in the industry and especially in large-format additive manufacturing for a number of years. Accepting the award, he stated, "I've been in manufacturing my entire career but this award means so much. What's so important about it is that it's an industry award. I remember when were were just a prototyping or reach community and now thanks to everyone's hard work, we are recognized as well in industry. With additive manufacturing we have created a new style of manufacturing and I'm really looking forward to see where we take this in the future." Gardner's comments reflect a wider feeling that has been evident in the conference. Of additive manufacturing moving more and more surely into its position as an industrial technology.
But RAPID + TCT 2022 is not over yet! Keep an eye out for more news from the event, direct from 3Dnatives as we will keep you appraised of some of the exciting developments we see. If you want to see more about the program, be sure to check out the RAPID + TCT 2022 website HERE. Are you at RAPID + TCT 2022? What has been your favorite part of the event so far? Let us know in a comment below or on our Linkedin, Facebook, and Twitter pages! Don't forget to sign up for our free weekly Newsletter here, the latest 3D printing news straight to your inbox! You can also find all our videos on our YouTube channel.
*Cover Photo Credits: 3Dnatives