A 3D Printed Pavilion Made from Recycled Plastic Is Suitable for All Weather Conditions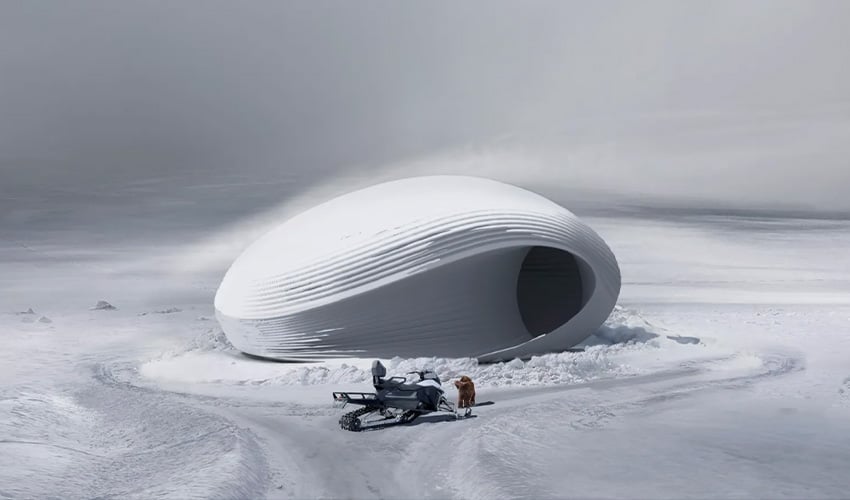 For many years, the amount of plastic waste in the world has been rapidly growing. This growing accumulation has a significant impact on global warming. In the construction and architecture sectors, many projects propose to use recycled plastic, as this material represents an inexhaustible resource. This is the case of 3D printing studio Nagami, and architecture firm Hassell, who have announced a collaboration to design a pavilion prototype entirely printed in 3D from recycled plastic. The project is also in partnership with to.org, a collective that fights against global warming, inequality, and ocean pollution.
The use of plastic waste in construction is now increasingly common. With 3D printing, this waste can be transformed into filament to make different structures, like the project that consisted of 3D printing 10 houses from recycled plastic in California. In Italy, the same initiative was carried out, this time for the manufacture of public benches, again with the help of 3D printing. In another example, the company From Waste to Wind uses additive manufacturing technology to produce wind turbines from recycled plastic.
Recycled Plastic Can Change Construction Methods
Through the use of additive manufacturing, this 3D printed pavilion is customizable and transportable, with Nagami providing its 3D printing solutions. The pavilion was manufactured using a robotic arm equipped with a nozzle capable of depositing plastic filaments. According to the architecture firm, it will be optimized for extreme environments, whether in the desert, snowy areas, or war zones. For regions of the world with frigid weather, this pavilion will be hermetically sealed with its exterior grooved to collect snow, to create a natural insulation similar to a traditional igloo. Conversely, in warmer climates, the roof will be used for water collection and to promote ventilation. Inspired by indigenous shelters, its complex and futuristic architecture demonstrates all the design possibilities with 3D printing.
Nagami and Hassell explain that the pavilion will be a meeting place for education, reflection and knowledge. "The design is the beginning of a larger plan to create a series of pavilions which encourage conversations around material waste and how technology can solve our planet's most urgent problems," says Xavier de Kestelier, head of design at Hassell. Manuel Jimenez Garcia, founder of Nagami, concludes, "As 3D printing scales up into the domain of architecture and construction, we can massively increase the demand for recycled plastics, and therefore speed up the cleaning process of our oceans and landfills. We hope this project will contribute to inspiring a new generation of architects to truly believe that a radical change in construction, driven by eco-innovation, is truly possible." To learn more about this project, click HERE.
What do you think of this 3D printed pavilion made of recycled plastic? Share your opinion in the comments of the article. Find all our videos on our YouTube channel or follow us on Facebook or Twitter!
*Cover photo credits: Hassell