A 3D Printed Medical-Grade Cushion for Wheelchairs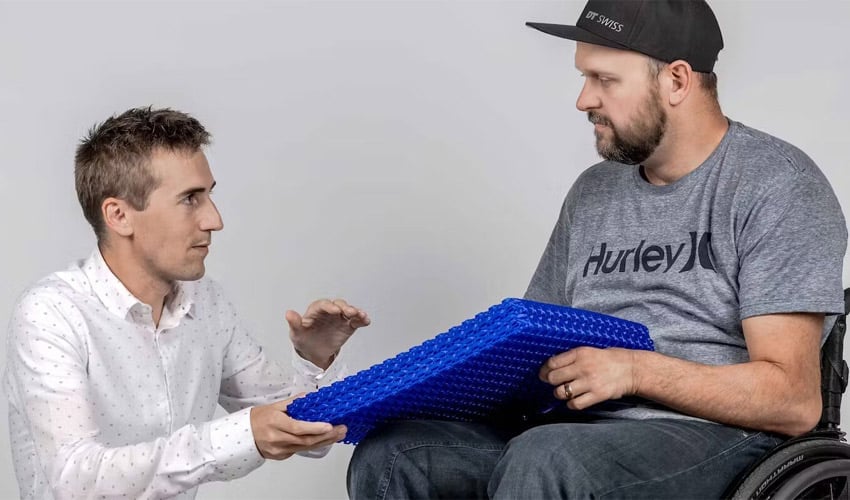 CSEM, a Swiss technology innovation center, and the Swiss Paraplegic Foundation (SPS) have worked together to develop a 3D printed medical-grade cushion for wheelchairs. Customizable and washable, this device is expected to improve the quality of life of wheelchair users, particularly by preventing pressure injuries. The partners have designed a lattice structure to provide better breathability for the cushion as well as optimize the weight. They are currently looking for a partner to help them print their device in a larger volume to help more people with disabilities.
According to the World Health Organization, about 10% of the global population or about 650 million people have disabilities. Of these, another 10% could be defined as suffering from a motor or physical handicap, thus requiring the use of a wheelchair at least part of the time. This can lead to additional health problems such as pressure ulcers, along known as decubitus ulcers or bedsores. These are caused by prolonged pressure on certain areas of the skin and therefore inflammation that is difficult to treat. Thankfully, it seems that additive manufacturing may be able to alleviate these pains, as it has done in the past. Indeed, 3D printing has often allowed us to imagine devices that are able to improve the daily life of people suffering from any kind of disability.
There are currently solutions to prevent the above-mentioned injuries: custom-made support and seat cushions for example, but these are difficult to produce and above all very expensive. They have to be manufactured individually, which is very costly in terms of time and manpower. In addition, these cushions are usually difficult to wash and therefore not very hygienic. This is where 3D printing has a role to play: CSEM and SPS have designed a 3D printed cushion, made from a 3D scan of an existing cushion. Using design techniques for additive manufacturing, they were able to create a lattice structure, creating air holes and thus better breathability. This design also offers better temperature management and moisture wicking.
Thanks to 3D printing, the two partners chose where they wanted to place the material and thus considerably lighten the final cushion. It is not known which printing process was used, but the results are very encouraging. The CSEM and SPS are therefore looking for partners to accompany them in this project; Christoph Joder, working at the CSEM, explains: "We are very proud of what we were able to achieve with the current design and are grateful for the immediately positive feedback we have received from everyone. We remain confident about finding a partner and making this technology available to those who need it." You can find more information HERE.
What do you think of this 3D printed wheelchair cushion? Let us know in a comment below or on our LinkedIn, Facebook, and Twitter pages! Don't forget to sign up for our free weekly Newsletter here, the latest 3D printing news straight to your inbox! You can also find all our videos on our YouTube channel.
*Cover Photo Credits:  Schweizer Paraplegiker-Stiftung (SPS)