A Californian Church Will Be 3D Printed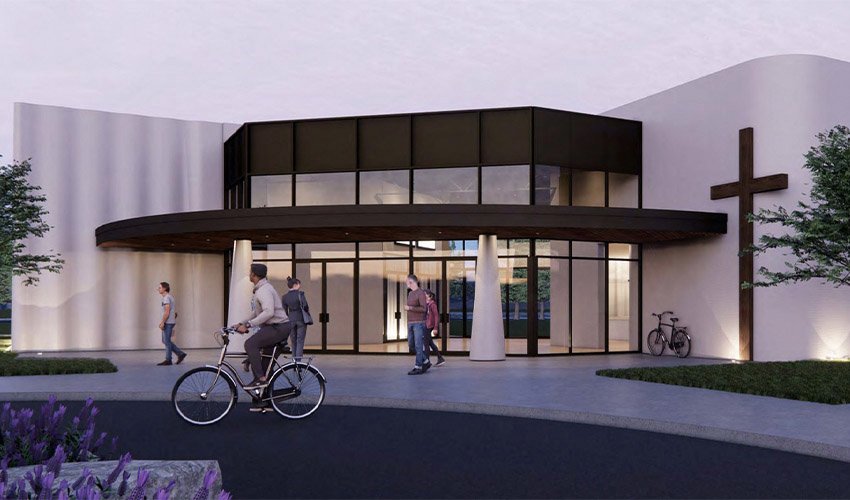 While we are now used to seeing 3D printed houses, bridges or even pop-up stores, as far as we know, no religious building has yet been designed using additive manufacturing. Though that is all about to change as according to the latest news from California, a church may be 3D printed soon. Or at the very least, an order has been place and the construction itself should be starting soon. The Lake California Community Church has contracted the American company Don Ajamian Construction and the 3D printing company Emergent 3D to build a church. A first in both the construction and additive manufacturing industry.
Commenting on the reasons behind the move, Jim Laxson, the paster of Lake California Community Church explained, "We've been trying to build a church for 20 years now and now, with 3D printing, we're going to be able to build it more economically." Don Ajamian certainly agrees, though he considers that the benefits of additive manufacturing are not only about the reduced cost of construction. In fact, the 3D printed interior walls were designed to provide perfect acoustics by directing sound waves directly to the audience. So much so that, according to Ajamian, the pastor will not need a microphone to address the entire audience, a benefit I think we can all agree in a Church where many must be addressed even in the far-away seats.
Why 3D Printing?
As previously mentioned, a large reason the Lake California Community Church hired Emergent 3D was to minimize construction costs. And we can say that this choice certainly paid off. The different teams explained that they saved about 10% in costs, especially in relation to the construction materials used. To print the church, the two companies said they used COBOD's 3D solutions, which are often used in large-format construction 3D printing projects.
Through additive manufacturing, the various parties involved in the project also hope to realize significant time savings, helping them to achieve this long-held dream much faster than with traditional construction methods. Don Ajamian further explained, "So I do not need to, for example, bring a bunch of stucco guys to put stuff on the outside or put siding on it. I don't need to bring a bunch of drywall people in to drywall the inside wall. Literally, when these things get printed, that wall is finished other than the paint." Though for now, only the site grading has been completed, according to the companies, 3D printing is expected to begin in the summer of 2022.
What do you think about the use of the future 3D printed church? Let us know in a comment below or on our Linkedin, Facebook, and Twitter pages! Don't forget to sign up for our free weekly Newsletter here, the latest 3D printing news straight to your inbox! You can also find all our videos on our YouTube channel.
*Cover Photo Credits: Don Ajamian Construction