MX3D Uses WAAM to Make a 3D Printed Aluminum Boat Keel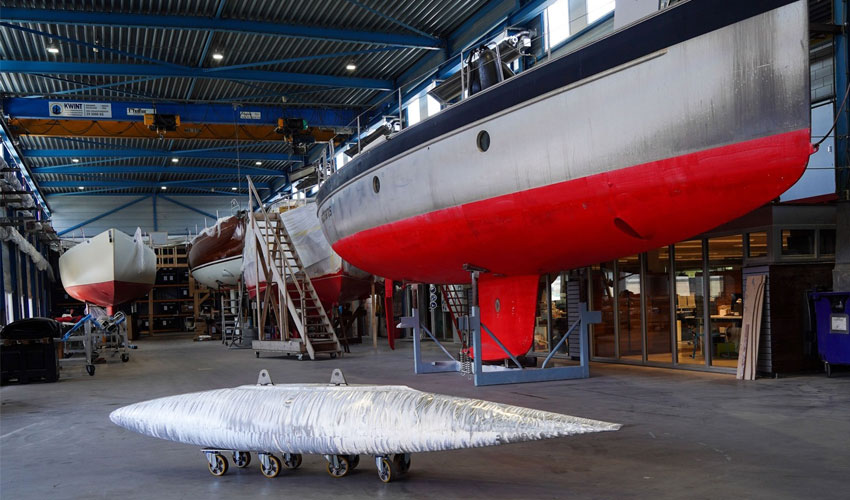 Metal 3D printing solutions manufacturer MX3D has partnered with Dutch custom yacht builder KM Yachtbuilders to design a 3D printed aluminum keel. Measuring 4 meters (~13′) long and 8 (~26′) meters thick, it was manufactured by MX3D as part of its research into the impact of additive manufacturing in the marine industry. Entirely custom-made, this keel demonstrates all the possibilities of WAAM (Wire Arc Additive Manufacturing) technology in such a demanding sector: in the long term, the aim is to certify this type of part and offer an alternative to traditional manufacturing methods.
You may have already heard of MX3D, it recently installed a 3D printed metal bridge in the center of Amsterdam. Since this impressive feat, Dutch manufacturer has also moved to use its WAAM technology in  other industries for example the maritime sector. Its website expand on this, noting: "Maritime assets are capital intensive, downtime has financial consequences, and the production operations are often situated at remote locations in isolation from repair facilities and spare part storage.Robotic WAAM offers opportunities in reshoring, and accelerates custom, low-cost, and fast printing of complex objects. By WAAM, the design and assembly becomes an automated process, where material optimization can be achieved, while a reduction in assembly costs becomes possible."
A Customized 3D Printed Keel
If we take the example of a keel, it is important to note that making one is becoming more and more complicated because experienced welders are increasingly rare. In addition, traditional methods do not allow for customization, an increasingly important need in the modern world. The keel is the lowest part of a boat, prevennting it from being blown away by the wind and giving it its center of balance. KM Yachtbuilders and MX3D have therefore imagined a keel 4 meters long with a diameter of 650 mm, weighing 180 kilos. Printed in 3D, it integrates stiffeners to improve overall performance. The goal of the two partners is to obtain a Lloyd's Register 3.2 certification that "ensures that the metal materials are verified and of expected quality, guaranteeing the validity of the manufacturer and the products supplied to the buyer."
Eventually, the two Dutch partners aim to be able to 3D print spare parts for any type of boat, as well as finished parts. WAAM technology could well revolutionize the way some components are manufactured today. Though we do not know how long it took or how much it cost, the end result of the keel is promising! You can find all the company's work in the maritime sector HERE.
What do you think about this 3D printed boat keel? Let us know in a comment below or on our Facebook and Twitter pages. Don't forget to sign up for our free weekly newsletter, with all the latest news in 3D printing delivered straight to your inbox!