9T Labs: 3D printing industrial grade carbon composites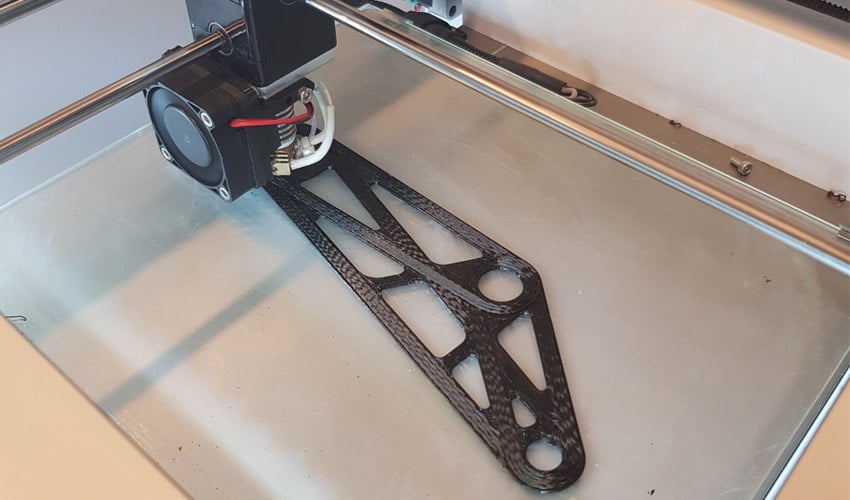 9T Labs is a young Swiss startup that has developed a 3D printing method to create structures with carbon composites. From the design of the part to its post-treatment, they optimize the entire process to allow professionals to obtain industrial quality components. Thanks to this process, 9T Labs can design parts with 60% volumetric carbon composite content, a material renowned for its strength but above all for its lightness. Its mechanical properties are often compared to those of metals. The startup also emphasizes the automation of its process and the recyclability of its materials in order to provide industrialists with viable solutions that increase productivity. We met 9T Labs' Co-Founder and CEO, Martin Eichenhofer, to learn more about the technology developed, sectors concerned and future projects.
Can you present yourself and tell us more about your link with 3D technologies?
9T Labs was founded in February 2018 by Chester Houwink, Giovanni Cavolina and myself as a spin-off from the CMASLab chair of Prof. Ermanni at ETH Zurich, Switzerland. Our mission is to make industry grade carbon fiber composites more accessible using 3D printing technology. In this context, 3D printing is bringing automation and advanced software capabilities to a $80b industry, completely rethinking the way fiber composites are made to date.
How did 9T Labs come about?
Carbon fiber composites are a superior material in terms of weight and mechanical performance compared to its metal counterparts. Just imagine a material which is as light weight as plastic but as strong, or even stronger, than metal. However, the traditional and established manufacturing routes are still limiting a wide spread adoption of this performance material, mainly because of extremely long and expensive development times as well as a lack in automation. We realized the market potential and industry need for fully automated production systems with seamlessly integrated software solutions during our studies at ETH Zurich, which made us kick start the company.
Can you tell us more about the technology you developed?
In short, we are automating the traditionally manual manufacturing process, and by doing so, we provide a much higher degree of freedom to utilize the full capability of the fiber directionality. Traditionally this is not possible, because the manufacturing requires a huge compromise between ideal fiber design and manufacturing costs. 9T Labs lifts this constraint, providing 3D printing systems and our Fibrify software to optimize parts, resulting in extremely light weight parts at cost competitive price. Commonly the structural weight can be reduced by more than 50%, saving cost and resources. However, having just a highly optimized and 3D printed part is not enough to transform this industry for series production parts, it also requires a printed part quality which is comparable to parts manufactured by traditional processes. This is a common problem and limitation of 3D printing technologies. For this purpose, 9T Labs introduced the novel fusion process, a post-consolidation processing step which elevates the quality of the printed part, enabling series production of end-use parts.
What are the benefits of carbon fiber composites?
In addition to the superior and the undoubted mechanical performance of carbon fiber composites, commercial products also need to have good economics. The remaining constraints for a wide spread adoption of carbon fiber composites are the high costs and long lead times in manufacturing. Using 3D printing technology, we provide fully integrated and automated workflows at minimal capital expenditure. The outcome is twofold, superior lighter parts and significantly lower costs, making carbon fiber composites a viable contender for metal substitution beyond just aerospace applications.
Which sectors are particularly interested in these materials?
The global fiber composite industry is growing at a healthy 5% CAGR towards a $100b market in 2020. Within the industry, the strongest growth at 11% CAGR is seen in the field of carbon fiber reinforced composites. At the moment the biggest trends are automation, thermoplastic composites and recyclability. Whereof, the use of thermoplastic composites enables recyclability in addition to superior mechanical performance. 9T Labs' technology is answering to all three trends, using the merits of 3D printing and thermoplastic composites. This kind of performance is in particular important for industries such as aerospace, automotive, leisure and medical.
What are your future projects?
Providing a fully integrated solution for our customers, starting from CAD design to final part. Along the value you chain we empower engineers with our Fibrify software to quickly find the best designs, we fully automate repetitive tasks to increase productivity and comfort on the shop floor, as well as integrate quality control and logistics. At the end, a final part from design to production will not take more than a few hours, compared to weeks or month using conventional technologies. You can find more information HERE.
 What do you think of 9T Labs? Let us know in a comment below or on our Facebook and Twitter pages! Sign up for our free weekly Newsletter to receive all  of the latest news about 3D printing straight to your inbox!