#3DStartup: Xolo and Volumetric 3D Printing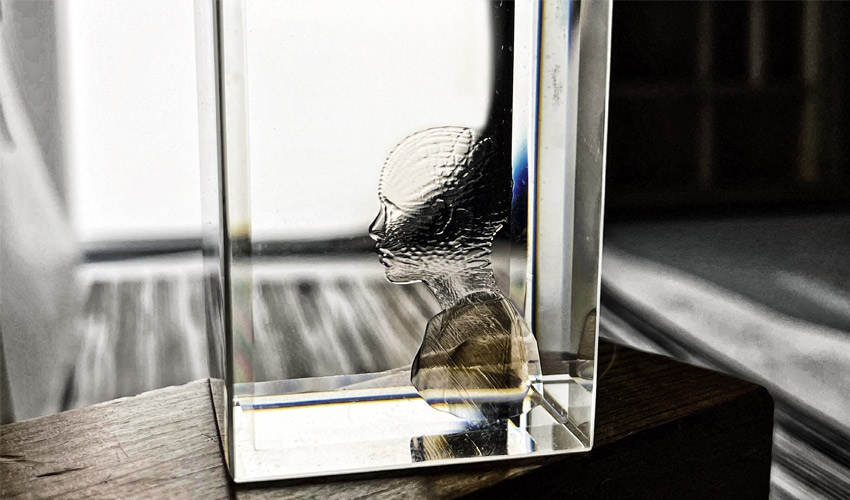 Last December, we presented xube, a compact 3D printer capable of printing parts in just a few seconds thanks to a volumetric printing process. Behind this innovation, is the young company Xolo. Based in Germany, it intends to change the rules of photopolymerization, by no longer relying on the classic approach of layer-by-layer printing. Xolo uses xolography, a technique that uses different initiators and two types of wavelengths to harden the resin. The result? A much faster manufacturing process, a smoother surface and more material possibilities. We met with one of xolo's founders, Dirk Radzinski, to learn more about this technology and the benefits it offers.
Can you introduce yourself and your connection with 3D printing? How did the idea of creating xolo come up?
I am one of the co-founders of the company which is roughly 1 1/2 years old. Neither of the 3 founders have been working in the 3D printing industry before. Stefan hecht is a professor in chemistry Aachen university and director of the Leibniz institute for interactive materials. He is an expert in photoswitches. Martin Regehly is a physics professor in Brandenburg and former founder and CEO of a scientific camera company (greateyes). I am a serial entrepreneur having founded and sold companies in deep tech/deep science. The 3 of us are friends and before we had the idea for xolo we had the idea to do something together. But it took many years until we stumbled upon a nature paper in the summer of 2017 from the Lippert group. They described a new volumetric display. The very simple idea was to not have an image displayed but instead cure a photopolymer with a comparable set-up. The missing link were the molecules which can make that happen. We built them from scratch and developed a new class of photoswitch-initiator molecules.
Tell us more about xolography: how does it work?
xolography is a dual color volumetric 3d printing process. As in stereolithography it uses light to cure a photoresin. However, if you project light into a vat with transparent resin which contains initiators like in stereolithography, curing would occur along the whole lightpath. That is why SLA/DLP printers add absorbers to their resins. In xolography we developed a new type of initiator. This initiator does not start curing if it has been hit by light with a single wavelength. It needs two different wavelengths to start the polymerization process. Wherever blue and red light intersect and meet the initiator at about the same time, curing occurs. 

What material is the machine compatible with?
Generally speaking the machine works with the same kind of photoresins you use in conventional SLA/DLP printers. However, xolography operates at the other end of the spectrum when it comes to viscosity. SLA/DLP printers need very low viscosity, otherwise the resin cannot flow in between the build plate and printing window fast enough. We use high viscous resins in order to prevent the objects from sinking while they are printed and to avoid any kind of support structures. That opens up a new materials world. We are at the beginning of this where, all of a sudden, materials not produced for 3D printing might work with xolography. We hope to be able to demonstrate the striking differences soon.
What are the main benefits of your volumetric printer?
Compared to other resin printing technologies which utilize light to cure a photopolymer, xolography has three main distinctive features: (1) it is much faster. There is no movement of a build plate and polymerization does not need to be finished while moving to the next part to cure. (2) the surface is smoother and we aim for printing optical grade components without polishing. That is not possible with any existing technology today. (3) the materials are different and have a great potential to display properties which are desired in manufacturing. Xolography uses highly viscous resins. That is impossible in stereolithography, because the resin has to flow fast in between the build plate and the printing window. Higher viscosity means the molecule chains are longer and we can produce tougher and more durable objects
There are also a lot of other advantages. E.g. you can print objects in objects up to whole machines if you can freely address voxels in a volume. With a normal resin printer you need support structure to hold your object in place. In volumetric printing the resin supports the object.
What are your plans for the future?
We want to use 2021 to work with leading research groups throughout the world. We want to sell 20 xubes into the research world and help them realize ideas which are not thinkable in conventional layer by layer printing. We also need to learn a lot on the process technology side. Customers want solutions and not technology. We are a very young company and had not had much bandwidths so far. that means there was no time to explore areas like washing, post-processing, material diversity etc. We also like to have a close look into the bioprinting market. Xolography works perfectly fine in printing high resolution hydrogels. That is a good starting point for organ on a chip and other applications in the bio space.
In 2022 we want to enter specialized industry verticals.
Any last words for our readers?
We published our first scientific nature paper in Christmas 2020. We put our new website online at the same time. Since then we received thousands of reservations for the xube, our first product. Obviously we did a bad job in saying that this is an experimental printer and it is only meant for research purposes. We are sorry for all those private people who likely had hoped to finally get a printer which does not require a full day for an object but rather prints in minutes whatever they wish. However, that message from private customers is very encouraging and motivates us to work faster.
What do you think about the startup, Xolo? Let us know in a comment below or on our Linkedin, Facebook and Twitter pages! Sign up for our free weekly Newsletter here, the latest 3D printing news straight to your inbox!