#3DStartup: Viewpointsystem on Using AM for Their Smart Glasses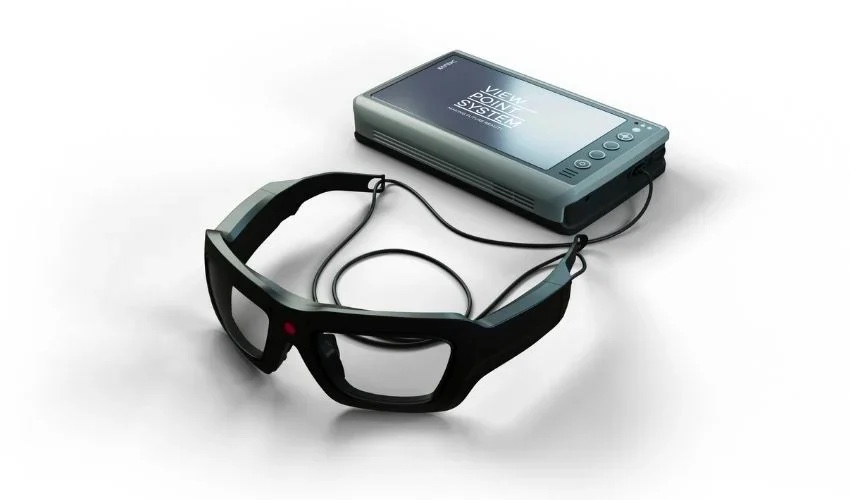 Vienna-based start-up Viewpointsystem has been working intensively on a solution to bring man and machine closer than ever before. The result: forward-looking smart glasses made with scientific know-how in the field of optics. However, what exactly is the contribution of additive manufacturing to such a high-tech achievement? Many of the parts made for the Smart Glasses come from 3D printers! This has allowed for human and machine collaboration at a distance, including for remote support and remote maintenance, among other things. We spoke with Viewpointsystem's CTO, Frank Linsenmaier, about the use of additive manufacturing for the Smart Glasses and what benefits the technology has brought to the company.
3DN: Can you introduce yourself and Viewpointsystem?
Viewpointsystem is a young deep-tech company from Vienna that develops and produces smart glasses for the B2B sector. We were founded in 2016 out of a spin-off of the University of Natural Resources and Applied Life Sciences, Vienna. Today we have customers on three continents and around 60 employees. We are one of the first companies in Austria to rely on additive manufacturing for industrial series production. A total of twelve components of our smart glasses are manufactured additively, from the frame of the glasses to the nose pads and inner technical parts – and the trend is rising.
I myself first came into contact with additive manufacturing in 2005, in the area of prototype and low-volume production for a major automotive supplier. Compared to other technologies, additive manufacturing always had the most degrees of freedom in design, and prototypes could be produced quickly in terms of time. So we always had the opportunity to quickly analyze feasibility and demonstrate new parts. When I joined Viewpointsystem in 2016, our components were still injection molded. However, we quickly realized that additive manufacturing was better suited. It gives us the ability to design things to be stable and moveable at the same time, which is a big advantage for a wearable item. With the help of additive technology, we were able to quickly bring our product into series production. For the future, we see many more opportunities to push the limits of this technology.
3DN: What role does additive manufacturing play at Viewpointsystem and what technology/ies and material/s do you use specifically?
In our production facility in Vienna's Urban Lakeside, we have set up a production line for series production of our data glasses in cooperation with our partners HP and d4pro. We rely on the HP Jet Fusion printing solution. The system is optimized for industrial component production. Due to several built units, a tandem operation of the printing system is possible, and thus we can have 24/7 production. After the printing process, which takes between eight and twelve hours depending on the load, and cooling, the spectacle blank is further processed. Our post-processing steps are classic: bead blasting for residual powder removal and surface densification, followed by impregnation coloring. All materials used are certified biocompatible and thus demonstrably neutral to the skin. The Multi Jet Fusion process uses PA 12 to produce components with excellent dimensional stability and uniform mechanical strength in all dimensions. This is very advantageous for organic shapes such as those found in our glasses. The material also withstood a test according to EN 166 (safety glasses). After initial skepticism about the surface quality, we found that, especially for a wearable, the uniform roughness of the components provides optimal wearing comfort during longer sessions.
Additive manufacturing allows us to innovate at a fast pace, which is a great competitive advantage for us as a young company in a dynamic technology environment. We can make changes quickly and also try things out of the box. Since we originally manufactured our products using classic injection molding, the different approach to innovation cycles is particularly visible in our organization. We plan product developments on a weekly basis, no longer on a monthly basis. In addition to lower development costs, such an approach allows us to make much bolder decisions and validate them quickly. Other important advantages are demand-driven production and sustainability. Compared to conventional production, we can produce in smaller batches, at comparatively manageable costs. This means we don't have to buy our components in stock in large quantities and can save on storage capacity – which is as sustainable as it is economically sensible.
3DN: What needs do the VPS 19 Smart Glasses cover exactly? And who are you targeting with this  product?
Our smart glasses support corporate customers worldwide with remote maintenance of machines and systems and remote support, among other things. In times of increasing climate awareness and against the backdrop of pandemic contact restrictions, we are seeing a sharp rise in demand for remote collaboration solutions. With our smart glasses, companies can connect employees and experts around the world in seconds and without the need for travel, such as when repairing machinery. For example, a specialist can precisely instruct a production worker on another continent on a system without time-consuming and exhausting travel. This is good for both the climate and a company's budget. Thanks to integrated eye-tracking technology, our data glasses discreetly show the wearer's point of view on the display, letting you know exactly where the person is focusing their attention in real time. This enables lossless communication even across language barriers and in noisy environments. Our data glasses are also used for training and documentation, e.g. in industry, but also in medicine and security. Furthermore, they can be used for research & analysis and to track human behavior.
3DN: What does the future hold for Viewpointsystem? What new projects can we look forward to?
We will continue to scale up the production of our smart glasses this year to meet the increasing demand for remote support solutions. We also have a number of further hardware developments in the pipeline, where additive manufacturing offers us many opportunities. I can't reveal too much here yet, but plans include nose pads tailored to the wearer, which are individually manufactured according to 3D scans of the nose – keyword mass customization. This guarantees the perfect fit of the data glasses for many hours. Another exciting topic is our new eye-tracking module series, of which we presented the first prototypes at the AWE Augmented World Expo in California at the end of last year. With these pre-configured modules, we offer manufacturers of augmented & virtual reality glasses the possibility to quickly and easily integrate eye data and eye tracking functions into their systems. Eye tracking is essential for many extended reality functions such as foveated rendering, but also important to capture what information the wearer is interested in at a given moment.
3DN: Do you have any last words for our readers?
In conclusion, I can only emphasize once again that we at Viewpointsystem would not be where we are today without additive manufacturing. As a young deep-tech company, we often work at the limits of what is technologically feasible, and thanks to additive manufacturing, a completely new "school of thought" has established itself in our company. With technical curiosity, courage and rapid iterations, product innovations are created with which we often surprise ourselves. Additive manufacturing is also called "addictive manufacturing" internally at our company. It is so motivating to see our colleagues in design and manufacturing take on new challenges every day and realize improvements for today's products as well as ideas for future products. Decision making with real parts in your hands is much more meaningful than just seeing them on a screen. More information about Viewpointsystem is available HERE.
What do you think about the smart glasses from Viewpointsystem?Let us know in a comment below or on our Linkedin, Facebook, and Twitter pages! Don't forget to sign up for our free weekly Newsletter here, the latest 3D printing news straight to your inbox! You can also find all our videos on our YouTube channel.
*Cover Photo Credits: Viewpointsystem