#3DStartup: Unlimited Tomorrow and its 3D Printed Bionic Prosthetic Arm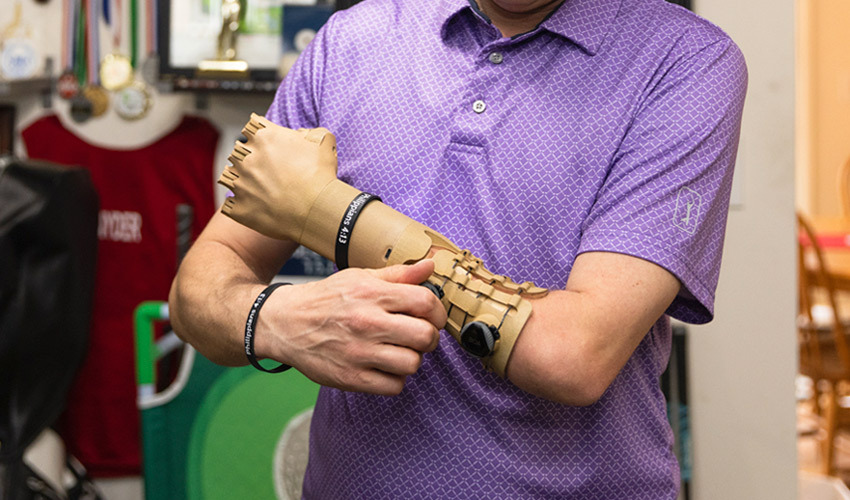 It is no secret that 3D printing has been making great waves in recent years in the medical sector. One arena in which the technologies have been especially useful is for making prostheses as it allows for lighter, more customized solutions for users. One notable example is the TrueLimb prosthetic from our startup of the month, Unlimited Tomorrow. The company uses 3D printing to create high-quality, low-cost bionic prosthetic arms with the goal of being accessible to all who need them. As such, they have also partnered with The Singularity Group in order to raise money to help amputee victims of the Russian invasion of Ukraine. We spoke with Jennifer Barbic, the Vice President of Marketing, to learn more about their TrueLimb prostheses, why they turned to 3D printing and their current projects.
3DN: Could you introduce yourself and Unlimited Tomorrow?
My name is Jennifer Barbic. I am Vice President of Marketing for Unlimited Tomorrow. We produce a 3D printing bionic prosthetic arm called TrueLimb. As for Unlimited Tomorrow, to understand our company you must first understand our founder. Growing up in a small town in Colorado, Unlimited Tomorrow's Founder and CEO, Easton LaChappelle, was a child who loved to tinker. He loved taking things apart to understand how they worked, building with legos, and experimenting with motors and gadgets. As a teenager he started experimenting with building robotic arms, first creating one that was wirelessly controlled, and eventually creating one using 3D printing, a new technology that fascinated Easton. That 3D printed arm wound up winning 2nd place in engineering at the International Science Fair. As a result, Easton had the opportunity to meet former President Barack Obama, speak to international audiences including delivering a TedTalk, and pursue an internship at NASA. Even during this exciting time in Easton's life, his mind kept coming back to a little girl he had met at the Colorado State Science Fair a few years prior.
While Easton was showcasing his invention, he noticed one little girl closely examining the robotic arm, even more so than any other visitor. As he stepped over to talk to her, he noticed that the girl had an upper limb difference and was wearing a prosthesis. As he started talking to her and her parents, he was astounded by what they shared. The device that the girl was wearing was very heavy and uncomfortable, it did not match the size of her sound limb, and it had very minimal functionality. When they shared that the device had cost more than their annual salary, Easton was truly floored. The wheels started turning in Easton's head after that conversation, and they never stopped. The girl had made such an impression on Easton that while he was interning at NASA, he continued to stay up late at night working on his robotic arm technology, thinking that there had to be a better solution for the challenges the girl and her family had faced.
That one chance meeting had altered his view of what technology could do, and made him realize what he was truly passionate about. Upon returning home from his internship, the phone rang one day and shockingly it was author, coach, speaker, and philanthropist, Tony Robbins, asking to speak with Easton. Tony had seen Easton's TedTalk and wanted to help him pursue his passion. He offered to help him found a company so that he could continue to build robotic arms. Easton agreed and together they founded Unlimited Tomorrow when Easton was just 18 years old. That drive is the core of our company.
At Unlimited Tomorrow our first responsibility is to the individuals with limb differences we serve. We believe in pushing boundaries in order to improve prosthetic accessibility. We challenge ourselves to use all available technology and resources to make the highest quality, lowest cost prosthetic arms in the world.
3DN: What is the TrueLimb Prosthetic? How does it differ from other prosthetics on the market?
The TrueLimb prosthetic arm was developed over eight years to solve common challenges that individuals with upper limb loss and limb differences face. Those challenges include devices that are too heavy, sizing that does not match the user, and affordability. Many individuals prefer a bionic arm with a natural skin tone look, but options with that look have historically been limited. Batteries that power bionic arms often do not last throughout the day, and chargers can be proprietary and expensive. Sensors used to activate devices are often unreliable and sometimes impacted by moisture and sweat. People struggle with repairs taking a long time and costing a lot. Many individuals report issues with the learning curve of using a new device.
 By contrast, TrueLimb weighs just 1-1.5lbs from socket to fingertip (with most others weight around 3-5+ lbs). In addition, it is incredibly durable for everyday use and is personalized to be the same size as the user's opposing limb. It is easy to put on and take off and its socket is adjustable, and breathable. TrueLimb comes in hundreds of skin tones and colors for users to choose from, can be charged with a standard USB-C charger, and offers multi-day battery life. TrueLimb has six easy-to-remember, functional grips designed to help with everyday tasks. TrueLimb's sensor technology, TrueSense®, is not impacted by sweat or moisture and does not require direct skin contact to activate. 30+ sensors line the socket of each TrueLimb, vs. two in most traditional devices, which increases device activation and control.
3DN: Why did Unlimited Tomorrow turn to 3D printing and scanning for the creation of the TrueLimb prosthetic?
Currently, we use 3D printing, 3D scanning, 3D modeling, smart algorithms, and a fully digital workflow in the creation of our prostheses. 3D printing helped to solve the biggest challenge of all when it comes to prosthetic arms – weight. Through 3D printing, we have been able to produce a device that is a fraction of the weight of other devices, but also incredibly durable. The combination of 3D scanning and 3D printing allows us to create a prosthetic arm that is fully personalized for each user, with next to no waste. Additionally, the fact that our process is fully digital enables us to expand accessibility to advanced prosthetic technology.
The process is also simple and convenient. It starts by asking the user to answer a few questions and schedule a one-on-one consultation with our clinical team. Next, we ship a 3D scanner so they can scan their residual limbs, with these we create a set of check sockets. The check sockets are shipped and once again users need an evaluation with our clinical team to assess the comfort and fit, this can be repeated until the perfect comfortable fit is achieved. The final step is to 3D print, assemble and test the personalized TrueLimb.
3DN: Could you tell us more about Unlimited Tomorrow's project to deliver TrueLimb to Ukrainians in need?
Sure! We have partnered with Singularity Group to raise $1M to create and deliver functional prosthetic limbs to 100 amputee victims of the Russian invasion of Ukraine. We are actively working with Ukrainians who have been impacted during the war, and are about to deliver the first TrueLimb to a Ukrainian user.
As the war continues, more and more Ukrainian citizens are being injured. Including those who are losing limbs. And we know that Unlimited Tomorrow's use of advanced technologies and a fully remote process allows the company to immediately help amputees in Ukraine or anyone in a conflict zone. You can learn more about the project and donate by visiting the gofundme link HERE or watching the video below.
3DN: Any last words for our readers?
At Unlimited Tomorrow we believe in technology with purpose. Without newly available 3D printing, 3D scanning, 3D modeling, and smart algorithm technologies, TrueLimb would not exist. If you or someone you know has an upper limb difference, we would love to connect and share how we have harnessed technology to make an impact. You can learn more by visiting our website HERE and we invite you to follow us on our socials!
What do you think of Unlimited Tomorrow and its TrueLimb prostheses? Let us know in a comment below or on our LinkedIn, Facebook, and Twitter pages! Don't forget to sign up for our free weekly Newsletter here, the latest 3D printing news straight to your inbox! You can also find all our videos on our YouTube channel.