#3DStartup: Mobile Smart Factory Production Module Promotes Local Manufacturing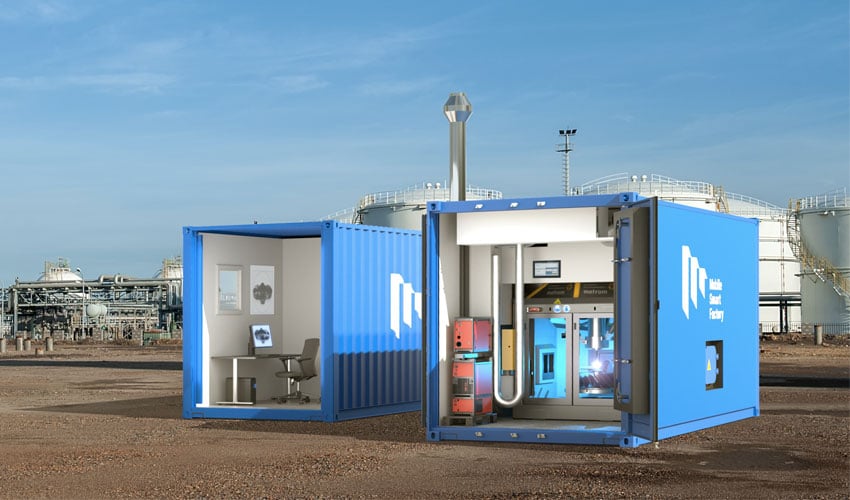 A few months ago we first unveiled the concept of the Mobile Smart Factory, an intelligent production module that integrates additive manufacturing technologies as well as post-processing solutions for on-site part development. This project, which stems from a division of Bionic Production GmbH, aims to pave the way for cost-effective and reliable stand-alone 3D printing of parts. Furthermore, with the advent of COVID-19 globally, the industry has seen the supply chain experience disruptions and prevented supplying companies with on-demand parts. This is one of the solutions that promotes local manufacturing, and has earned our recognition as a featured startup of the month for April. To learn more about the modules, we spoke with one of the brains behind the project.
3DN: Can you introduce yourself and tell about your relationship to 3D printing?
I am Johannes Schmidt, an expert in the fields of project management, strategy development and business analysis. Mobile Smart Factory is a division of Bionic Production GmbH, an innovative full-service provider for industrial additive manufacturing. Our mission is to increase performance and create added value through bionic 3D printing for our customers. In recent years, we have successfully implemented a wide range of industrial projects for renowned companies, such as part screening, bionic design or serial production of 3D printed metals. Since 2019, our company is also proud to be part of Hamburger Hafen und Logistik AG (HHLA), a leading European logistics company. This clearly shows that also the logistics and maritime industry has recognized the enormous potential to be gained from 3D printing.
3DN: How did the idea of creating the Mobile Smart Factory come about?
One of Bionic Production's main products is the Mobile Smart Factory, a modular container factory equipped with 3D printing devices for the production of metals and polymers. The product idea has been developed with our affiliated company, the Hamburg port operator. Together, we set our sights on addressing supply chain challenges, especially for industries operating in remote areas. We quickly realized that the ability to produce and repair parts locally with a "3D printing factory in a box" offers enormous potential. Instead of keeping all physical parts in stock, spare parts can be virtually stocked and printed on demand. Companies also reduce the time and expense associated with supplying spare parts. Finally, the risk of production downtime due to bottlenecks in the chain is mitigated, as our Mobile Smart Factory enables rapid production in close proximity to the customer.
3DN: What is the function of each module and what are the benefits of this production method?
The Mobile Smart Factory is a plug-and-print solution for cost-effective 3D printing and repair service. The system covers the entire additive manufacturing process and consists of two CSC-certified shipping containers. The control unit is used for preprocessing and polymer production. Here, part digitizing can be performed using CAD software and a handheld scanner so that all required parts are stored in a "virtual cloud". The production process begins with the selection of the required material from the storage area. The main function of the production unit is to create metal parts and perform repair services. For this purpose, a multi-optional 6-axis machine is used, which combines wire arc additive manufacturing (WAAM) with milling and drilling. The benefits of our WAAM metal production process are the high build rates, the large build space, the easy material handling and the simple and stable process.
3DN: What sectors are you targeting?
Our solution is aimed at industries operating in remote areas with limited logistical capabilities. In the mining, marine energy, defense or maritime industries, for example, a wide variety of individual spare parts are required that are generally costly to manufacture and store within an extremely tight schedule. Companies that use Mobile Smart Factory and print or repair parts locally can gain competitive advantages by reducing logistics efforts and costs while improving operational efficiency. For example, the Mobile Smart Factory can be implemented in nearby mines or oil and gas platforms. Thus, parts are produced directly wherever the need arises and without having to wait for them to arrive from a supplier or central storage. Overall, there is a wealth of potential applications that can be provided through the Mobile Smart Factory.
3DN: How does the Mobile Smart Factory encourage local production? How do you see the future of additive manufacturing?
In my opinion, we will see a strong trend towards reindustrialization and local production. First, the COVID-19 crisis clearly revealed supply chain vulnerabilities. Especially, China's role as a global factory means that any disruption puts global supply chains at risk. More and more countries are striving to reduce dependencies on geographically distant suppliers. At the same time, Industry 4.0 will amplify the trend toward reindustrialization. It is expected to increase productivity through efficiency gains and thus gradually reduce wage differentials between countries. The next wave of mass customization is near and will accelerate the trend towards local production. In short, new and innovative ways of organizing production operations will be needed. Additive manufacturing will play an important role in this context. However, it should be noted that 3D printing is likely to be a complement rather than a substitute for traditional manufacturing techniques.
3DN: Any last words for our readers?
We are convinced that additive manufacturing will disrupt supply chains and production processes worldwide and it is of utmost importance to be prepared for it. Therefore, it is time to prepare for the era of additive manufacturing and take advantage of the considerable potential, improve operational efficiency and open up new areas of business. You can find more information about Mobile Smart Factory HERE.
What do you think of the Mobile Smart Factory? Let us know in a comment below or on our Linkedin, Facebook and Twitter pages! Sign up for our free weekly Newsletter here, the latest 3D printing news straight to your inbox! You can also find all our videos on our YouTube channel.