#3DStartup: SphereCube and Its Sustainable, Composite 3D Printing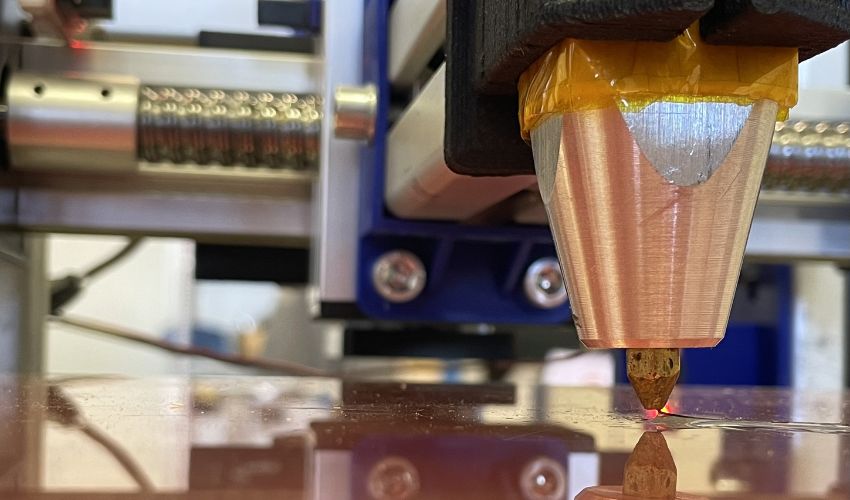 Italian startup SphereCube made a name for itself last year thanks to the Formnext Startup Challenge where it was one of the winners of the annual competition. The startup, which came out of the Marche Polytechnic University, has made its technology its focus: it can produce high-performance composite components without using molds and with less environmental impact. SphereCube thus responds to two needs felt by the additive manufacturing, and more generally, by the composite materials, markets: the need for a more efficient and, at the same time, more sustainable production process. So we chose them as the 3D startup of the month for February and interviewed them to learn more about their innovative technology!
3DN: Could you introduce yourself and SphereCube?
SphereCube is an innovative startup and spin-off of the Marche Polytechnic University. It was through their common attendance at the university that the team members got to know each other and joined forces on the project. The production process we have developed, thermal laser curing, allows for the creation of high performance composite products in a fully automatic way, without any geometrical limitations. Currently, the production of high-performance composites is done by hand, which subsequently leads to issues in terms of repeatability and flexibility. In addition, due to the high number of process steps and the use of molds (even for unit production), the entire production process is slow, costly and has high design constraints. With our technology, we want to solve the problems associated with the production of composite materials and increase the productivity of these fantastic materials.
3DN: How did your startup come about?
The idea for SphereCube was born when Valerio Di Pompeo, the current CEO and then a student at the Marche Polytechnic University, met Alessio Vita, who was one of the professors of a specialization course. They agreed that there were no industrially validated technologies using the most common raw materials in the world of composite material production (such as thermosetting epoxy resins and long fiber reinforcements). As they began discussing possible solutions, the first sketches of what is now the heart of the SphereCube 3D printer were born: the extrusion head. Valerio and Alessio then got the rest of the team involved, and the team is still growing.
3DN: How does your composite extrusion technology work?
The technology developed by SphereCube is centered on the extrusion of two raw materials in different physical states, namely a thermosetting polymer matrix in a viscous fluid state and a reinforcing material in the form of continuous fiber. We currently use a two-component epoxy resin (resin + hardener) and carbon fiber as reinforcing material. SphereCube's patented extrusion head effectively mixes the matrix and reinforcement to achieve perfect adhesion of the former to the latter, and then, using a heat source, the composite is partially or fully cured (solidified) as required once extruded. Systems for cutting the fiber and compacting the deposited material complete the system. The technology allows for the processing of different types of thermoset matrices and the use of continuous reinforcing fibers of any kind, including bio-based fibers such as flax, hemp, etc.
We would like to point out that in addition to developing the extrusion system, SphereCube has also filed a patent regarding the preparation of the reinforcing fiber. Through the use of a binder machine, the technology is able to improve the processability of the reinforcement, using a binder with fewer solvents, in a more sustainable manner than the conventional processes currently used.
3DN: How does SphereCube's process differ from similar existing processes?
`The difference with technologies similar to ours is that they use thermosetting resins cured by UV light, whereas in our case, a heat source is used. In addition, while our main competitors use 3D printing systems based on bulky and cumbersome robotic arms, the 3D printer that SphereCube has developed is based on a 5-axis system with an average print volume of 400 x 400 x 400 mm characterized by high precision.
3DN: Which markets are you targeting?
Our 3D printing technology allows us to produce high-performance composite components, ensuring uniqueness, customization, improved component performance and weight reduction. The main applications we are currently working on are for the aerospace (which we consider the first real market for SphereCube), biomedical, sports and maritime sectors.
3DN: What can we expect from SphereCube in the future?
SphereCube is participating in the Takeoff acceleration program, in which CDP, Plug and Play, Leonardo, Avio, the CRT Foundation and Unicredit are involved, which has allowed us to begin product validation with potential customers and to accelerate the activity of additive manufacturing of high-performance composite materials. In addition, we have just launched a three-year project with Marche Polytechnic University and Cariverona to develop bio-based materials. Finally, we want to take our 3D printer into space and, in the future, we plan to conduct experiments in orbit to validate the technology in microgravity.
3DN: Any last words for our readers?
In an age of enormous challenges, from conquering other planets to reducing harmful gas emissions to zero, 3D printing is the technology that can make a difference, as it shortens the supply chain and makes businesses more flexible. With a good dose of creativity, a solid technical base and a little bit of madness, no conquest is impossible! You can find out more about SphereCube on our website HERE.
What do you think of SphereCube? Let us know in a comment below or on our LinkedIn, Facebook, and Twitter pages! Don't forget to sign up for our free weekly Newsletter here, the latest 3D printing news straight to your inbox! You can also find all our videos on our YouTube channel.
*Cover Photo Credits: SphereCube