#3DStartup: PrintParts on the Importance of Scanning and Tracking 3D Printed Parts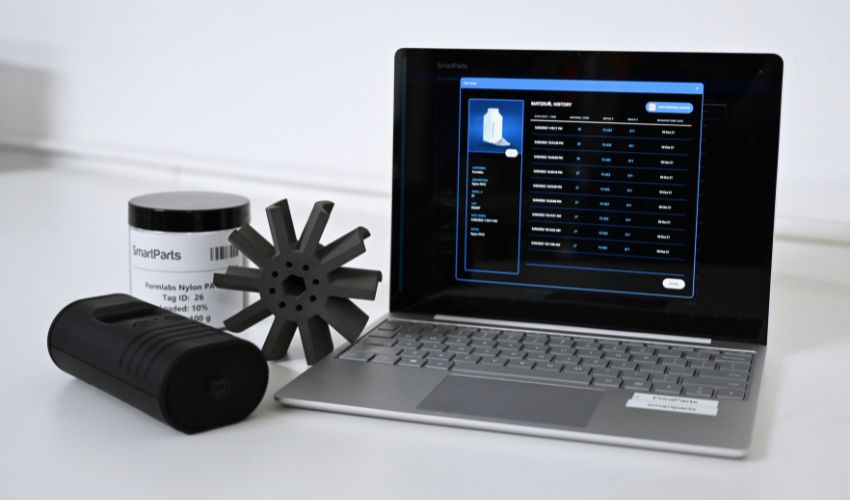 As 3D printing continues to industrialize, more companies are looking to overcome obstacles to its adoption. One that has been gaining in attention lately centers on the traceability of a part. Parts made with additive manufacturing are often feared to be at risk for counterfeiting due to the digital nature of the files, which can be easy to duplicate and steal. Not to mention, with more and more companies moving to qualify parts, it is also important to know its entire history to be able to verify each step of the process and the materials used. For these reasons, PrintParts, a New York startup, has created SmartParts which allow for end-to-end traceability of any 3D printed part. We spoke with Aundera Shcroder, the Director of Communication at PrintParts to learn more about the company, its SmartParts and the importance of traceability in additive manufacturing.
3DN: Could you introduce yourself and your connection to 3D Printing?
I am Aundera Schroder, the Director of Communications at PrintParts. My background is in design and marketing, initially in the fashion and photography industry. Additive manufacturing appealed to me because of the physical nature of it, and the appeal of being able to take a concept from initial design to prototyping to finished product.
I spent over two years working on marketing for Link3D, a leading additive MES that was recently acquired by Materialise. In that role, I began to realize how critical digital transformation efforts were for manufacturing organizations, and when the opportunity came to join PrintParts and develop the branding and market positioning strategy for SmartParts it was a natural fit.
My initial focus was on helping the team tell the story of PrintParts and the amazing work they had done to support the city of NYC during COVID, and raise the profile of the organization as a trusted manufacturing partner. Currently, I am working to introduce our SmartParts embedded traceability solution to the market, which as a new technology requires a decent amount of education and evangelism. I'm proud to say that we have won multiple awards for SmartParts, including the Formnext 2021 Startup Innovation Challenge, U.S. Navy's Hack The Machine Challenge, and most recently, the Hexagon's Sixth Sense Innovation Program.
3DN: How did the idea to create PrintParts come about? What is its mission?
PrintParts began as an NYC-based production focused additive manufacturing service bureau. The idea for PrintParts came to be as CEO and Founder, Robert Haleluk was working in the injection molding industry, and saw an increasing demand for additive manufacturing on a production level. Applying his manufacturing expertise, he founded PrintParts to provide high quality, production grade additive manufacturing services to clients in automotive, aerospace, defense, medical, and industrial manufacturing.
Working to provide production orders to customers, Robert identified traceability as a major blocker to his customer's confidence in additive manufacturing. He was joined in early 2020 by Cody Burke, a veteran in the additive manufacturing industry who had spent the previous 8 years at Stratasys leading investor relations and working on strategic planning projects. Robert and Cody developed the idea for SmartParts – an embedded solution to provide true end-to-end traceability for the additive manufacturing industry.
Today, PrintParts is an advanced manufacturing technology provider on a mission to build confidence in additive manufacturing by providing high quality production services and creating a new standard for traceability and authentication with SmartParts.
3DN: Could you tell us more about the services that PrintParts has to offer?
PrintParts offers production additive manufacturing services and advanced application development around SmartParts. The business has a fleet of over 50 printers, including FFF, FDM, SLA, DLP, and SLS technologies. Our largest concentration of systems is dedicated to the production of carbon fiber composite parts, with the ability to ship over 10,000 parts per week.
Our most impactful project was in 2020 when the company served as a prime contractor for New York City's COVID response by expanding operations with a custom-built FDA and ISO-13485 compliant Class 1 medical device lab that produced over 1.5 million 3D printed nasal testing swabs during a 6-month period.
Around 70% of current business consists of production orders from manufacturing organizations that are struggling to integrate additive manufacturing into their quality management systems. We are constantly learning from these customers, and letting those lessons inform the development of the SmartParts solution.
PrintParts currently incorporates SmartParts technology into parts we ship to select customers. This empowers participating customers with the ability to trace parts back to PrintParts as a supplier, verify materials used, and to confirm adherence to manufacturing specifications.
3DN: What about SmartParts? What need are they addressing?
SmartParts connects digital assets to physical parts to ensure end-to-end traceability. With SmartParts, it is possible to verify the authenticity of materials and parts with a simple handheld scan. Our integrated solution of Intelligent Material taggants, scanners, and the SmartParts cloud platform makes it easy to authenticate materials and retrieve manufacturing data associated with physical assets. We enable fast and flexible traceability of materials throughout the supply and manufacturing value chain, empowering organizations to:
Fight counterfeiting
Easily add embedded lot and batch traceability
Prove source of origin for materials to comply with ESG and ITAR requirements
And, coming soon, serialize individual parts
SmartParts' proprietary Intelligent Material taggants are made up of programmable particles embedded within additive materials or added to parts in post-processing. The programmable particles convert energy from one wavelength to another and the highly tunable properties add levels of control which can be used to create trillions of unique IDs.
SmartParts scanners identify unique IDs based on the specific energy response and reference the SmartParts Cloud platform to retrieve digital manufacturing records linked to that ID. Scanner offerings range from binary solutions enabling simple authentication to more complex solutions for increased levels of traceability.
3DN: Why is it important to be able to scan and track parts? And how does the technology work?
Many of our customers are looking to adopt additive manufacturing for production because of the benefits it provides such as reduced lead times, increased sustainability, and reduced inventory costs. However, additive manufacturing also raises risks around traceability, as digital design files are easy to duplicate, distribute, and manufacture.
This is causing customers to have legitimate concerns around verifying materials, managing suppliers, and authenticating manufacturing data. To move the additive manufacturing industry forward into true production applications, we need to introduce technology that solves these problems and provides the security, as well as traceability, that companies expect.
In general, counterfeiting is becoming an increasingly large problem in manufacturing, made worse by the impact of COVID and recent geopolitical tensions that have disrupted global trade. For example, it is estimated that over 8% of medical devices in circulation are fakes, and over half a million counterfeit parts are placed onto planes every year. Adoption of additive technology has the potential to exacerbate these trends as the cost of deploying high-quality production technologies is driven down.
We are also seeing increased interest from organizations looking to verify compliance with ESG regulations by adding in traceability solutions that can prove the source-of-origin of materials and parts.
3DN: Any last words for our readers?
In the simplest terms, SmartParts links digital records to physical assets, and is a natural extension of our PrintParts production service offering. We see no shortage of opportunities to deploy our technology to solve critical problems in manufacturing, as well as emerging applications around digital property rights tied to physical assets with NFTs and related web3 technologies. We have some exciting announcements in the pipeline for the rest of year, and we look forward to updating you all soon! You can find out more on our website HERE.
What do you think about PrintParts and its traceable SmartParts? Let us know in a comment below or on our LinkedIn, Facebook, and Twitter pages! Don't forget to sign up for our free weekly Newsletter here for the latest 3D printing news straight to your inbox! You can also find all our videos on our YouTube channel.
*All Photo Credits: PrintParts