#3Dstartup: iFactory3D develops conveyor belt 3D printer to print objects of infinite length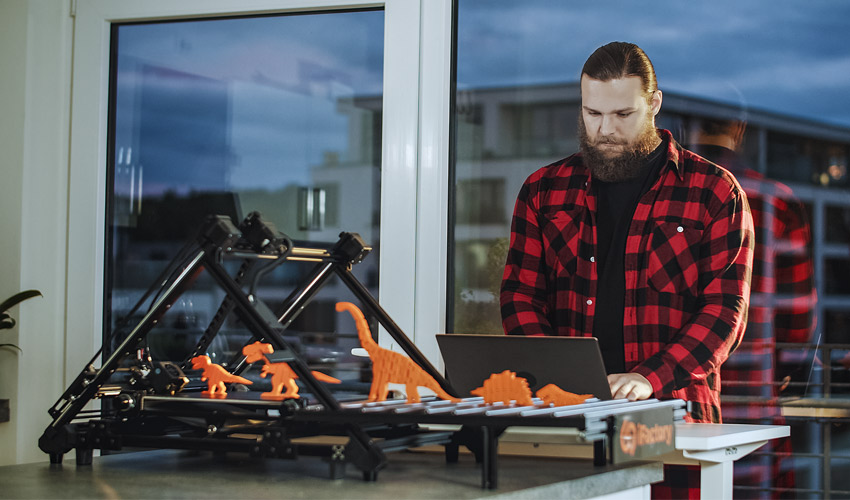 The young German startup, iFactory3D is a manufacturer of FDM desktop 3D printers that has developed a rather special machine that integrates a conveyor belt as the 3D printing plate. Called iFactory One, this solution allows to create parts of any length and to produce in series, without any interruption. The machine made its debut on Kickstarter and was a great success with over $100,000 collected in just one week! In addition to its original build plate, the machine is equipped with a system that detects printing errors in real time: the user can follow the process remotely and avoid wasting too much time. The startup iFactory3D hopes to appeal to a public of amateurs with a price of around $1,000. To learn more about this 3D printer, we met Artur Steffen, CEO of the startup.
3DN: Can you introduce yourself and your relationship with 3D printing?
It's been quite a long time since I first learned about additive manufacturing and related devices. But before the idea of developing the iFactory One 3D printer arose in 2018, nothing in my life had been connected to this sphere. Though I should say that the entire manufacturing process in its various forms wasn't anything new for me. I had already visited several European factories and had a chance to get deep insights into business workflows and the ways different utility equipment and parts are made. These skills and this knowledge helped me to elaborate a new high-potential product that, I hope, will make possible the evolution of the 3D printing industry.
3DN: Why did you decide to create iFactory3D?
The iFactory3D startup was founded in 2020 as a joint collaboration with my business partner, the German inventor and business chemist Martin Huber. You can't even imagine Martin's enthusiasm! He is passionate about creating new things that the community can find valuable. Regarding the iFactory One, a few years ago, Martin was in the process of developing his latest device and he required many parts that would normally cost around $20,000 to print. Being a very pragmatic person, Martin decided to avoid wasting time and money by printing these parts on his own. Unfortunately, things got out of hand and he had to purchase so many 3D printers that he eventually had a real 3D printing farm. However, these devices were too hard to supervise and demanded all the time and effort in the world from Martin. Looking at the resources he had spent and the imperfections in the 3D printing market resulted in his desire to explore new opportunities and possible forms of product and process enhancement.
These events initiated the birth of our key solution. Since 2018, when we decided to put our ideas into practice, there has been constant work on improving the 3D printer prototype. Our goal was to attain perfection as much as possible. Finally, in the summer of 2020, iFactory3D was incorporated, and in November 2020, the iFactory One, the first pyramid-shaped conveyor belt 3D printer that can print objects of infinite length or create even a product lineup without any user input, was introduced to the public. The project has been successfully launched on Kickstarter and reached its $100,000 goal in just a few days.
The current state of the 3D printing market shows that 3D printers are some of the most flexible and versatile machines out there. Their feature sets allow users to make amazing objects and even print 3D printers themselves. Thanks to these devices, the most incredible projects can be brought to life! 3D printing technology is very promising and has an overwhelming range of applications in many spheres of human life. It holds great prospects for inventors and creative specialists. Modern 3D solutions can create things never before expected or imagined, from a funny figurine to an arm prosthesis. The new generation of 3D printers has nearly infinite potential. Our iFactory One speaks to that fact!
3DN: Can you tell us more about the features the iFactory One?
The iFactory One offers its users a number of important advantages. The first is that the iFactory One is the first conveyor belt 3D printer that's available to and affordable for the mass market. It's equally useful for professionals in the 3D printing community, for whom time is the most precious resource, and for students, entrepreneurs, healthcare providers, and educational sector.
Second, it has unlimited printing potential. The iFactory One is equipped with a special conveyor belt (not a standard fixed plate) so it can print objects of any length or produce a series of products similarly to industrial machines. However, by contrast with manufacturing equipment that costs thousands of dollars, the cost of the iFactory One is within $1,000.
A huge benefit of the iFactory One is its ability to run independently of the machine operator. There's no need to supervise it constantly, which is to say that the printer can be used in large-scale production. For the first time ever, the printing process can be monitored and controlled from a distance via a built-in HD camera. Moreover, the iFactory One is the first 3D printer that has an embedded print error protection system called PrinterGUARD. This software is able to analyze the whole printing process and send notifications when objects are printed successfully or when unexpected errors appear.
One more advantage involves remote cloud-based technical support. There is a regular online service, and iFactory One users can reach our help desk at any time if they have questions.
3DN: What are the main benefits of the iFactory One?
Time is the most valuable asset. With the iFactory One's remote control and support feature set, you don't need to spend hours, days, or even weeks managing the printing process. Just relax and enjoy your life! Moreover, today, the trend of distance working is becoming more common and very popular. Many engineers and other professionals can use the iFactory One right from their workplace, anywhere in the world, to create necessary objects at the click of a button.
3DN: What 3D printing materials does the iFactory One support?
The most commonly used 3D printing materials for the iFactory One are PETG, PLA, PC, TRU, ASA, Nylon, and ABS plastic. Some materials need an enclosure. In addition, we'll soon launch our own customized high-quality filament.
3DN: Who is your main target audience?
As I mentioned earlier, our product is aimed primarily at 3D printing amateurs, inventors, engineers, designers, and enthusiasts. The design and feature set of the iFactory One were developed to meet the demands of experts from different spheres. For this reason, iFactory3D provides customers with software updates and improves the PrinterGUARD algorithms on a regular basis. At the same time, the iFactory One is a perfect solution for non-technical users who haven't done 3D printing before, as it allows them to learn 3D printing at an angle by default, rather than switching from the cartesian printing approach of horizontal slicing.
3DN: What are your future projects?
The positive response to the iFactory One has exceeded our expectations. Surely, we will not rest on our laurels. We have several other printer prototypes at the design stage at the moment, and in 2021, a number of new conveyor belt printers will be introduced to different customer categories. We may also develop a special product line of 3D printers for the B2B sector as a pre-stage before injection molding.
3DN: Any last words for our readers?
I would like to thank all the inventors and engineers who have developed 3D belt printing technology. William Steele, Brook Drumm, and Zechy Coyte-King deserve all the credit, as they gave us enough inspiration to release our first open source printer. The 3D printing market is still evolving. The iFactory One is not only an early sign of the development of the additive manufacturing landscape but a real amalgamation of a printer with distinct software enriched by a cloud ecosystem. We expect this progress in 3D printing technology to mark the beginning of a revolution in the market such that we haven't seen in at least the last five years. You can find more information HERE.
What do you think of the iFactory One? Let us know what you think in a comment below or on our Facebook and Twitter pages! Don't forget to sign up for our free weekly Newsletter, with all the latest news in 3D printing delivered straight to your inbox!