#3DStartup: Handddle Structures and Industrializes the Uses of 3D Printing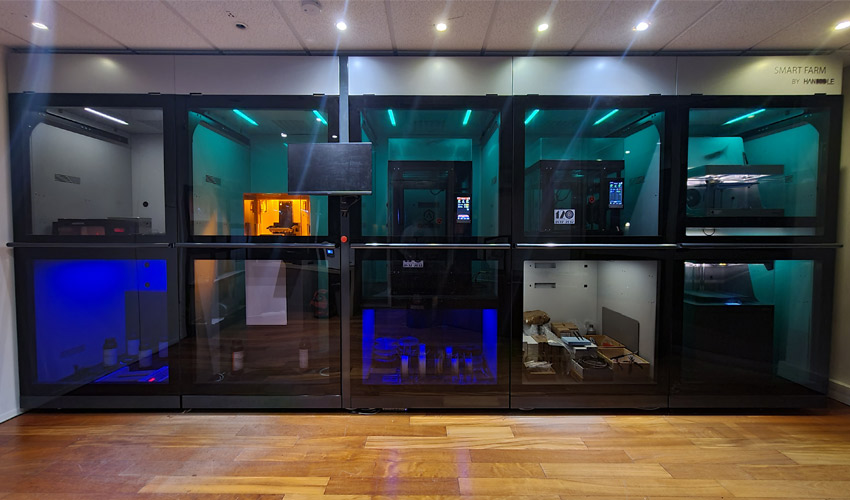 Handddle is a French startup that has developed a software solution and a 100% configurable manufacturing microfactory, allowing additive manufacturing users to structure and industrialize 3D printing processes and functions. Based in Bordeaux, the startup supports professionals in the development of in-house 3D printing, seeking to automate the manufacturing steps and offer maximum repeatability. Its SmartFarm microfactory has a volumetric capacity of 70.63 cubic feet (2 m3) and a floor space of 10.8 square feet (1 m2), allowing you to centralize your machine park as well as your post-processing solutions. It also ensures that your materials are stored in the best conditions (humidity control, good temperature management, etc.). We met Thomas Bourgoin, one of the three founders of Handddle, to learn more about this solution and the startup's future projects!
3DN: Can you introduce yourself and your connection to 3D printing?
Hello, my name is Thomas Bourgoin, I have a technical background in mechanical engineering. Very early on, I became interested in new manufacturing methods and additive manufacturing led me to collaborate with various market players, such as Prodways or BCN3D. It is with these collaborations and with my passion for the subject of 3D, that I developed a certain expertise, which today allows us to innovate on this continuously developing market.
3DN: How did you get the idea to create Handddle?
Handddle is the result of a strong observation: many small uses have been born or are beginning to be born in recent years, but too few of them are scaled up, and we remain on a very "gadget" use of 3D in companies. Additionally, we saw that it is quite simple to acquire a 3D machine, but that it is much more complicated to integrate it into one's processes like any other tool used on a daily basis. There are several reasons for this. First, the fact of finding oneself with a manufacturing machine on one side and raw material on the other, scattered, without organization and without any framework. The second, a direct consequence of the first, is not having the tools to make AM an established production tool. All this made us converge on the Handddle solution, which, by proposing neither machine nor material, comes to help structure and industrialize the technology's various uses.
3DN: Can you tell us more about your solution?
The first part of our solution is software. We have developed a platform dedicated to the use of additive processes in companies. This platform allows users to initiate work around 3D and to exploit them later. There are two main parts: the creation of the manufacturing range in relation to the type of machine used and the customer's constraints, qualifications, choice of an operating scheme, either in-house or in a licensed format; then the execution of the process on a production management interface. The primary objective with this platform is to allow users to project and have visibility on the production capacity of a fleet of machines, to then operate it and make it profitable. Creating the digital process is only the first step, the goal is to put it in motion.
To do this, we have created SmartFarm, a standard installation of production means for the use of 3D printing in companies, based on most of the 3D machines available on the market. We have thought the product as a "micro" ecosystem so that it can bring manufacturing conditions and ergonomics of use at the level of what we can find in the industry. Infinitely configurable by the customer and modular according to production needs, we allow our customers to store their raw materials in the best conditions (temperature, humidity, UVs), to install their machines and to create post-processing areas. We have developed an on-board technology that allows us to offer real production control thanks to the processing of data from our machines.
SmartFarm currently targets installations with desktop / desktop + machines with a useful volume of 0.5 m3 to 2 m3 with a floor space of 1 m2. However, we are exploring what we can do for other, larger types of machines, with the idea of not being constrained by size. With this complete solution, they are assured that their production will be feasible but also that they will respect a standard in the use of manufacturing machines, especially regarding health and safety issues.
3DN: What are its main advantages?
Our solution allows complete control of the manufacturing process and guarantees repeatability in any environment, as close as possible to the needs of users. The Handddle APP centralizes the 3D printing ecosystem in a collaborative interface. We offer the possibility to create a process adapted to each need according to the technologies used, in order to guarantee that manufacturing respects the established process. The production management interface offers all the functionalities to monitor, control and trace the production of these elements. Cloud-based and directly linked to SmartFarm, it also allows users to control their micro plant from anywhere. These features offer real productivity on a daily basis and allow us to automate low value-added tasks. The hardware part standardizes the installation of tools for production. A filtration system, developed with a leading company in this market, has been integrated to secure the users. Depending on the process installed, we adapt the filtration block to ensure perfect efficiency. The machines themselves are in a controlled and monitored manufacturing environment to ensure the best operational conditions. The soundproofing and the plug & play aspect of the system offer rapid deployment in any environment, from the design office to the workshop, including collaborative spaces.
3DN: What are Handddle's main targets?
We target companies with in-house manufacturing needs, for tooling, ergonomic parts or spare parts, maintenance. Either they already have a machine park, in which case we frame and structure it; or we define and create with them the means of manufacturing to meet their needs. The education sector is also one of our main targets, so that campuses are equipped with hubs available to students. Finally, we are interested in companies that want to integrate 3D printing into their value chain, exploiting the technology to produce elements of their finished products. The advantage with our solution is that the customer can start with the digital part, begin to use the functionalities, and then, when the user wants to go a step further and use additive manufacturing, can our production standard, Smart Farm, which connects to the platform and opens up all the functionalities.
3DN: How do you see additive manufacturing process automation changing the manufacturing industry?
Being able to rely on a means of deploying a distributed manufacturing process will be necessary if we want to challenge how we are using the technology. To do this, we need to be able to ensure that a standard is respected, regardless of the production site. We have been used to building around a delocalized scheme to meet mass demand. These patterns are now being challenged and additive manufacturing has the ability to rethink them. Regarding the automation of these processes, it is certain that the autonomy of these systems will be one of the keys to go further and reduce the operating costs of these distributed production units. These are subjects that we are looking at closely, even if there is still a long way to go to get there. We offer today a first layer of automation and intelligence that allows companies to take a step forward in the use (and image) they have of technology. Please visit our site to learn more!
What do you think of Handddle's solution? Let us know in a comment below or on our Facebook and Twitter pages. Don't forget to sign up for our free weekly newsletter, with all the latest news in 3D printing delivered straight to your inbox!