#3DStartup: F3nice To Innovate AM With Its Sustainable Powders Made From Metal Scraps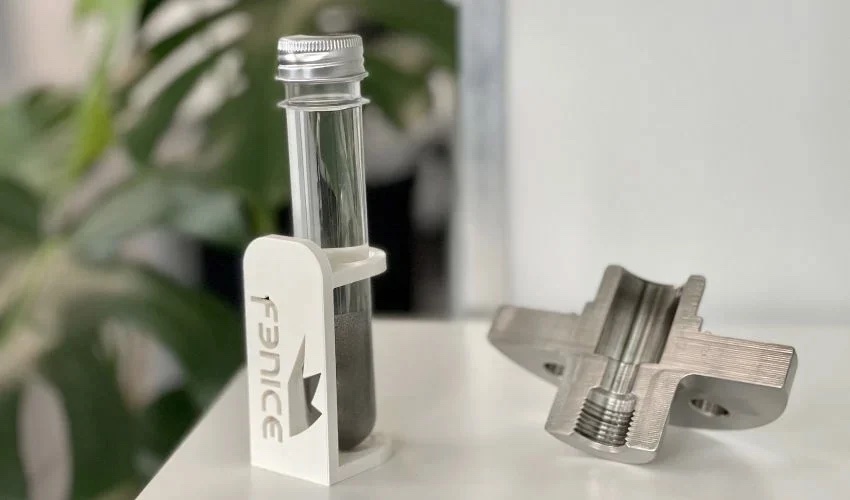 Nowadays, sustainability and environmental issues are increasingly topical, given the challenges we face in reducing global warming and consumption of non-renewable resources. This trend impacts every sector, regardless of the activities performed or the industry in which it operates. Additive Manufacturing could respond to this global need by being able to offer an alternative to traditional manufacturing methods. It is in this context that f3nice, our start-up of the month, fits in. The Italian startup has in fact come up with a method to produce metal powders in a sustainable way, promoting a circular economy ecosystem. We interviewed them to find out more about their innovative project!
3DN: Hello! Could you introduce yourselves?
Of course! We are f3nice, an Italian innovative start-up based in Italy and Norway. We are proud of our roots firmly in our country, a factor that we think sets us apart in the market given our excellent know-how in the fields of manufacturing, steel and metallurgy. In fact, our start-up is based on the expertise brought primarily by the two co-founders of f3nice, Matteo Vanazzi and Luisa Elena Mondora. Their background in materials engineering allowed them to identify this interesting business opportunity by intersecting specific high-level skills on metal alloys with the 3D printing model. With this vision, we market ourselves as a producer of sustainable metal powder for 3D printing. F3nice, in fact, comes not coincidentally from the concept of the 'phoenix', the mythological bird that obtains new life by rising from the ashes of its predecessor. It is precisely for this reason that we set ourselves the ambition to live up to our name, giving new life to scrap metal and disused parts by transforming them into metal powder that then feeds new additive manufacturing processes.
3DN: When and how was your startup born?
Founded in May 2020, right during the endless months of lockdown, f3nice was actually born from an idea in 2019, in the wake of an in-depth analysis of the oil & gas industry. The decommissioning of offshore assets in the North Sea oil fields, with the advantages offered today by digital inventory models, on-demand and just-in-time production of spare parts, represents a great opportunity to recover and process high-value alloys and to fuel a circular economy project. In this scenario, f3nice wants to innovate the Additive Manufacturing sector towards more sustainable production, promoting circular economy ecosystems in which to make the most of possible synergies created in industrial districts or along supply chains. Thanks to the f3nice process, in fact, part of the value of metal waste from the manufacturing sector can be recovered through up-cycling and regeneration of virgin powder. The primary objective is to mitigate the environmental and resource impact of 3D printing by reducing the input of virgin resources and the associated energy content, as well as the associated CO2 emissions.
3DN: Why did you choose to work with 3D printing?
Additive Manufacturing is currently one of the most promising technologies to revolutionise the manufacturing industry. 3D printing provides high flexibility in the production of complex parts, unparalleled design freedom and significantly reduced lead times. 3D printing is cheaper and faster, allowing manufacturers to create or repair parts on-demand and with local production, rather than ordering new parts from the other side of the world. In addition, it represents a far more sustainable production model than conventional manufacturing by machining.
3DN: How does your process of recycling 100 per cent scrap to produce metal powders work?
The innovative process of producing from scrap is f3nice's competitive advantage over its competitors. Intellectual property protection is therefore of paramount importance and we have applied for patents at Italian, European and international level. The success factor for our process is the sourcing of material that must be carefully selected and treated to make it suitable for the atomisation process, without any kind of chemical contamination that could lead to impurities within the powder produced. Furthermore, great care is taken when defining the correct mix of waste to be processed for optimal atomisation.
3DN: How important is sustainability in AM and how do you see this combination developing in the future?
In recent years, unprecedented attention and resources have been devoted to sustainability aspects in many industries. Among others, the manufacturing industry has been dramatically involved in this process and will be increasingly so. For example, the production from ore of 1 tonne of metal alloy is responsible for the emission of up to 50 tonnes of CO2eq into the environment. For this reason, new production processes and better recycling practices are needed. With this approach, we understand Additive Manufacturing as the winning production model to best integrate sustainability concepts. More specifically, the environmental impact of AM is reduced, compared to traditional CNC-based manufacturing, mainly due to two aspects. The first is material consumption: AM processes are more efficient than conventional in terms of material input to produce the same component, as the AM printing process only uses the material needed without producing waste and chips (apart from the substrate that has to be removed after printing). The second aspect concerns waste management: given the more efficient use of input material, waste production is drastically reduced. Furthermore, waste material from AM processes can be recovered and circulated at very high rates (almost 100 per cent) in a circular economy approach.
Nowadays, component manufacturing must make the leap from a system that produces end parts and dumps waste to one that maximises the potential of every resource. This is the future scenario in which this industry should place itself, as a challenge and an aspiration to contribute to the preservation of our planet according to the principle that everyone, and every company, should make their own contribution. In our vision, the use of Additive Manufacturing represents the simplest and most efficient way to close the production cycle, as if it were the missing link in moving from a linear to a circular model. We believe that 3D printing is set to reshape the manufacturing sector as we know it today.
In our case, the environmental and energy benefits will be quantified by a Life Cycle Assessment according to ISO 14044, which is currently underway, and certified by a third-party certification body. In the future, depending on European and international regulations, the CO2 savings associated with f3nice powder may be valorised through carbon credits and dedicated schemes such as the ETS mechanism at European level.
3DN: What are your future plans?
Our growth strategy aims to achieve a global presence, with local production facilities in strategic areas to enable distributed production worldwide. After the construction of the first atomisation plant in Norway, where we have already found strategic partners and potential customers, the expansion plan foresees further installations in the Middle East, South-East Asia, Latin America and the Far East, in addition to other market opportunities that will arise in the future based on which we will localise production elsewhere. We expect the potential demand for f3nice powder to be highest in those areas where there is no presence of the traditional steel industry, which is mainly in North America, Europe, India and the Far East (China, South Korea and Japan).
3DN: Any final words for our readers?
Buckle up and get ready to see the revolution in the AM world, f3nice is coming! For more info on f3nice, click HERE.
What do you think of our 3D startup of the month for November? Let us know in a comment below or on our LinkedIn, Facebook, and Twitter pages! Don't forget to sign up for our free weekly Newsletter here, the latest 3D printing news straight to your inbox! You can also sign up to our special Formnext newsletter HERE. You can find all our videos on our YouTube channel. 
*Cover photo credits: f3nice