#3DStartup: Bone3D, 3D printing for surgery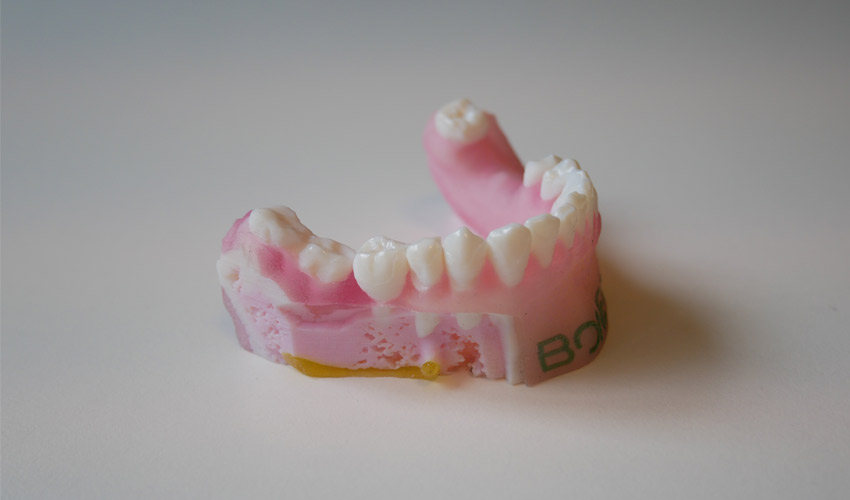 While 3D technologies are progressing in the medical sector, with an annual growth rate of 35% according to the SME association, some players are doing well by presenting concrete and innovative applications. This is the case with the French startup Bone3D, which uses 3D printing to create custom surgical guides and surgical simulators so that doctors can practice before each operation. Maintaining a very close relationship with the medical profession, the French startup can offer solutions adapted to the reality of each specialist's profession, whether it is a dentist, podiatrist, neurosurgeon, etc. We met Jérémy Adam, the founder of Bone3D, to learn more about the process of creating these 3D printed guides and the advantages of such technology in the surgical sector.
3DN: Can you introduce yourself and your link to 3D printing?
I am Jeremy ADAM, founder of Bone3D. My link with 3D printing comes from my studies, after a master's degree in medical bioengineering, I wrote my PhD's thesis on a titanium 3D printed mesh. It was to treat the bones of patients with certain types of cancer.
Set on medical 3D printing, I wanted to create a French startup that could offer the best of this technology to as many patients as possible! Today, we are fortunate to work with reference world centres for rare diseases, CHUs throughout France and a few hospitals abroad.
3DN: What are the different medical devices that Bone3D offers today?
We currently have medical devices for cosmetic and maxillofacial surgery, neurosurgeons, orthopaedists, dentists and finally podiatrists. First of all, we have custom-made surgical guides to help the surgeon prepare his surgery and help him during his operation. Then, we propose custom-made splints that will help the surgeon to consolidate his surgery and bring more comfort to the patient. Finally, for training or for exceptionally complicated surgeries, we offer multi-material 3D printed surgical simulators that allow the surgeon to repeat his operation practically in real conditions; indeed, our simulators are designed to reproduce the anatomical mechanical properties of patients.
3DN: What is the process of creating one of these devices?
For all our medical devices and simulators, the process is the same. After receiving a medical prescription, we start with medical imaging data (MRI, CT-Scan, Bodyscanner…) that allow us to create 3D models. From these models and thanks to computer-aided design, we work together with the surgeon to perform the surgery virtually, which then allows us to design our medical devices. When they are ready and validated by the surgeon, we prepare the files for 3D printing and then, depending on their destination, we use either SLA or Polyjet technology. Our medical devices are therefore mainly made of resin. We also have a range of silicone devices, which are made from 3D printed moulds.
After printing, the parts are post-treated by heat and UV treatment. Then, since both technologies we use require supports, the parts are cleaned by our technicians. Finally, before any shipment, our parts are scanned to ensure that they correspond to the device desired by the healthcare professional. Only after all these steps is the device sent to hospitals to undergo, according to the device, a final step: sterilisation.
3DN: How does Bone3D work with the medical profession today?
The relationship between Bone3D and the medical profession is very close, today, all our inventions are the result of close collaboration with the medical staff. They are there at the genesis of each project. For example, we are a partner of the AP-HP with whom we have already filed a patent application.
But that's not all, Bone3D has 3 surgeons in its shareholder pool, so they are even involved in Bone3D's internal policy. This deep involvement allows us to understand the medical profession and speak the same language, which has opened the doors of many hospitals to us and regularly allows us to start new partnerships.
3DN: Why did you turn to additive manufacturing?
Today's industry is in the midst of a turnaround, we want to customise everything, and for that 3D printing is the best solution, it's all the more true for medicine. Every patient is different and every pathology is different, so it is inconceivable to treat everyone in the same way. So that's why we turned to 3D printing.
3DN: What are the challenges associated with such a technology in such a demanding sector?
Without any hesitation the biggest challenge is the European and international regulation on medical devices. The rules are drastic and this requires a very significant investment for a small startup. But that's not all, 3D printing still needs to mature to reduce the high costs associated with the technology.
But 3D printing still has a lot to offer! We continue to evolve this technology every day through a very active research and development department and work closely with printer manufacturers.
3DN: Any last words for our readers?
Feel free to follow us on social networks and talk about us to your dentists/medical friends, your comments and likes are valuable! You are the best vectors to make our little startup shine all over the world! (In which we will distribute from 2020) ! Find more information on our website HERE.
What do you think of our startup of the month, Bone3D? Let us know in a comment below or on our Facebook and Twitter page! Don't forget to sign up for our free weekly Newsletter, with all the latest news in 3D printing delivered straight to your inbox!