#3DStartup: Axtra3D's HPS Technology Combines SLA and DLP to Overcome Limitations in Both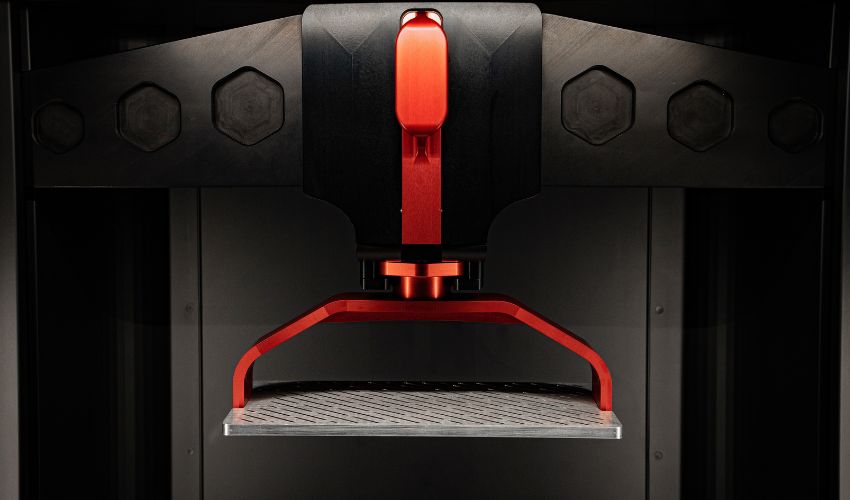 The startup of the month for March is Axtra3D, a young company born from the mind of Gianni Zitelli, an experienced Italian inventor on the AM scene. Based in the US, in Charlotte, NC, the company has its R&D hub in Vicenza. What is particularly innovative about the company is its Hybrid PhotoSynthesis (HPS) technology which combines SLA and DLP in a single process for the first time, proposing to push the boundaries of what photopolymerization can do. To learn more, we had a chat just with Gianni Zitelli, Founder, Chief Executive & Technology Officer of the company, who told about the company, its groundbreaking technology presented for the first time at Formnext 2021 and its X1 series 3D printers, powered by the patented HPS, TruLayer Technology, and Intelli-Cartridge technologies, and soon to be on the market.
3DN: Could you introduce yourself and your connection to 3D printing?
Hi! I am Gianni, an engineer, inventor and startupper. I started in 3D printing many years ago, in 2012, in Rome, Italy, in my engineering studio where I started to have my first experiences with the Bottom-Up photopolymerization printing process. At the end of 2013, I had the idea to develop a continuous bottom-up printing process, the LSPc – Self Lubricant Photocuring technology, and based on this idea I founded Nexa3D, at that time an Italian startup. In early 2015, after a life-changing meeting with a great American 3D printing exponent and mentor, I decided to move and incubate the company in California, in Ventura LA, where we still have the HQ. For personal reasons, at the end of 2016 I left the Nexa3D project and returned to Italy, where I incubated the EVERES project: a new DLP photopolymerization project for very high resolution applications, which was then acquired by an Italian manufacturing company that already had experience in metal additive manufacturing. Finally, the technology behind Axtra3D was born only a few years ago, during the pandemic!
3DN: How did Axtra3D come into existence? What is your objective?
During the quarantine period due to Covid, I decided to develop a new patent portfolio, with an attempt to solve one of the biggest limitations in my field, that of the trade-off between speed, throughput, resolution and quality of printed objects, due to inherent limitations of the optoelectronic devices in adoption when it comes to SLA, DLP and LCD. Therefore, I began the development of an initial portfolio of 4 patents, two related to new light sources and a couple related to a new layer peel-off process. With Praveen Tummala, a close friend and colleague who had helped me take my first steps with the American Nexa3D, we decided to establish Axtra3D Inc. Incorporated in January 2021 and operational since May 2021 after an initial Seed Round of funding with the goal of making the first Proof of Concepts of the new Patent portfolio.
The rest of the story is well known, in November of the same year, thanks to an extraordinary team of friends and Founding Members of Axtra3D we presented our new HPS technology at Formnext 2021. In 2022, with the finalization of Round A funding we started the Beta Series production of our Lumia.X1, currently in the market with 5 installations with our beta customers. Our vision is crystal clear: we aim to create a premium company capable of releasing machines and technologies of exceptional quality to the market, in order to participate in increasing the overall reputation of the additive world, generally still relegated as niche.
3DN: Could you tell us about your Hybrid PhotoSynthesis (HPS) technology?
To understand the technology, I would like to start with the limitations of current technologies and the state of the art. In general, the world of photopolymer 3D printing, of which we are a part, is based on curing layer after layer of photopolymers (resins) using ultraviolet light sources. In general, we can identify two classes of light sources: lasers and light sources such as projectors or liquid crystal monitors. SLA technology is based on lasers that like a pencil go to fill in the contours and cross-sections of the object to be printed, layer by layer. This technology is extremely popular in the market because it is very accurate, but very slow, because the same laser is also responsible for hardening the entire inner part of the image. On the other hand, DLP/LCD technologies are based on the use of projectors or liquid crystal monitors, which, acting similar to a stamp, have the ability to harden the entire layer in one go, with the disadvantage, however, of having major resolution limitations that compromise the quality of the objects produced.
So on the one hand SLA, accurate and precise, but slow and not suitable for high throughput. On the other side DLP/LCD, fast but with major problems of resolution and surface quality. This trade off, which the market had to accept as an inherent limitation of technological development, did not allow additive manufacturing to enter a real production chain, relegating it exclusively to the world of prototyping.
For years many have tried to combine laser and DLP together: the advantage was obvious, using the laser like a pencil only to harden the contours of the object and the DLP to harden the internal cross section and speed up the process. Development saw systems capable of moving the two sources back and forth, attempting combinations with different wavelengths, or using both sources at different stages of curing. None of these technologies, however, have been really successful, this is because contour and cross section curing, in our experience, have to occur simultaneously and especially with the same wavelength, and this is exactly what our new HPS technology is able to do: generate an image from the projector and laser beam scanning simultaneously, with the same wavelength in a true coaxial system. The technology is extremely complex, but the result extremely simple: thanks to our new light source, we can ensure a resolution equal to or higher than that of an SLA system, but with the speed of a DLP/LCD system. So we think HPS will enable a whole new world of applications and really move AM from prototyping to production.
3DN: What are the features of your LumiaX1 3D printer?
LumiaX1, and all our platforms in general, not only have our new HPS Light Engine with 50-micron laser spot resolution on-board, but they are hybrid in many ways and they can work in dual modes: Offline (to ensure privacy for our customers) and online to implement our predictive service. They are a closed system but also open; our customer can work with our resins but also use third-party resins.
This is a freestanding machine, with an all-aluminum body for durability, designed for maximum printing experience but also maximum repeatability, flexibility and ease of use. Our TruLayer release technology, with non-degenerative tank, dual mechanical axis with encoder for maximum alignment and process stability, the ability to accommodate our IntelliCartridge for the use of high viscosity exotic resins, 4k webcams for online monitoring of the printing process, and many other features that make it a high quality product.
3DN: For which applications is Axtra3D's HPS technology designed?
Where print quality, resolution and speed are critical together. Service Bureaus, Automotive, Aerospace, Prototyping, Healthcare and Dental are just a few of the vertical markets that our technologies and machines can approach. To name a few examples, HPS is suitable for small and medium batch printing, high quality molds for short run plastic injection, dental applications where surface quality is less important, post-processing and higher productivity applications. Or, for example, for thermoforming pattern making, where imperfections due to DLP/LCD systems affect the quality of the part.
3DN: What are Axtra3D's future plans?
A few months ago Axtra3D closed Round A funding with HZG Venture Capital. Our investors are founders of AM companies such as Concept Laser and Midwest Prototyping. We are very grateful for their trust in this project, they are not just investors, their specific experience in this world will enable us to create a healthy and strong company, and gain the right know-how in a short time. We are now engaged in a strong hiring campaign both in Italy and the United States to strengthen our structure.
Along with this, we want to close our Beta campaign in the best possible way, which will allow us to learn a lot from our machine and our customers and be ready from Q2 of 2023 for Go-to-Market with the first series of Lumia.X1 and Revox.X1 Machines! And then development, development and more development of premium technologies and applications, that is our mandate.
3DN: Any last words for our readers?
Thank you. Thank you to the entire editorial staff of 3Dnatives for this opportunity and thank you to all the readers who support us. Thank you to my incredible team with whom I have worked for years and with whom we have created so many technologies and tackled so much complexity together. Thank you to all the partners of this company, whose support allows us to pursue our dream.Go Additive, Go Axtra! You can find more information about Axtra3D HERE.
What do you think of Axtra3D's HPS technology? Let us know in a comment below or on our LinkedIn, Facebook, and Twitter pages! Don't forget to sign up for our free weekly Newsletter here, the latest 3D printing news straight to your inbox! You can also find all our videos on our YouTube channel.
*All Photo Credits: Axtra3D