#3DStartup: AMBOTS, revolutionising swarm 3D printing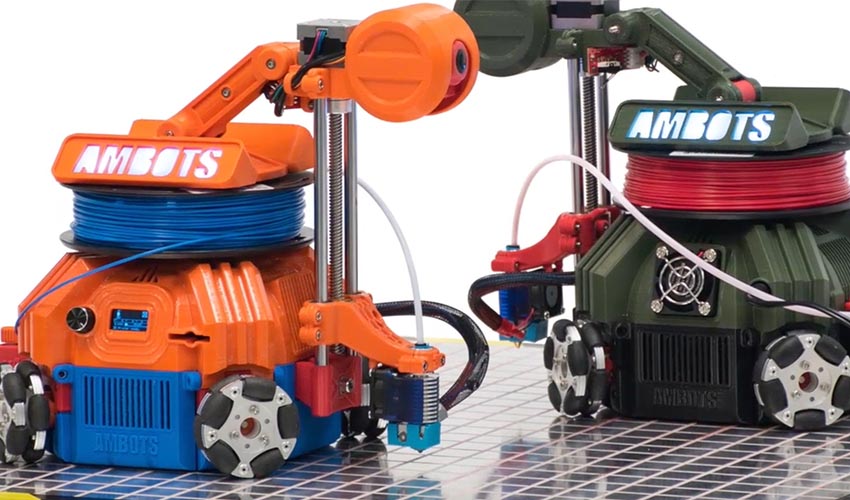 The startup AMBOTS was born out of the AM3 Lab in the Department of Mechanical Engineering at the University of Arkansas. The technology which they use today in their commercial activities was developed there: it is a swarm 3D printing and assembly technology. This technology aims to automate manufacturing with a swarm of smart and autonomous mobile robots to create everyday products, even houses and infrastructures. Just like how a swarm of bees or wasps would work together to build their nests, the swarm of smart mobile robots can work together to print and assemble products based on digital models on demand. The startup is innovative to say the least, so we wanted to meet to discuss their technology and plans for the future!
3DN: Could you introduce yourself and tell us your relationship with 3D printing technologies?
We are AMBOTS, a startup company originated from the research at the University of Arkansas. We are working on a new approach to 3D printing -swarm 3D printing, which employs a swarm of mobile robots to work together for 3D printing and manufacturing. Each robot can be equipped with different printing capabilities (e.g., for printing different materials with different printing resolution) and they are coordinated by software to accomplish the printing job(s) together.
3DN: How did AMBOTS start and what are its first objectives?
AMBOTS started from the AM3 Lab from the Department of Mechanical Engineering at the University of Arkansas. The company was founded in 2018 to commercialize the swarm 3D printing technology. The first objective is to launch a low-cost 3D printing platform for large-format 3D printing.
3DN: How did AMBOTS develop its technology?
We started from a basic idea of cooperative 3D printing by multiple independent mobile 3D printers in 2015. With contributions from over 40 students and faculty at the University of Arkansas, we have developed a basic framework of cooperative 3D printing, including both hardware and software. The hardware platform consists of mobile 3D printers and other types of mobile robots and modular floor tiles. The software platform divides up the printing job into smaller tasks, assigns tasks to different robots, and coordinates them to work together to finish the print job without interference with each other.
3DN: What are the key factors of your brand's success?
The key factors for AMBOTS success rely on our ability to satisfy the market needs with our unique swarm 3D printing platform. We want our platform to support a wide variety of printheads for different materials, CNC machining tools, screwdrivers, and pick and place end effectors, so that our platform can be used to build the most complex of designs with little to no human intervention to better satisfy the needs of different market segments. To pursue our ultimate vision of autonomous swarm manufacturing, we will work with our customers and partners to keep inventing new technologies to add to the platform.
3DN: What are the main markets AMBOTS plans to operate in?
Early adopters are coming from research universities, 3D printer farms, and rapid prototyping companies. Our first targeted markets out of Beta are precast construction formwork, and precast forms for making composite molds for aerospace applications. Our platform is good for making large molds to pour other materials into, as we can quickly make large forms that might be very long and wide. Our cooperative mobile robots make our platform faster, more affordable, and more flexible than the alternatives that exist in these markets today.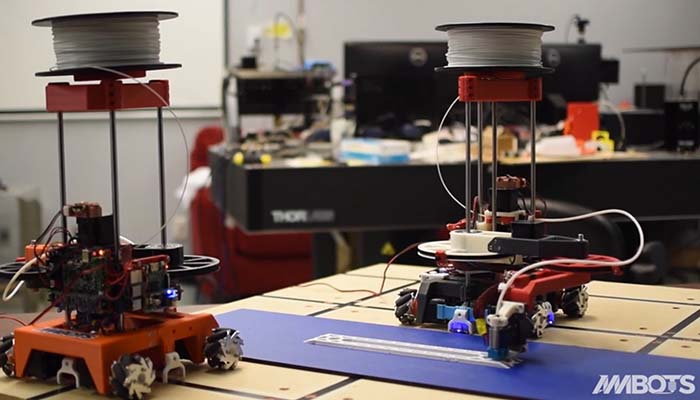 3DN: What are your plans for the future? Where do you see AMBOTS in 10 years?
We are envisioning a network of generic digital factory consisted of swarms of mobile manufacturing robots. In 10 years, we hope to see many AMBOTS factories stationed in various parts of the world, where users can upload digital models and have finished products manufactured autonomously and delivered to their door.
3DN: Do you have any last words for our readers?
AMBOTS looks forward to working with the 3D printing community to revolutionize how we make.
You can find more information on AMBOTS' website HERE.
What do you think of our startup of the month? Let us know in a comment below or on our Facebook and Twitter pages! Sign up for our free weekly Newsletter, all the latest news in 3D printing straight to your inbox!