3DSimo's 7-in-1 Multipro device for artists, hobbyists & makers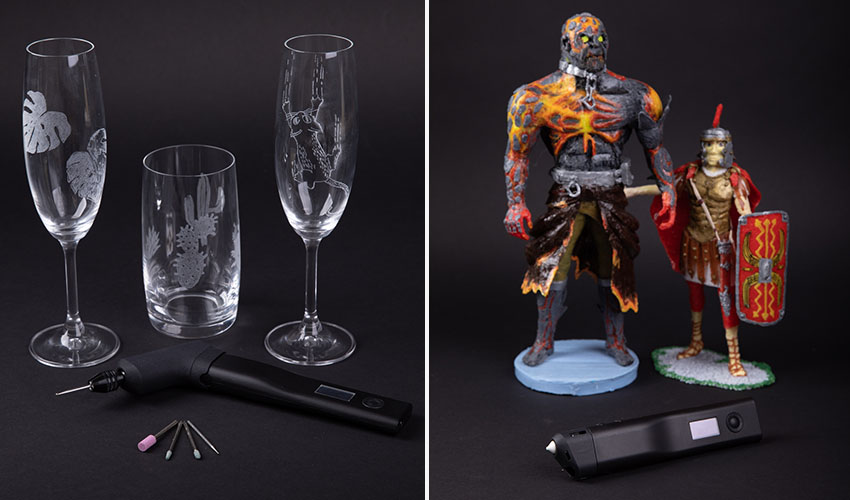 In recent years, 3D pens have allowed hobbyists, makers, artists and children to reach a new level of creativity. One of the players of this market is the European manufacturer, 3Dsimo. The company entered the market back in 2014, and has since been supplying it with multifunctional workshop tools that can fit in your pocket. These tools are multifunctional in the sense that they can replace a 3D printer, soldering station, plastic welder, resistance wire cutter and much more.
3D drawing tools can be compared to the Fused Deposition Modeling process in 3D printing. In other words, with it you can use almost any filament on the market, from ABS, PLA, HiPS, Fluorescent, etc., to create an object. The main difference is that it does not require any 3D modeling skills. As you know, one of the key steps in the 3D printing workflow is turning your 3D model into an STL file, which is then turned into a G-code file before being sent to the 3D printer. Of course, with a 3D pen this step is not necessary, which makes the tool accessible to many, including children.
The 3DSimo Multipro and Kit 2 multifunctional tools
The 3DSimo Multipro tool is a 7-in-1 device. It enables 3D drawing, soldering, burning, foam cutting and also comes with a jigsaw, screwdriver and driller. With its 3D pen you can create a wide-range of 3D objects such as phone covers, models of buildings, cosplay parts, jewelry, action figures or household items. On top of this, it is possible to repair other 3D printed objects.
Another tool offered by 3Dsimo is the Kit 2, this is an open-source 4-in-1 multifunctional device. It is made from plastic parts, themselves 3D printed in PLA. All of the hardware and software is open-source (available on Github), it has been created to be easily assembled and user friendly. Its capabilities include 3D drawing, soldering, burning and foam cutting.
In terms of the capabilities that go beyond 3D drawing, the Czech manufacturer has integrated tools such as burning that allow you to customize footwear, and also burn-in designs into wood, leather and plastic for example. As for the soldering tip, it can heat up to 490°C within 20 seconds to repair a USB cable, damaged headphones and if you are ambitious you can create your own electrical devices. The foam cutting tool allows you to cut through polystyrene, plastic boards, plexiglass, balsa wood and cork with ease. Moreover, the jigsaw can cut through wood, fiberglass, carbon, plastic or even aluminium.
One of the key features of these improved devices from 3Dsimo is that they will be easy to update via your smartphone and in the future, new attachements will be compatible as soon as released. 3Dsimo is based in Czech Republic and has successfully sold over 40,000 units of their products, counting on distribution partners in 31 countries around the world. The manufacturer is launching an Indiegogo campaign, where you can purchase the products with 50% discount, and ensures you will receive them before Christmas. Follow the campaign HERE.
What do you think of these new multifunctional tools from 3Dsimo? Let us know what you think in a comment below or on our Facebook and Twitter pages! Don't forget to sign up for our free weekly Newsletter, with all the latest news in 3D printing delivered straight to your inbox!