#3Dstartup: 3DQue Systems and its operator free system for continuous production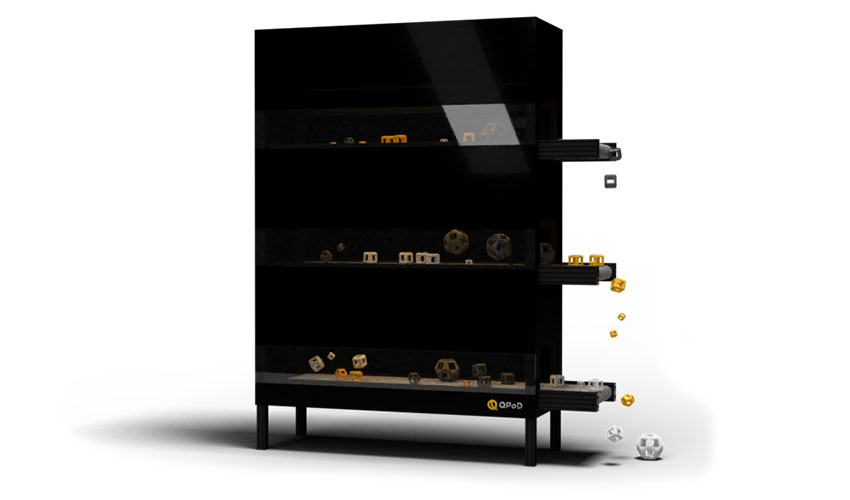 3DQue Systems, based in Canada, has developed a system that offers 24/7 production. The startup identified the growing need for automation in the additive manufacturing market, which is why it developed the QPoD and QSuite solutions to automate thermoplastics 3D printing thanks to a process similar to FDM. QPoD is 3DQue's 3D printing system, powered by their software, QSuite. It enables in-house production of plastic parts with little to no maintenance needed. In fact, the team explains that it can achieve 78,840 autonomous print-hours per year, which represents more or less 864 small parts per week. How do they provide this level of automation? We spoke to the 3DQue Systems team to learn more about their solutions for additive manufacturing!
3DN: Can you introduce yourself and tell us more about your experience with 3D printing?
We are 3DQue Systems, a startup based in Vancouver, Canada. We build automated 3D printer networks to create smart factories for in-house, on-demand production of plastic parts. With our technology, companies eliminate the need for injection molding and batch processing, reducing lead times by 95% (from months to hours), decreasing inventory levels by 85%, and reducing costs associated with bulk warehousing, shipping and handling. Thus, companies are able to reduce costs, accelerate innovation, and reduce their environmental footprint by eliminating fuel, heat, light, power, and waste associated with bulk production.
Our technology uses a combination of our proprietary QSuite software and VAAPR+Lock hardware to automate 3D printing of thermoplastics such as PLA, ABS, TPU, PETG, and Nylon. With the VAAPR+Lock we are able to vary the adhesion of the print bed, allowing for high adhesion during printing and automatic, clean release of the part upon completion of the print. By eliminating manual tasks associated with FDM-style printing, we enable companies to run lights-out production on a 24/7 basis.
3DN: How did you start 3DQue Systems and what is its mission?
3DQue started when the co-founder, Mateo, decided to turn his invention into a business. He realized there was no technology out there that could do what he could do, so he brought on the help of Steph, then mentor, to co-found the company. We want to transform the way companies manufacture by bringing manufacturing in house. We envision a future of sustainable manufacturing. We want to reduce waste and have parts only be manufactured as they are needed instead of working with a large inventory. We want to reduce the carbon footprint of each part by removing transportation and warehousing of the thousands of produced parts.
3DN: Can you tell us more about your technology?
The co-founder, Mateo, started 3D printing as a hobby and would often take print orders from his friends. He quickly became overwhelmed with the amount of orders he was receiving and was having trouble completing them as the printers sat idle for too long while he had to complete manual tasks such as, scraping, uploading new files and resetting print bed. He set out to solve this problem and remove human intervention from these printers, so that it could continuously print one job after another even when he is away from home.
Through a lot of research and trial and error, he finally came up with the technology of varying the adhesion of the print bed, then he turned his printer sideways, so parts can fall off after each print allowing for the next print to start right away.
3DN: In more detail, how does your technology compare to what already exists on the market?
Traditional FDM-style 3D printing has been around for 40 years, yet is still relegated to functional prototyping or low volume production (under 500 parts). Why? There are too many "touch points" in 3D printing. A skilled operator is needed to upload files, level the bed, remove parts, reset the printer, design batch layouts, and schedule production. This not only results in downtime as printers sit idle waiting for operators, it increases costs. A $0.97 part suddenly becomes $3 when a human gets involved. With 3DQue's automated system, a single operator can easily manage 10 QPoDs (90 printers running 24/7).
FDM-style 3D printing is often thought to produce parts that are too low quality for functional prototypes, jigs, fixtures, and finished goods. Low quality in this context relates primarily to (1) surface finish – visible layers, roughness; (2) weak parts that break easily; and (3) lack of surface detail. With recent improvements in the quality of components, infill design, and materials, this is no longer true.
3DN: What are the key factors to consider for success?
To be successful, we want the ability to meet client needs for different markets. We want to be able to work with a variety of materials and have our technology working effectively for all industries. That includes hardware improvements and software upgrades along the way, having a large support team. We want to also be able to integrate with other automation services such as software slicing, finishing, sorting and packaging for a seamless production. Since we offer Manufacturing as a Service, our goals are aligned with the clients, if you aren't using our technology then we don't get paid! We want to make sure your installation is working perfectly to your needs.
3DN: What are the markets 3DQue Systems plans to operate in?
We are looking to be implemented to a wide variety of markets including electronics, automotive, agriculture and aerospace. As well, our clients are in new materials R&D, university print labs, orthotics, and orthopaedics. Because of the open architecture of our QPoD (a set of 9 printers) it is easily customizable to suit different needs for different industries and each printer component can be customized.
3DN: What are your plans for the future?
We don't just have a 10 year plan, but an 80 year plan! Our ultimate goal is to transform the way companies manufacture, providing a solution to fast, smart, and sustainable 3D printing. We want to see our technology implemented in a wide variety of industries and become a real competitor against mid-volume injection moulding in the next 10 years.
3DN: Any last words for our readers?
We believe that the world can no longer afford to use 180 year-old-technology for manufacturing. Digital manufacturing and the use of smart factories to move on-demand production close to the customer are critical to reducing our environmental footprint while increasing competitiveness and innovation.
You can find more information on 3DQue Systems' website HERE. What do you think of this startup? Let us know in a comment below or on our Facebook and Twitterpages! Sign up for our free weekly Newsletter, all the latest news in 3D printing straight to your inbox!