3Dnatives Lab: Testing the BQ Witbox Go! 3D printer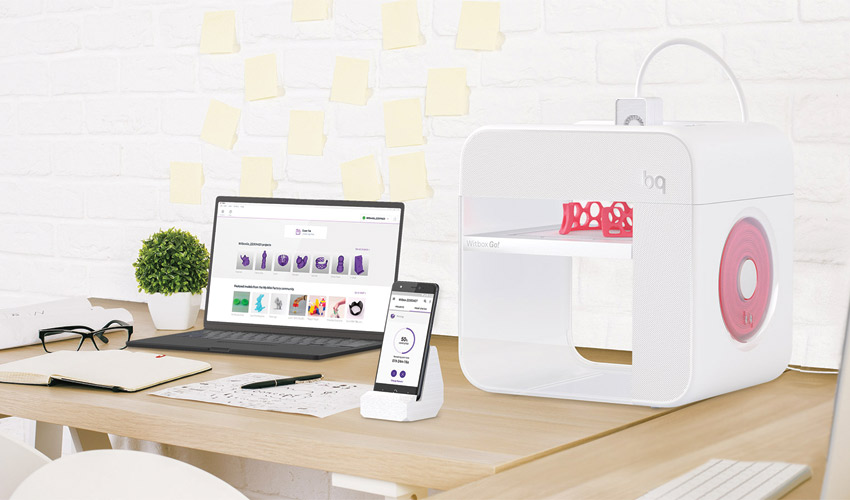 The Spanish manufacturer BQ, which is responsible for a wide range of 3D printers and is one of the leading European manufacturers, with the Plug & Play models Witbox 1 and Witbox 2, recognisable by their volume of printing, as well as the machines in kit for a user plus maker: the Hephestos and Hephestos 2. Not long back, the manufacturer unveiled its new 3D printer; the Witbox Go! The first machine with Android operating system. To fully understand its new development, the 3Dnatives Lab team had the pleasure of receiving the 3D printer for an exclusive in-depth test.
With a relatively low price of € 699.90 for a Plug & Play model, we asks ourselves what type of machine we are actually working with. With the latest machine of the Spanish company we see the emerging industry trend: a USB or WiFi connectivity, an NFC reader for filament coils, an Android application for tracking the models from a smartphone, a detection system of filament tip and capped nozzle, a hot metal end, a magnetic tray, and finally the icing on the cake, an automatic calibration mode.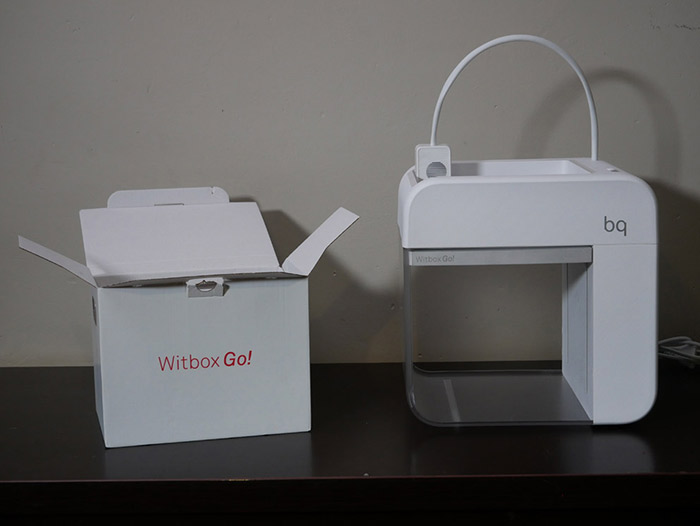 The Witbox Go! has a clean and well thought out design, a "mini" price and many new features that allowed the 3D printer to receive the 2017 Reddot Award. A promising machine at a low price? Let's see if it meets our expectations.
1. Unpacking and installing the Witbox Go!
In general, it is always difficult to know what to expect when you open the package of a 3D printer, but in the case of Witbox Go!, We are not disappointed. A clean box with an intelligent locking system and inside; A beautiful design lesson that could inspire many manufacturers.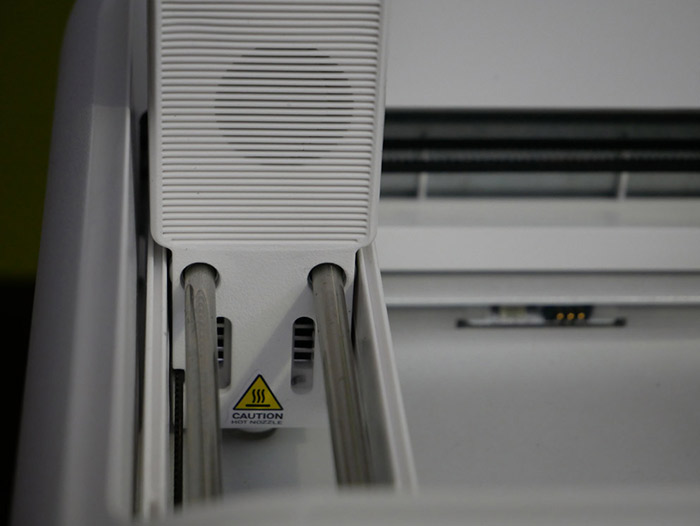 Once unpacked, the content is still quite minimalist. Among the elements and accessories provided, there is the power cable, a micro USB cable, a spatula to remove the prints, a quick start guide, a magnetic printing plate, a 300 g coil. of red PLA filament and an 'already printed piece', more precisely a Benchy 3D model.
If looking closer to the machine, we notice that the manufacturer BQ signs a compact, sober and completely open design. The new Witbox Go! offers the small dimensions of 300 x 255 x 480 mm for a weight of less than 5 kg. Which allows to create pieces up to 140 x 140 x 140 mm. It has a cold, magnetic and innovative tray that, according to the manufacturer, does not require adhesive products (lacquer, glue or tape).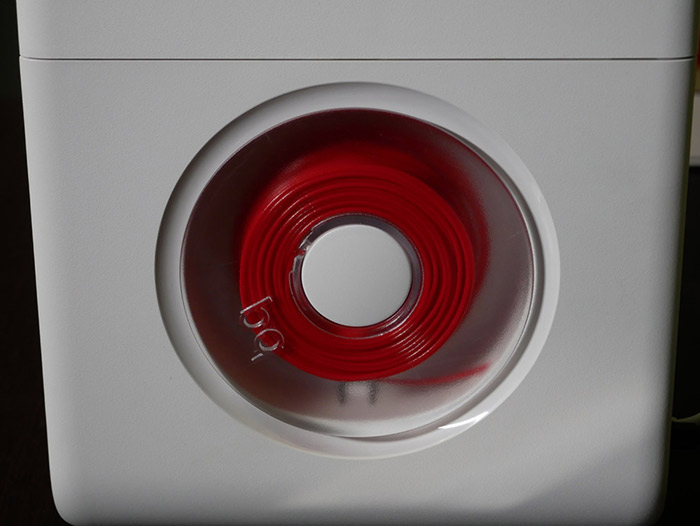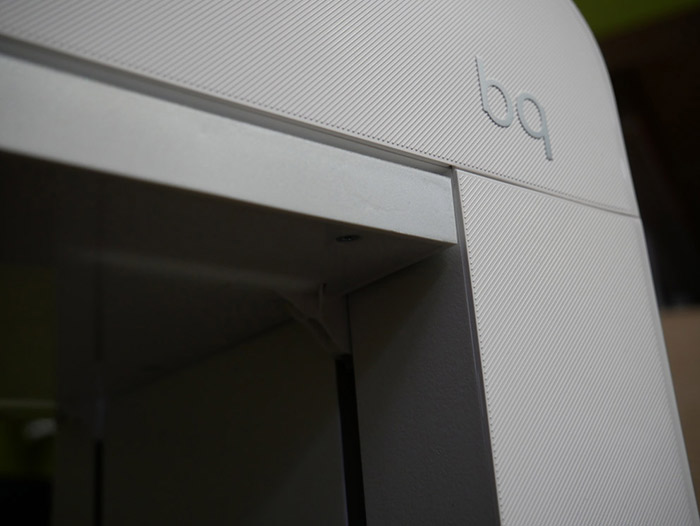 The advantage of having so few elements is the machine's starting speed. We connected the plug, pressed the power button and, once the tray was low, we fixed the magnetic printing plate. And we were ready to go! All you have to do now is print. For the more observant, it can be noticed that there is no slot for an SD card, no control screen or additional button. You will have to download the software because without it, there is no printing!
2. The Zetup software included with the Witbox Go!
When using the BQ machine, the software that will send your prints and cutting objects is called Zetup. It is available for Windows and Linux, currently there is not yet a Mac version. It is relatively well designed for its interface, the Zetup software is very simple to manage. However, one might regret the absence of certain functionalities to refine our impressions, or even to correct them.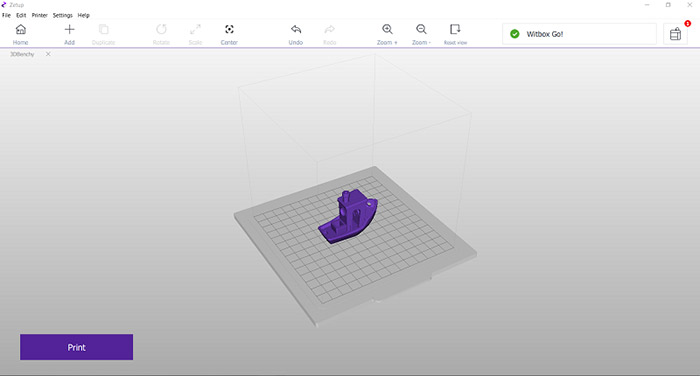 The Witbox Go! with an Android operating system, it has of course a mobile application available in the Google store to be able to track all the prints from a smartphone. Once again, the interface is quite simple and will allow you to control some parameters, such as the remaining time of printing. This application mainly of monitoring, allows you to also start an impression. If you need to cut your model, you must do it previously from your computer and save it in the internal memory of the printer.
Print development screen
3D models library
Details of an object
3. First impressions with the Witbox Go!
As usual, we manufacture a handful of test objects, more or less complex, to see how much this machine can offer us. The overall result is very convincing and consistent with the ease of use of the machine. We have however noticed some slight classic imperfections, but they are correctable to have more dexterity within the software. It was a pleasant surprise to know that the sound level of the printer is almost imperceptible.
We started with the famous 3DBenchy that, with some signs of "chaining" (the threads you see in the photo), came out without any problem. As a reminder, this "stringing" phenomenon can easily be corrected by changing the printing temperature or by increasing what is called "shrinkage".
Lightweight string
First layer of correct printing
The following is our favourite torture object, which you find in most of our 3D printer tests. At first glance, we might be quite happy with this impression, but our most diligent readers will notice that there is a fault; the outer wall. In fact, it is composed of a thin wall that obviously has not been taken into account by the cutting software. A concern that have already been observed earlier in other printers as well.
Good layer printing
Do you notice that one part is missing?
Followed by these first tests, we decided to try more complex models:
With supports
Without supports

Finally, we had fun testing the Witbox Go printer's end-of-filament detector! with filament mark Arianeplast this time. It goes without saying where the filament change took place because, as you can see, we had a slight change when resuming printing. Apart from that, the language mechanism works perfectly and the result is clean.
Filament metallic red from Arienplast


Do you notice the filament change?


Find this and many more 3D printers in our complete comparator
They have created a small upgrade for the machine over Christmas as you can see HERE.
What do you think of the Witbox Go! ? Let us know in a comment below or on our Facebook and Twitter pages! And remember to sign up for our free weekly Newsletter, to get all the latest news in 3D printing send straight to your inbox!
Conclusion
Printer content

7/10

Software

7/10

Print Quality

8/10

Ease of use

9.5/10
Positive points:
– Design and size of the printer
– Sound level
– Manufacturing quality
– Ease of use
Negative points
– Improved cutting software
– Number of restricted accessories
The Witbox Go! BQ is beautiful, compact, affordable, silent and has several nice features that make it a 3D printer aimed clearly at a target of users looking to start within printing. There is not much to reproach in terms of "hardware", although it can frustrate the most experienced for its simplicity. The small defects observed in our impressions do not come from the printer, but from the cutting software, which limits us in the optimization of the printing parameters. However, a software update will easily correct this point. We have experienced this since the beginning of our tests, it was difficult to connect to Wi-Fi until an update came to solve this problem. But nevertheless,
The Android application is also a definite advantage and will allow you to launch or control your impressions. A great favorite is the printing tray, it is very easy to handle thanks to its magnetic fixing system. Combined with automatic calibration, it is pure happiness in terms of simplicity of use. A fast and efficient machine that amply justifies its price of 699.90 € TTC and that stands out clearly among the many other models available in the market aimed at beginners, manufacturers or educational centers.