3DEXPERIENCE World 2020: shaping the world of design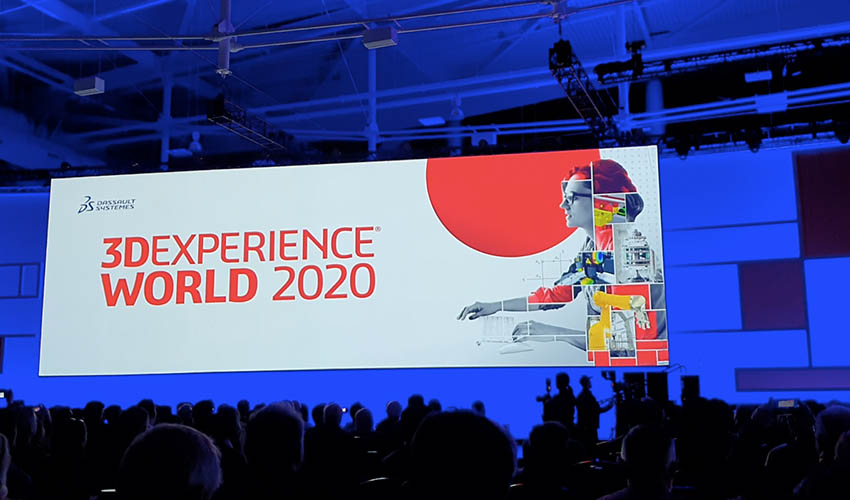 Today, 3DEXPERIENCE World 2020, organized by Dassault Systèmes, is coming to a close. Previously known as SOLIDWORKS World, the event was renamed to mirror the ecosystem formed by the whole family of solutions from Dassault Systèmes. Taking place in Nashville, Tennessee, 3DEXPERIENCE World 2020 brought together 6,000 designers, engineers, entrepreneurs and business leaders from around the world. The 4-day event was packed with conferences and training sessions for all those that wished to learn more about the latest tools available on the platform.  
For some context, the 3DEXPERIENCE platform enables you to see the whole business picture of a company. When using the 3DEXPERIENCE WORKS solution, the various segments of a company are all connected to streamline collaboration. During the opening presentation on Monday 11th, the CEO of Dassault Systèmes, Bernard Charlès put it quite simply, "We are changing the way we collaborate on projects and the way we manufacture." 
Moreover, one of the big announcement for all SOLIDWORKS users, is a new feature that will streamline their creative process considerably. Gian Paolo Bassi, CEO of Solidworks explained: "On the 3DEXPERIENCE platform, everything and everyone involved in the concept, design, simulate, manufacture, sell, and service processes are connected and integrated in one continuous loop. Of course, our SOLIDWORKS customers can continue to work on the standalone SOLIDWORKS desktop version if they prefer, but our new option will free up time to think, create, and get things done." 
Of course, companies working with additive manufacturing are increasingly interested in such solutions. Some inspiring initiatives that showcased the use of 3D printing were also presented during the General Session. The spotlight was on Magic Wheelchair, a nonprofit organization that builds costumes for kids, and BioDapt, founded by Paralympic Gold and Silver medalist, Mike Schultz. BioDapt designs and manufactures high performance lower limb prosthetic components used for action sports and other similar activities. 
In total, the event hosted more than 350 technical sessions, hands-on workshops, and expert-led panel discussions on the latest innovations in 3D design, data management, simulation and manufacturing. 3Dnatives had the chance to speak with Mark Rushton, Product Portfolio Manager for SOLIDWORKS who told us: "There used to be brand specific R&D departments, so SOLIDWORKS, DELMIA, SIMULIA, CATIA, ENOVIA and now it's become one R&D organization. We now have a huge pool of technology, and we can all work together more closely. With additive manufacturing's new way of designing things, this integration will be very beneficial." 
Important players in the 3D printing sector were present at the show, including Stratasys, 3D Systems, Xometry, RIZE, etc. In fact, Stratasys announced during 3DEXPERIENCE World the launch of a new affordable solution for designers, the J826. Based on PolyJet technology, this smaller build volume 3D printer offers all the capabilities of the J8 series, including Pantone-validated colours and a range of materials such as VeroUltraClear that allow to prototype for glass, clear polymers, or transparent packaging. Additionally, RIZE and Sindoh announced a strong partnership to expand opportunities for safe and sustainable 3D printing. During their press conference, the companies revealed that the first step in their collaboration would be to integrate the RIZIUM portfolio of materials, known for their zero emissions, sustainability and durability, into the desktop 2X and the industrial 7X printers from Sindoh.
Last but not least, Dassault Systèmes and Xometry announced a very exciting collaboration too. Engineers using Dassault Systèmes' SOLIDWORKS and CATIA applications will have automatic and immediate access to Xometry price quotes on 3DEXPERIENCE Make, Dassault Systèmes' on-demand manufacturing platform. This will enable designers and engineers to manufacture parts without leaving their design environment. A key feature to accelerate design and cut costs.
Every year, the conference show organized by Dassault Systèmes aims to shape the world of design by providing tools that will enable creators to be ever more innovative, and this year was no exception! So, what did you think of 3DEXPERIENCE World 2020? Let us know in a comment below or on our Facebook and Twitterpages! Sign up for our free weekly Newsletter, all the latest news in 3D printing straight to your inbox!