3DEXPERIENCE Make, Dassault Systèmes' on-demand AM platform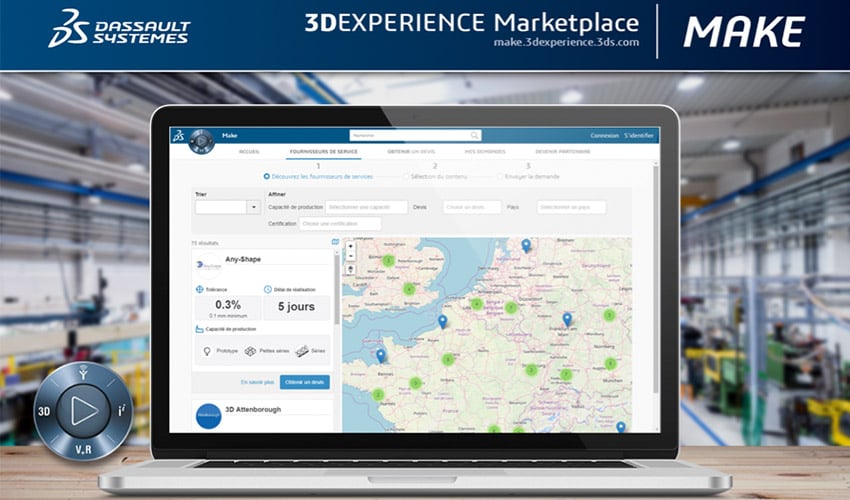 Additive manufacturing is revolutionising the industry by leading a real change in production methods: relocation of manufacturing resources, gains in terms of flexibility for the production of prototypes and small series in-house, reduction in lead times and costs, etc.
However, these new production systems remain expensive and often still represent too much of an investment for companies. As a result, they turn to external solutions such as 3D printing services that can easily carry out tailor-made projects. With more and more of these service providers on the market, it is difficult to know which one to turn to, a problem that Dassault Systèmes wishes to address.

The French software company, known for its Solidworks and CATIA solutions, has recently entered the cloud manufacturing market. Called 3DEXPERIENCE Make, the online platform makes it possible to connect a user and a 3D printing service by comparing the various offers from its service provider partners.
The 3DEXPERIENCE Make intermediation solution offers a wide choice of 3D technologies, materials and more traditional manufacturing methods such as machining, moulding and cutting. "The user must be able to easily choose a service provider to carry out their project," says Benoit Schildknecht, Global Marketplace Business Development Director at Dassault Systèmes.
3DEXPERIENCE Make, a complete intermediation platform
Directly integrated into Dassault Systèmes' software solutions, the platform allows for a call for tenders thanks to a standardized request based on the 3D file of the part to be manufactured. As soon as it is loaded on the marketplace, several 3D printing suppliers offer immediate quotes, allowing the user to compare offers in a transparent way. This gives the user access to the necessary lead times, production capacities, tolerance and of course price.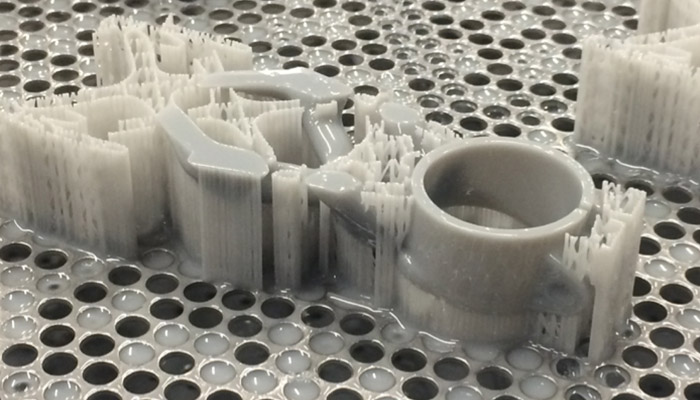 Once the user's choice has been made, he or she can chat with the supplier and follow all the steps of his project on a secure interface. Dassault Systèmes emphasizes this security aspect by specifying that all documents are stored in the publisher's cloud. It is also possible to sign a non-disclosure agreement with the chosen partners.
A wide selection of technologies and materials
Today 3DEXPERIENCE Make has already referenced 250 partners in Europe and North America, with more than 16,000 machines and the main manufacturing processes: 3D printing, machining, molding, cutting, etc. If we focus on additive manufacturing, note that all 3D technologies are available, from extrusion to directed energy deposition, photopolymerization and SLS. A wide range of materials is covered: plastics, metals, ceramics, glass, sand and composite materials. Partners include providers such as ProtoLabs, Sculpteo, American Additive, Detroit Manufacturing, Fit Manufacturing and ProMake.

On the application side, the platform sees a wide range of parts pass through, from models, prototypes, small series, spare parts but also moulds and machine tool parts. Benoit Schildknecht explains: "For larger companies, we can create a private on-demand ecosystem where every employee with manufacturing need for parts can have access online and at any time to internal production resources across all sites or to a panel of suppliers defined upstream."
3DEXPERIENCE Make is accessible online HERE or directly in the latest versions of Dassault Systèmes' software, via an add-in system for Solidworks, or natively in CATIA or eDrawings.
What do you thing of the 3DEXPERIENCE Make platform for additive manufacturing from Dassault Systèmes? Let us know in a comment below or on our Facebook and Twitter pages! Sign up for our free weekly Newsletter, all the latest news in 3D printing straight to your inbox!