3DCeram's Printing Solution: Towards the Industrialization of Ceramic Additive Manufacturing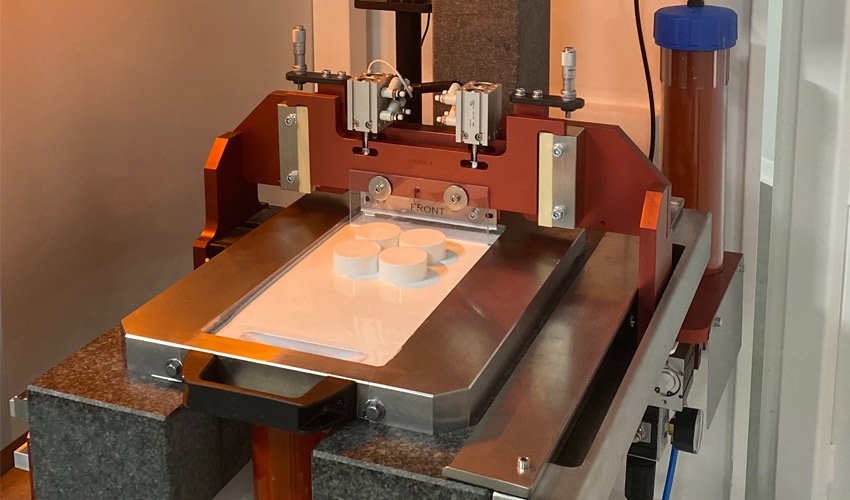 French manufacturer 3DCeram Sinto has announced the launch of a new ceramic 3D printer, the C101 EASY, which is designed for the easy and rapid development of prototypes and parts for universities, research centers and industry. To be presented for the first time at Formnext 2022 at 3DCeram Sinto's booth (Hall 11.1, booth C33), this SLA additive manufacturing solution, an optimized version of the previous C100 Easy, is the result of several years of research in order to offer better quality and reliability to users. The new range joins two other solutions from the French company, namely the C1000 FLEXMATIC and the C3600 ULTIMATE, respectively developed for industrialization and mass customization needs.
Since the creation of 3DCeram in 2001, the company has strived to offer reliable ceramic additive manufacturing solutions that meet the requirements of all types of customers, from industrialists to research laboratories. In 2017, 3DCeram Sinto developed a range of machines for technical ceramics, which are prized in sectors such as aeronautics, biomedical, automotive, investment casting and semiconductor. The company chose stereolithography, a process that allows it to achieve high levels of quality. In three years, 3DCeram Sinto has developed three new machines, driven by innovation and the search for better performance. The manufacturer has also expanded its portfolio of materials, offering technical ceramics such as oxides (zirconia, alumina, hydroxyapatite, silicore, etc.) and non-oxides such as aluminum nitride and silicon nitride.
The C101 EASY, the New Ceramic Machine From 3DCeram Sinto
This year, the French manufacturer will show for the first time the features of the C101 EASY, a range of ceramic machines offering a printing volume of 100 x 100 x 150 mm. Two models are available: the C101 EASY LAB for universities and research centers and the C101 EASY FAB for industrialists. The 3DCeram Sinto team has worked on the mechanical components (blades, wiper, Z axis) but also on the optical elements such as the laser in order to obtain a greater repeatability. In addition, access to the interior of the machine is facilitated by a new door concept.
The range is equipped with a support for the recovery of uncured ceramic and a recycling cartridge. The cartridge can be easily removed and changed to allow for quick restarting of production. Finally, the user can choose different options such as the SAM (Small amount of material), whose amount is adaptable, enabling users to start a print with only 10 ml of ceramic and in only 20 minutes. Another option is to transform the printer into a hybrid solution to add additional material to the ceramic.
For universities and research centers, the C101 EASY LAB is optimal for the manufacturing of prototypes, the development and characterization of materials, development of slurry and the design of optimized parts. For industrialists, the C101 EASY FAB is adapted to the production of parts. It is especially an ideal solution to master ceramic additive manufacturing before moving on to a more industrial model such as the C1000 FLEXMATIC.
Ceramic Production and Additive Manufacturing
Also launched in 2022, the SLA C1000 FLEXMATIC 3D printer meets production needs. 3DCeram Sinto explains: "Our new 3D printer is a result of a combination of experience and know-how, and its automation capacity and printing surface are what give it its name. The C1000 FLEXMATIC is in fact the sum of the know-how of 3DCeram Sinto's teams with the objective of simplicity of use in the face of industrial production requirements."
Equipped with a 320 x 320 x 200 mm plate, it allows the production of small and large series. Its tank is easily removed to offer semi-automated post-processing. Moreover, the printed parts require very few – if any – printing supports, which saves a lot of time. The C1000 FLEXMATIC is also available with options such as the ability to add a second laser for increased productivity.
Towards Mass Customization With Ceramic 3D Printing
 To complete this range of solutions, 3DCeram Sinto offers a large format machine whose objective is to go towards mass customization. The C3600 ULTIMATE offers a very generous printing volume for an SLA 3D printer – the plate measures 600 x 600 x 300 mm. Equipped with 4 lasers; it can design large series in record time. It is indeed 7 times faster than the C101 EASY and can compete with conventional processes.
On the application side, the C3600 ULTIMATE is now being used in such demanding sectors as aerospace. For example, it took less than a day to design a satellite mirror with a semi-closed back – a part that could not be produced in any other way than by additive manufacturing. The alumina green part weighs 7 kilos and cost 600 euros, including recycling.
There are also 3D printed antennas, first designed on the C101 EASY FAB as a prototype – count 90 minutes for one antenna; then mass-produced on the C3600 ULTIMATE – 36 parts printed in 16 hours or less than 27 minutes per antenna. Each one measures 79 x 79 x 12.5 mm.
It is interesting to see how 3DCeram Sinto's 3D printing solutions complement each other and how the company has succeeded in imagining an ecosystem to meet needs along the entire value chain. If you want to discover its solutions, please visit its booth C33, Hall 11.1 at Formnext 2022 or click HERE.
What do you think of 3DCeram Sinto's ceramic 3D printing solutions? Let us know in a comment below or on our LinkedIn, Facebook, and Twitter pages! Don't forget to sign up for our free weekly Newsletter here, the latest 3D printing news straight to your inbox! You can also find all our videos on our YouTube channel.
*All photo credits: 3DCeram Sinto