3D Warehouse, SketchUp's Large Online Platform for 3D Models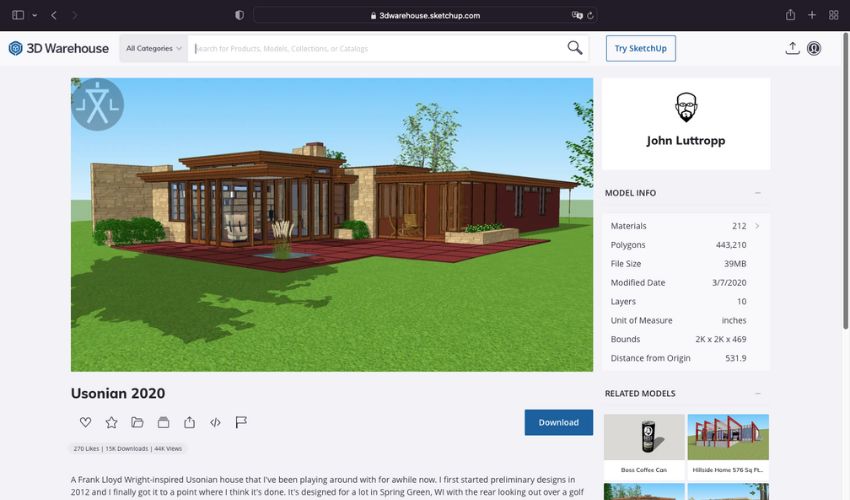 Anyone eager to start their own 3D printing project knows that it always begins with step one: choosing or developing a 3D model. However, many 3D printing enthusiasts underestimate the gravity of the entire work process that comes before the actual 3D printing process. For beginners, the complexity of developing a model for the first time may be overwhelming. It can be especially discouraging if it is the first project ever, causing many to give up before even starting. For that reason, well-known 3D modeling software producer Sketchup began developing what it proudly claims to be the world's most popular 3D sharing website today: 3D Warehouse. Since its launch, 3D Warehouse has increased steadily and now features millions of 3D models, enabling beginners and professionals alike to share their work with the world and even establish new business opportunities. We took a closer look at how it works and what makes the platform useful!
3D Warehouse: An Extensive Collection for Any Purpose
Although 3D Warehouse is optimized for being used with Sketchup, users are also able to access the contents via web browser. After creating an account, makers can immediately get started and dive into the selection provided by the database of the 3D model provider. The relatively simple designed website is easy to comprehend and depending on what the desired task may be, users can either search through the collection, which is divided by categories, or upload one of their own creations and make it available to users worldwide.
The website is said to be especially beneficial for architects and designers, because of the possibility of importing the available models directly into projects, which saves a lot of time when working on larger and more complex tasks. Another feature that is worth mentioning is its compatibility with a variety of SketchUp extensions, like for example Warehouse Blueprint, which provides users with many dynamic components.
Even though it has a huge library that contains millions of downloadable 3D models, not all of those available lead to satisfying results. By keeping in mind that anyone can upload their models into the 3DWarehouse collection, a certain level of professionalism is not guaranteed and may result in the 3D printed object turning out to be of inferior quality and therefore leading to disappointment and frustration.
The main aspect that makes 3D Warehouse an excellent choice is by far its sizable library. The amount of available 3D models provides users with a variety of options and the fact that it keeps growing ensures its position as one of the top websites for 3D model files. Especially for those who chose to work with the Sketchup software benefit from the already mentioned compatibility with its extensions, making the working process easier and less labor-intensive. But even for those who prefer a different kind of software, aside from Sketchup's native file format .skp. users are also able to save files in different formats. like .DWG (AutoCAD), .3DS (3ds Max), and .STL (SolidWorks) to name just a few. If you're interested in giving the platform try, go to the 3D Warehouse website.
What do you think of 3DWarehouse? Do you use it? Let us know in a comment below or on our Linkedin, Facebook, and Twitter pages! Don't forget to sign up for our free weekly Newsletter here, the latest 3D printing news straight to your inbox! You can also find all our videos on our YouTube channel.
*All Photo Credits: 3D Warehouse