3D Treats Talks 3D Printing Original Desserts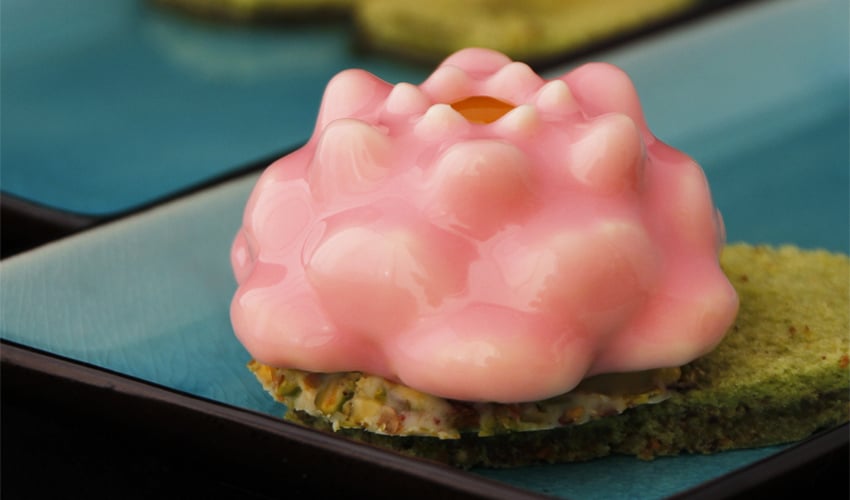 As we know, food 3D printing is growing rapidly. This manufacturing method involves creating models by extruding food and stacking them layer by layer. Many solutions have been developed based on this technology, the most common being chocolate 3D printers. As a result, many people have taken up food 3D printing as a way to bring to life their own creations. And this is the case of 3D Treats, a culinary project made by Elena Smirnova. We spoke with her to learn more about how she uses 3D printing in her business.
3DN: Could you introduce yourself and 3D Treats?
My name is Elena, I am the founder of 3D Treats, an entrepreneur and mother of three. I discovered 3D printing by accident. I have always focused my professional career on marketing and never got close to the food industry. However, I was excited by the idea that all foods could be printed and couldn't resist trying it. After a brief search of existing food 3D printers, I found myself with a brand new machine in my hands. The plan was to start a dessert catering business.
The first few weeks were a nightmare. The printer didn't always do what I wanted, the templates didn't work, I had to learn a lot of new software that I had never heard of and I didn't have enough good recipes. If you have ever tried to print food with today's technology, you know exactly what I am talking about. I have to say that the technology is getting better every day and soon even kids will be able to do it. It took me a while to learn all the tricks to get printing results that I could present to my customers, and now I live in absolute harmony with my 3D printer. That's how I came up with 3D Treats.
3DN: What are the existing food 3D printing technologies?
Most current 3D food printers are limited to pressing pureed prepared food into the desired shape. There aren't many machines yet that can completely cook or cool the food in place, which poses some limitations. Imagine trying to print a pattern or figure from cookie dough; the dough is soft, it won't hold. On the other hand, 3D printing allows chefs to make beautiful shapes and decorations for dishes. Take for example chocolate 3D printing, which ultimately only works under the right temperature conditions, that is, if the chocolate hardens fast enough to support the following layers.
3DN: What advantages does this method offer over traditional cooking, and are there any limitations?
The benefits are indisputable; 3D printing offers cooks unlimited possibilities for customization and creativity. It also saves a lot of storage space in the kitchen, because all the models are digital and don't stack up like molds. I'd say there are only two major barriers to the mass use of food 3D printing: the speed of the process and the complexity of the modeling. Neither real chefs nor home cooks can spend that much time learning how the software needed to design a product works. To be completely fair, there are design platforms developed by printer manufacturers, but at the moment, these services do not have enough designs/models in their portfolio. So you are faced with the situation of having to create designs yourself from scratch.
3DN: How do you see the future of 3D printing in the food sector?
I see it in bright colors. I am sure that soon the process of 3D printing food will be easy, fun and fast. It's already happening with chocolate, just put the chocolate in the tray and enjoy the show, the printer will cool it to the right temperature. Soon it will be enough to introduce natural products from the store to get a cake of your personalized design through the 3D printer.
3DN: Any last words for our readers?
If you want to get into food 3D printing, don't hesitate, give it a try, it's great fun and satisfying. There are cheap add-ons for conventional 3D printers today that can turn them into food printers. If you need help with recipes or modeling tips, I'll be happy to help. You can contact me via my instagram account (@treats3D) or visit the 3D Treats website.
What do you think of 3D Treats? Let us know in a comment below or on our LinkedIn, Facebook, and Twitter pages! Don't forget to sign up for our free weekly Newsletter here, the latest 3D printing news straight to your inbox! You can also find all our videos on our YouTube channel.
*Cover Photo Credits: 3D Treats