3D Systems Announces All New VSP Hybrid Surgical Guides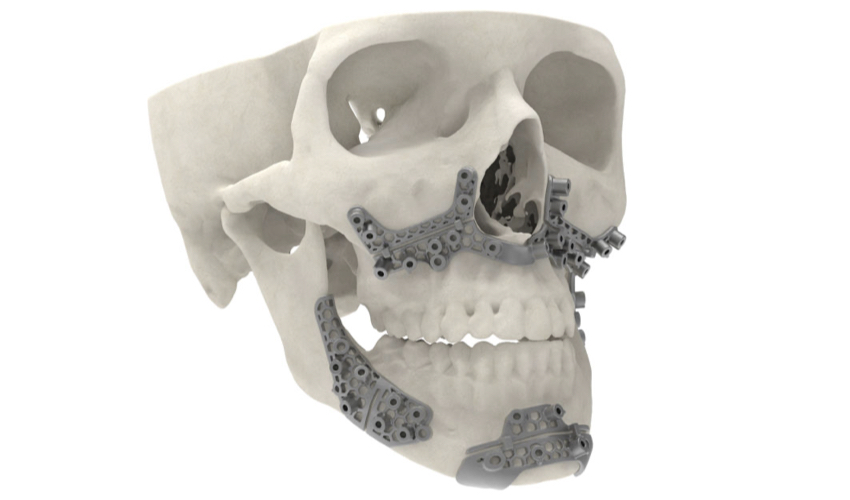 3D Systems has just announced their latest enhancement to their VSP surgical planning portfolio. The all new VSP Hybrid Guides will deliver a breakthrough patient-specific, occlusal-based solution for maxillofacial surgeries. By combining nylon and titanium guides the new enhancement will ensure patients receive highly accurate treatment. Moreover, thanks to the slimmer profile guides, surgeons will be provided with easier placement in areas with limited exposure as well as an improved visibility of the surgical site. 
Engineered in response to customer feedback, 3D Systems' VSP Hybrid Guides prove their commitment to driving better outcomes for maxillofacial and reconstructive surgeons and their patients. In fact, it has been demonstrated that these guides are able to reduce surgeons and patients' time spent in the operating room by hours. For Dr. Jay Neugarten, New York Center for Orthognathics and Maxillofacial Surgery, "3D Systems and its VSP surgical planning and guides are an integral part of my ability to deliver highly successful outcomes for my patients undergoing corrective jaw surgery". 
VSP Hybrid Guides also bring many more advantages to the table. For example, the combination of these two materials also has the added benefit of incorporating the strength of titanium and the comfort of nylon. The nylon also makes tooth-based registration possible, while still maintaining the profile advantages of a rigid metallic cutting and drilling guide. According to Dr. Neugarten, "The new are the next generation of occlusal-based surgical guides. To be able to combine two materials – nylon and titanium – to create cutting and predictive hole-drilling surgical guides that register to the dentition enables a precise and accurate surgical outcome for my patients." Moreover the VSP Hybrid Guides are easily assembled and possess strong, intuitive connection sites. Surgeons are also able to design patient-specific instruments enabling multiple cutting/drilling locations on a single occlusal-based guide according to preference. Dr. Neugarten continues, "Using the VSP Hybrid Guides together with Stryker's Facial iD customized plates streamlines my workflow in surgery. It's like using a satellite navigation system compared to a paper map. This ability to seamlessly transfer my digital treatment plans to the surgical arena allows me to provide the highest level of care for my patients." 
Combining their expertise in medical imaging, surgical simulation, and 3D printing, 3D Systems are pioneers in the personalized medicine space, and have already received FDA market clearance. However, the VSP Hybrid Guides themselves are actually the result of a partnership between 3D systems and Stryker. The new hybrid guides are compatible with Stryker's Facial iD, thus offering the maxillofacial surgeon a complete end-to-end solution. Menno Ellis, executive vice president, healthcare solutions, 3D Systems, summarises, "With the introduction of VSP Hybrid Guides, we've elevated the capability of our renowned VSP surgical solutions portfolio to facilitate craniomaxillofacial procedures. In partnership with our expert biomedical engineers, surgeons can develop effective surgical plans and patient-specific devices that help improve patient outcomes."
If you want to find out more information you can read the full press release HERE. What do you think about VSP Hybrid Guides? Let us know in a comment below or on our Facebook, Twitter and LinkedIn pages! Sign up for our free weekly Newsletter here, the latest 3D printing news straight to your inbox!
*Cover Photo Credit: 3D Systems