#3DStartup: From Vases to Facades—Concrete 3D On the Many Possibilities for 3D Printing With Concrete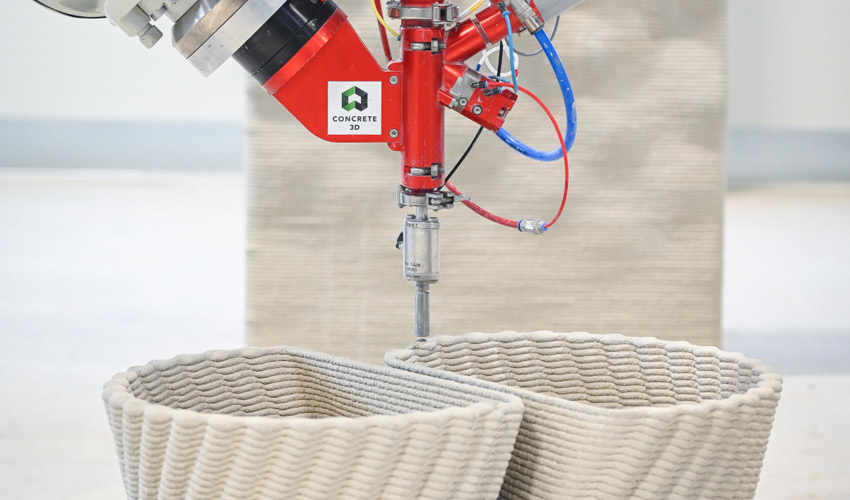 We are hearing more and more often about projects in which concrete 3D printing is being implemented. Most of these projects are in the construction sector. In the past, we have reported on a 3D-printed parking lot, a concrete tower, and the use of 3D-printed concrete to build bridges. The Austrian startup Concrete 3D has also been dedicating itself to the concrete printing process since this year. The young company from Vorarlberg enables customers to manufacture facade elements, structural and civil engineering products, and even individual pieces of furniture for their own four walls. With this, Concrete 3D wants to further advance the use of the process and enable the diverse application possibilities of the technology in new segments. We spoke to Michael Gabriel, Divisional Manager at Concrete 3D, about the potential of concrete printing and the first projects.
3DN: Can you introduce yourself and your connection to 3D printing?
My name is Michael Gabriel, I'm a division manager at Concrete 3D. I've been in the additive manufacturing industry since November 2020. In my new position, I was allowed to create the 3D models and print paths as well as produce them myself. For this reason, I not only became familiar with the printer and the drawing program very quickly but also quickly got to know the challenges of 3D printing with concrete.
3DN: What does Concrete 3D do? With what mission was the company founded?
In principle, the nice thing about 3D printing is that the possibilities are unlimited. In the beginning, we have therefore decided on four sub-areas: Individual facade components, C-shape recess systems, furniture & accessories, and prefabricated parts as well as semi-finished parts that would require a lot of formwork in a conventional way. Our mission is to finally introduce Industry 4.0 in the construction industry. To use the material again only where it is needed and thus to get back to leaner components, which not only saves weight but also resources and significantly reduces CO2 emissions. In addition, we would like to offer our customers individualization despite industrialization at an affordable price with the help of the 3D printing process.
3DN: Can you tell us a little more about the technology you are using?
We are currently using a 6-axis robot arm with a nozzle attachment and a 2K material to create our components. But even in this area, we don't want to limit ourselves to this system forever. Time will tell for which applications a change in the system is sensible or unavoidable.
3DN: Which areas of application is concrete 3D printing used? Have you already completed your first projects?
There are countless areas of application. I always say 'The only thing that limits the possibilities is our own imagination to produce something with 3D concrete.' We are currently working on facade construction, where we were able to present our reference project to the press in 6710 Nenzing (Vorarlberg) in July of this year. 50 elements with approx. 1.5 m2 each were produced. The dimensions were different everywhere – we were allowed to design the surface of 20 elements. Portraits, coats of arms, samples—a lot was presented to bring the product closer to architects and builders.
Another area of ​​application is our C-shape recess system. In order to relieve the shortage of skilled workers in the construction industry and to reduce wood waste, we produce cutouts to measure and deliver them directly to the construction site in Vorarlberg & Tyrol by our sales partner Schmidt's Handelsgesellschaft mbH – we are looking for sales partners in Switzerland or (southern) Germany still. Installation is quick and easy. Elaborate formwork and stripping work is a thing of the past, as the C-shape becomes part of the structure as a permanent formwork. The system was tested with in-situ concrete at our shareholders JOLO Betonfertigteile – Josef Loacker GmbH in element ceilings & at Tomaselli Gabriel Bau GmbH on the construction site and developed and improved together with site managers, foremen, and skilled workers.
Furniture and accessories are also a large area of ​​application. Concrete is usually seen as a very heavy building material. Due to the use of geometrically favorable shapes, relatively light furniture can also be created from unreinforced concrete, the cost of which would be unaffordable in a conventional way. In this area, in particular, we can offer designers the construction material concrete in a completely new way and thus offer you even more options in the implementation of your ideas. Last but not least, it should be emphasized that pretty much anything is possible with 3D printing, regardless of whether vases, semi-finished parts, prefabricated parts. The freeform and individual surface design is a great advantage.
3DN: What are the challenges with concrete 3D printing? How do you see the further development of the process?
The greatest challenge is undoubtedly the fact that it is unreinforced concrete. Of course, something can be inserted, but we see the development in such a way that there must be a way to make the material even more stable and with as little additional effort as possible. In addition, the material is very dependent on the geometry, which influences the correct post-treatment. What works for one geometry is not necessarily applicable to another. In addition, there are currently many different 3D concrete printing processes that all have their advantages and disadvantages. We'll see where it will develop and whether there will ultimately be one procedure for everything, but I think it could be a mixture of the previous ones.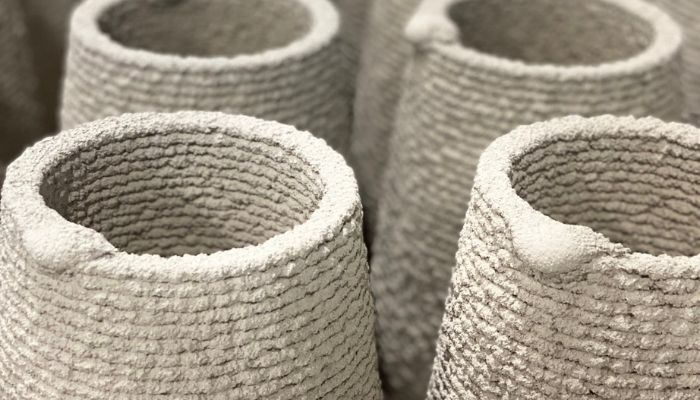 3DN: Do you have any last words for our readers?
3D concrete printing is not only a new possibility for architects and builders thanks to the individuality and free form to give buildings enormous added value, but also for every concrete lover who would like to realize something affordable without high formwork costs, from the vase to the chair to whole components. You can find more information about Concrete 3D HERE.
Did you already know about Concrete 3D? Let us know in a comment below or on our Linkedin, Facebook, and Twitter pages! Don't forget to sign up for our free weekly Newsletter here, the latest 3D printing news straight to your inbox! You can also find all our videos on our YouTube channel.