U.S. Army 3D prints their first concrete barracks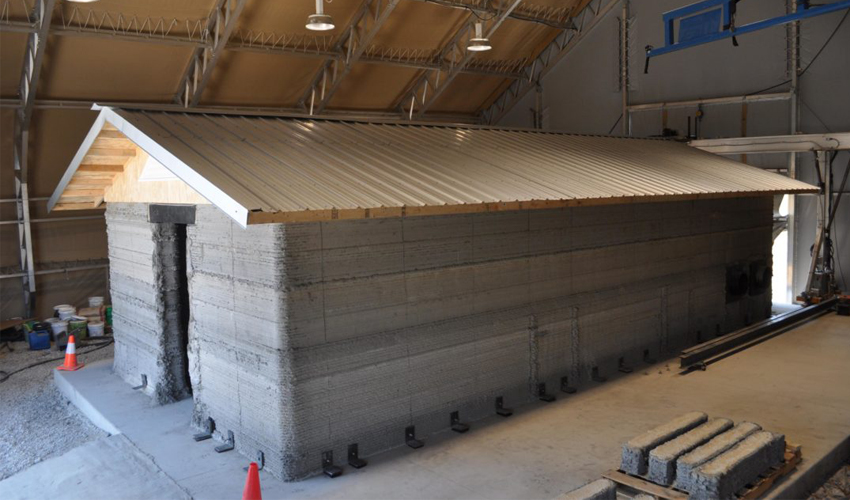 The U.S. Army's Construction Engineering Research Laboratory (CERL) in Champaign, Illinois, has announced the successful construction of a 512-square foot, 3D printed concrete barracks. The laboratory used an in-house 3D printing technology that was developed in partnership with NASA.
The US Army recently launched a three-year program called the "Automated Construction of Expeditionary Structures" (ACES), which focuses on building semi-permanent buildings that are 3D printed from a composite concrete mix of locally available materials. The creation of this new barracks is part of this program. This initiative follows many other recent projects launched by the U.S. military, which already includes 3D printers at the front lines.
The aim of the ACES program is to implement additive manufacturing technology directly on the ground, thus increasing efficiency in terms of cost and time. "ACES provides a capability to print custom designed expeditionary structures on-demand, in the field, using locally available materials," said Dr. Michael Case, CERL ACES Program Manager. "ACES will allow the Army to print buildings and other required infrastructure, such as barriers, culverts, and obstacles on location."
The ACES project offers other advantages, such as reducing the workforce by 62%, when comparing it to more traditional construction methods as well as reducing the number of building materials that need to be shipped; cutting it in half thanks to the locally supplied materials.
CERL has worked closely with NASA to improve and advance the ACES technology. They have been greatly relying on the knowledge of NASA, as they are a recognized force in additive manufacturing for their various initiatives towards space exploration. Over the course of their partnership, they have been working to make the concrete 3D printing system more mobile. Next month, they will be unveiling a developed and tested third version.
Find out more on this project here
What do you think the future holds for the Army and this project? Let us know in a comment below or on our  Facebook or Twitter page! Don't forget to sign up for our free weekly Newsletter, with all the latest news in 3D printing delivered straight to your inbox!